By Predator Hunting Editor Judd Cooney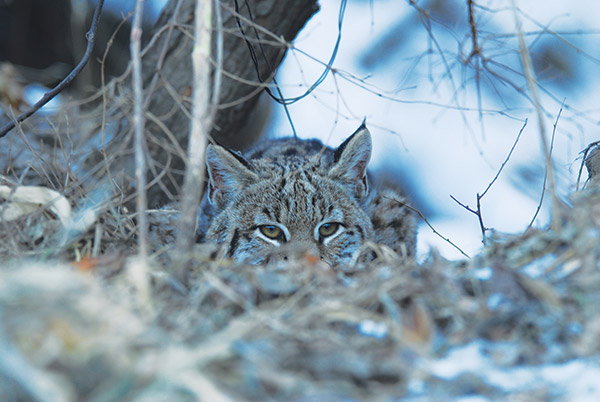 Over the years I have watched literally hundreds of coyotes, fox and bobcats respond to subtle squeaks from electronic and mouth blown calls—sometimes from a half-mile away. I have never read a scientific study specifically focused on how far a predator's keen ears can hear subtle prey sounds. But I would venture that under ideal conditions, the distance might top a mile.
It never ceases to amaze me how keen a predator's ears can be, a lesson first driven home when I got my first predator call, a Weems Wildcall.
Up to that point, my predator hunting had been limited to tracking and stalking red fox and occasionally joining a group of hunters who would get a fox running and then try to cut it off and shoot it on the run. My fox rifle was Granddad's lever-action .30-30 Winchester Model 94, and I loaded it with 150-grain soft-point bullets. Not exactly the ideal fox combo, but I did manage to hit a few fox and also learned how to stitch up bullet holes.
Predator calling was a specialty game at the time, pursued by a relatively few skilled hunters. After reading a couple of articles about it in this magazine, I figured my fox hunting success was about to surge.
My first attempt came when I spotted a fox curled up a couple hundred yards from a cattail slough full of pheasants. I was able to crawl within 100 yards of the sleeping fox, but from there the only thing I could see was a fluff of red fur above the furrow in which it was bedded out of a light but frigid breeze.
Seemed like the perfect time to break out my new predator call and see if I could get a shot. Might as well have jabbed that fox with a hot poker.
The instant the recommended loud and raucous jackrabbit squalls hit the air, I saw a blur of red and the fox vanished over the knoll without offering anything close to a makeable shot. The second time that happened, it dawned on me that maybe too much volume was the problem.
On my third attempt under similar circumstances, after I got in position and was ready to shoot, I barely squeaked on the call. This time the fox, which was nestled in a clump of grass, jumped up and stared directly at my location. Obviously, it was trying to spot the source of the sound but couldn't since I was hunkered down in tall weeds. The curious fox presented a standing broadside shot at 100 yards, and my 150-grain bullet flattened it.
I took a number of fox and coyotes over the ensuing years utilizing this same basic spot, stalk and squeak technique, and the key was taking the first shot after the critter stood up for a look. If I waited more than a second, the critter took off.
If anything, subtle calling is even more effective today, especially where burgeoning coyote populations are preying on the smaller and less aggressive red fox, bobcats and gray fox. Naturally enough, these cautious predators associate the sounds of anguished prey with an aggressive coyote, and raucous calling is more likely to elicit a flight response than an attempt to be first on the scene.
Where calling pressure has further reduced the inclination to respond to loud prey sounds, getting close and then making super subtle sounds can be the only way to elicit the more positive responses seen earlier in the season.
When I lived and did much of my hunting in southwestern Colorado, I was keeping a keen eye on a road-killed cow elk that had succumbed off the highway a few miles from my house. It was already after Christmas, and winter-hungry coyotes were hammering that huge chunk of meat. I managed to shoot one of them when it hesitated for a last look and presented a broadside shot at 300 yards. By then I had moved up to a superbly accurate Shilen-barreled Winchester Model 70 .220 Swift, and the standing shot was a slam dunk.
A few days after I got the coyote, a couple of inches of fresh snow fell overnight, and I saw tracks where a big bobcat had crossed the highway from a rocky bluff above the road, fed on the carcass, and then returned to the rocky hillside and ledges.
The local cats sported prime fur by then, and not one to pass on a chance at a $300 bob, I parked out of sight of the carcass a quarter-mile down the road and hiked to a ridge well above the roadkill, a half-mile or so off the highway. Most of the coyotes had come off the ridge on the same side of the highway as the elk, and I wanted to make sure I was calling the cat away from the highway and that coyote traffic. I spent half an hour at the stand making subtle squeaks with limited sound range. Nothing responded, so I moved to my next stand at the edge of a deep oakbrush draw and settled in below a rocky outcropping where I had good visibility up and down the slopes.
During my third sequence of higher pitched but still subtle squeaks, I caught movement and then watched a large bobcat ease through the rocks. It stopped in front of a ledge, sat down and stared my way. The cat stayed locked in that sitting position through two more series of calls, and it was obvious through the 10X Nikon scope that it was centered on the source of the sounds.
Since the cat was 100 yards from the top of the ridge, giving me some leeway for getting a good shot, I switched to a harsher cottontail call and sent a louder but not ear-piercing series of anguished squalls and squeals across the canyon.
The no-doubt coyote-wise feline started weaving back up the hill headed the other way, no longer keen on the possibility of an easy lunch. When the big bob hit a small opening in the brush and rocks, I squeaked loudly, and the moment the cat paused, I put a 52-grain Sierra HPBT through its shoulders.
Had I followed the standard early-season technique of gradually increasing the volume to reach out farther as time passes on each stand, I doubt I would have even seen that cat. A few days later I used the same tactics on the other side of the highway above the elk carcass to take a prime coyote a quarter-mile from where the elk carcass was located.
I didn't see any coyotes on the carcass, so I used a cow horn howler as a locator call, and when my lone howl got a distant response, I hiked in a half-mile and circled to approach the suspected location of the responding coyote from a different direction. I had no idea if anyone else had been trying to call at the kill site, but stealthy hunting is never a bad idea late in the season, even when the quarry is dominant coyotes.
Got to the back side of a ridge where I had many open sight lines through the Ponderosa-covered flats to oakbrush clumps and cedars I figured provided good lay-up cover for satiated coyotes.
The plan was to call softly and stay in position situated under the overhanging branches of one of those cedars for half an hour, and if nothing showed, then move one ridge closer to the roadkill, which was from where I believed the responding howls had emanated.
But the first series of soft squeals brought a big dog coyote strolling out of a thicket of clumped cedars some 300 yards across the flat, where he sat down as casual as could be and looked in my direction, maybe interested but not exactly fired up. With a bellyful of elk, that response was certainly understandable.
I switched to a double-diaphragm mouth call, one made for turkeys but capable of intense squeaks and squeals that I could still easily modulate and control. I watched through the scope as I squeaked a short series. I saw no visible reaction, so I put a bit more pressure on the call. The coyote stood up and started sauntering my way.
The only movement I made was to put the final pressure on the trigger when the big dog stopped at 50 yards, still only showing mild curiosity.
I suspect most predator callers underestimate the range and effectiveness of subtle rodent squeaks and squeals. For me, they are key to harvesting prime fur late in the season, at times attracting predators when nothing else works.
A few winters after that, I placed a horse carcass in the bottom of a sagebrush draw in the same southwestern Colorado locale. The bait was placed where I could glass it from a back road, totally unobserved a mile away. I had already taken six coyotes between late November and early December in the same general area.
If coyotes started feeding on it, I figured I could easily stalk to the top of a ridge 200 yards downwind for a shot. From that vantage, they would have to cross 400 yards of open country to reach the nearest escape cover.
In early January I spotted the first pair of coyotes feeding on the carcass, and within half an hour I was snuggled behind a makeshift sagebrush blind, this time with an R-15 .223 rested and ready for the shot.
I had recently enjoyed an informative conversation with another experienced predator hunter about late-season calling, and figured the situation was ideal to test something he had espoused.
I sent a series of raspy but low-volume jackrabbit squalls down the valley, and both coyotes ceased feeding, looked my way for 30 seconds or so, and then dropped back to feeding voraciously. Another short series got the same result. I guess a steak in the mouth was more interesting than a bunny in the bush.
After watching the coyotes feed for another 15 minutes, I went back to my old ways and sent a low but intense string of rodent squeaks and whistles down the slope. Both coyotes headed my way at a lope, and at 50 yards I dropped the trailing coyote then got an easy going-away 75-yard shot at the lead dog.
Not sure if it's the pitch, intensity, or simply the diversity of rodent sounds that makes them so effective. Whatever the reason, you can bet squeakers and diaphragm mouth calls will always be part of my late-season gear.
If you prefer digital callers, a wide range and variety of rodent vocalizations is just a download away.