By Tom Parr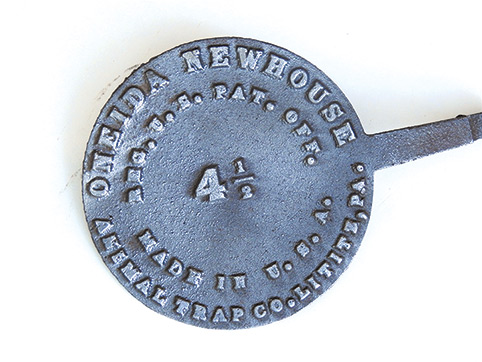 All Newhouse bear traps have raised lettering on the pans except for the earliest "slick pan" models. They are all valuable collector items. Some of the smaller Newhouse traps also have raised lettering on the pans and they, too, are sought by collectors.

After Animal Trap Company acquired the Oneida Community trap business in 1925, they continued making No. 4-1/2 Oneida Newhouse wolf traps with raised letters on the pans. Oneida Newhouse appears on top with Animal Trap Co Lititz PA below that. The underside of the pan is inscribed with No. 34-1, which is the part number.

The pan and basic trap design stayed the same through the end of production in the late 1980s.

Three models of the No. 114 were outfitted with stamped pans in the mid-1930s and first advertised for the 1937 trapping season in this magazine. The trap was later fitted with a larger cast raised-letter pan with Oneida Newhouse on top and Animal Trap Co Lititz PA across the bottom. A bigger pan with a longer shank made the extended dog of previous models unnecessary. For whatever reason, these cast pans have no foundry mark or part number. This pan and basic trap design remained the same until the end of production in 1976.

When the old ATC pan stamping dies wore out, Pete Askins switched to raised-letter cast pans for all No. 3 and No. 4 Newhouse traps in 1976.

The first were cast by the Pennsylvania Malleable Iron Corporation. The Cross foundry trademark with a numeral next to it appears on the underside of the pan near the shank. Shortening of the heat treatment/annealing process appeared to cause some of these pans to warp or break. Woodstream (the successor company to ATC) had later pans cast elsewhere. These display an R foundry mark.

The No. 4-1/2 and No. 114 traps typically fetch up to $300, depending on condition. A collector might pay $100 for a No. 3 or No. 4 Newhouse with the raised-letter pan.
* * *
For information on this and other collectible antique traps, contact:
Tom Parr, the North American Trap, Collectors Association, P.O. Box 94, Galloway, OH 43119;
(614) 878-6011.