Central Boiler Classic Edge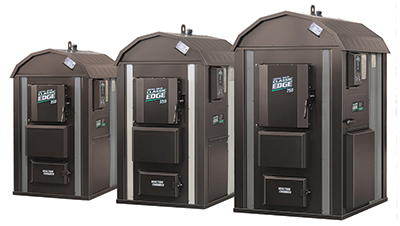 Central Boiler Classic Edge 350, 550 and 750 hydronic outdoor wood furnaces meet the new EPA clean-burning emission standards with meticulous engineering that also delivers more cost-efficient heat output than any traditional wood stove. The three-stage process begins when preheated air is added around the base of the fire. Then, as the wood begins to gasify, the gases are added to extremely hot oxygen from a patented Air Charge Tube. Final complete combustion takes place in the Reaction Chamber. In addition, a patent-pending vertical heat exchanger optimizes the transfer of heat from the hot gases to the piped water. The result is exceptionally high thermal efficiency with low emissions per Btu of output. Airtight urethane insulation, a hallmark of Central Boiler furnaces for over 30 years, further reduces heat loss. Thermostat control assures even heat without the temperature swings of traditional wood burners. Works with almost any existing heating system; 100-percent waterproof construction. Uses a totally renewable natural resource without the mess and danger associated with indoor wood burning. MSRP starting at $6490. Contact: Central Boiler, Dept. FFG, 20502 160th St., Greenbush, MN 56726; (800) 248-4681; www.CentralBoiler.com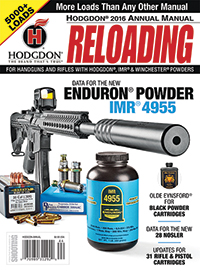 Hodgdon 2016 Annual Manual is filled with Hodgdon®, IMR®, and Winchester® brand powder and reloading information. Featured is data for IMR 4955, the latest introduction to the Enduron® series of smokeless powders and an ideal choice for popular hunting calibers such as .270 Win., .25-06 Rem., and .300 Win. Mag. Also includes data for the new 28 Nosler, and updates for 31 rifle and pistol cartridges. The magazine-style publication includes eight informative new articles on reloading as well as a story about Olde Eynsford® for black powder cartridges. Available on newsstands and at Hodgdon dealers for $8.99. For more information, visit the Reloading Data Center at www.hodgdon.com or contact: Hodgdon, Dept. FFG, 6430 Vista Dr., Shawnee, KS 66218; (913) 362-9455.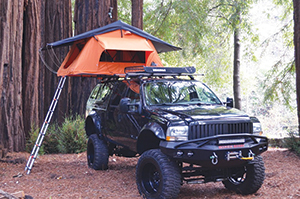 Tepui Ayer car-topper two-man tent is made with the same quality aluminum frame and rip-stop materials as its bigger brother Kukenam. Yet the lower profile packs up smaller, making it ideal for smaller vehicles. Total weight 95 pounds; closed dimensions 42 by 48 inches. All Tepui rooftop tents come with universal brackets that allow easy mounting to most roof racks and after-market roof bars. The 600D rip-stop ventilate-coated tent material will protect you in the heaviest rain and wind. The 2-1/2-inch high-density foam mattress is as comfortable as your own home bed. Comes with an 8-foot-6-inch telescoping ladder for reaching the roof of taller lifted vehicle. MSRP $895. Contact: Tepui Tents, Dept. FFG, 2703 41st Ave., Unit E, Soquel, CA 95073; (800) 301-9874; www.tepuitents.com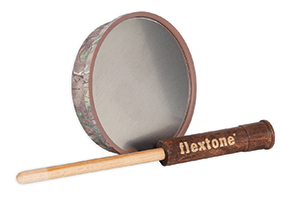 Flextone Tramp Stamp aluminum pot call combines a Magnum Hickory Striker with an aluminum surface to produce yelps with enough volume to cut through even howling wind. While every situation might not call for high frequency and extreme volume, if you don't have a Tramp Stamp Aluminum in your vest when the spring winds blow, you're probably better off flying a kite. The most stubborn gobbler will answer this call with a frenzy of gobbling and then come strutting in, spitting and drumming all the way. Realtree Xtra Green camo finish. MSRP $21.99. For more information, go to: www.FlextoneGameCalls.com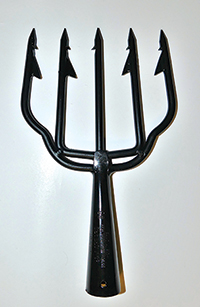 River's Edge No. 8 Super Barb heavyweight spearhead hits with 30 percent more lethal penetrating force. Then the oversized 3/8-inch barbs hold so well a stiff knife may be needed just to free the head from the fish. Designed especially for channel catfish where more holding power is essential because of the fish's soft skin and tendency to roll erratically and violently after the hit. Designed to handle fish up to 20 pounds. Overall length 10 inches, width 6 inches; tine length 6 inches, diameter 5/16-inch. Price $29.95. For a free spear fishing catalog, contact: River's Edge Spearfishing, Dept. FFG, P.O. Box 21, Peckville, PA 18452; (570) 383-2083.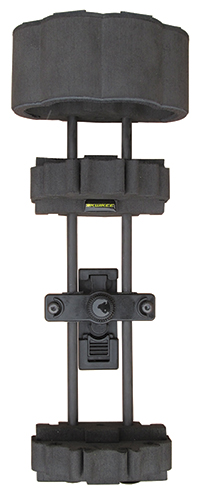 Kwikee Air Quivers are 70 percent lighter than other comparable quivers, and the broadheads can't clank against each other or any metal parts. Customize the quiver by removing an arrow holder or altering the distance between arrow holders and shield. You can even use old arrow shafts to alter the length of the quiver and position it on the bow in a perfect location. No more interfering with the sight, and no need to add vibration-reducing components as the entire quiver is made of shock-reducing foam. The 1-1/2-inch hood safely covers most mechanical broadheads. StarTite holders snugly fit most shafts. Use the Classic Kwikee Kwiver attachment for secure, one-hand, easy on and off. Eight models hold from 3 to 6 arrows. Lifetime warranty. MSRP $49.99. For more information, contact: Kwikee Kwiver, Dept. FFG, 6893 Sullivan Rd., Grawn, MI 49637; (800) 891-3660; www.KwikeeKwiver.com
FUR-FISH-GAME New Products Archive