Rock River .458 SOCOM
Sledgehammer stopping power in the AR platform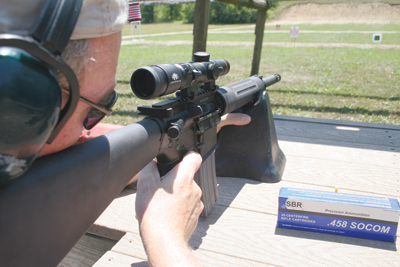 Rock River Arms .458 SOCOM transforms the AR platform into a big and dangerous game rifle with a sledgehammer cartridge that delivers up-close stopping power comparable to the .45-70 Government only in a fast-handling semiauto.

The massive but short cartridge is designed to work in existing AR lowers without modification. A shooter who owns a Rock River in .223 may purchase just an upper chambered for .458 SOCOM, push out two pins, snap the new upper on the lower stock and trigger assembly, and go shoot. Surprisingly, the same clip that holds .223 cartridges also holds the .458.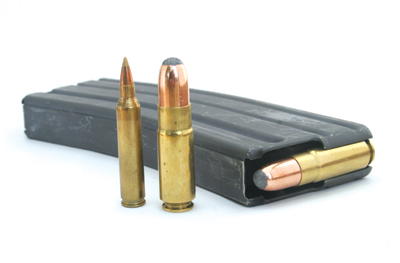 Offered in bullet weights from 250 to 600 grains, we shot 300-grain jacketed hollow points from SBR. But first, we mounted a Leupold VX-R 1.25-4X30mm riflescope. Illuminated FireDot Duplex reticle and wide field of view at up to 4-times magnification make this an ideal optical sighting system for a rifle that may be called upon to drop an elk at 200 yards or stop a charging bear at 25 yards.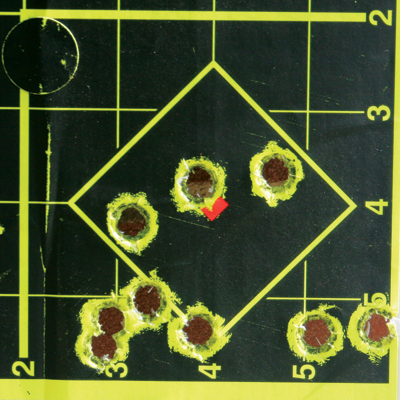 The two-stage trigger broke cleanly at 3 pounds 12 ounces. Accuracy was outstanding, MOA off the bench. Despite the big round, the rifle still handled like an AR, coming to shoulder naturally and then staying on target for fast follow-up shooting. We emptied the clip taking less than a second a shot, keeping all nine rounds in a 4-inch target at 25 yards.
Suggested retail $1,150 (upper only $725). Contact: Rock River Arms, 1042 Cleveland Rd., Colona, IL 61241; (866) 980-7625; www.rockriverarms.com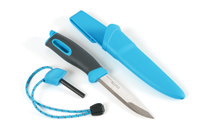 Swedish FireKnife™ from Light My Fire combines the power of fire and razor-sharp steel into one convenient device. The knife features a sturdy 12C27 Sandvik stainless steel profile-grounded blade, a comfortable high-friction handle, and a color-matching polypropylene sheath with pocket clip. And nestled inside the handle is a Swedish FireSteel® Scout fire starter that twist-locks into place. Capable of providing approximately 3,000 strikes to light campfires, gas stoves, etc., in any weather, at any elevation. Swedish FireKnife has a 3.75-inch blade and a total length of 8.5 inches yet tips the scales at a mere 3.4 ounces including sheath. Available in lime green, cyan blue, orange, red and black, with a suggested retail price of $39.99. Contact: Industrial Revolution, Inc., Dept. FFG, 5835 Segale Park Dr. C, Tukwila, WA 98188; (888) 297-6062; www.industrialrev.com

Wildlife Research Center Scent Killer® Gold™ with Hunt Dry™ Technology delivers maximum effectiveness after it dries, so you don't have to hunt in wet clothing. Spray onto outerwear days or even weeks in advance and then store in an airtight container until the hunt. Proven 99-percent effective at stopping replicated human odor 10 days after drying, in testing at Rutgers University. Also works wet, so it's OK if you wait to apply until already in the woods. Every spray of Odorless Formula™ Scent Killer Gold delivers trillions upon trillions of intense odor-fighting molecules that attack a wide range of existing odors while also preventing new odors from forming. Even though you can never completely eliminate 100 percent of human odor, it is important to take steps to eliminate as much as you can. Suggested retail price for 12 fluid ounces is $9.99. 100-percent money-back guarantee. For more information on the entire line of hunting lures and scent-elimination products, contact: Wildlife Research Center, Inc., Dept. FFG, 14485 Azurite Street NW, Ramsey, MN 55303; (800) 873-5873; www.wildlife.com

Leatherwood/Hi-Lux Optics 8x USMC Sniper is a remake of the micrometer-click external adjustment riflescope used during WWII, Korea and the early years of Vietnam. Incorporates all the features of the original, but with modern multi-coated optics that are much brighter and sharper. The original cast aluminum adjustable rear mount has been replaced with precision-machined steel. The newest addition to the Leatherwood/Hi-Lux Optics "Wm. Malcolm" line of vintage riflescopes, this one should be especially popular with shooters in vintage sniper rifle competitions, allowing shooters to put together an authentically equipped rifle. Also popular with precision long-range varmint shooters and precision target shooters. Each scope is marked USMC and serial numbered. Comes with a Limited Lifetime Warranty. Suggested retail $549. Contact: Hi-Lux, Inc., Dept. FFG, 3135 Kashiwa St., Torrance, CA 90505; (888) 445-8912; www.hi-luxoptics.com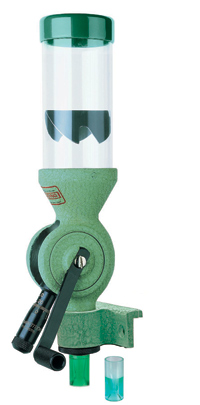 Redding Competition Model 10x dedicated small case powder measure has an operating range of 1 grain to approximately 25 grains, putting loads for the hot new .17 Hornet cartridge in the middle and therefore most accurate part of its range. Couple with a Redding 17-caliber drop tube adapter for the perfect precision .17 Hornet powder measure. Originally designed as a "bench rest" quality measure for silhouette shooters, it is proving ideal for hunting handloaders who need a High Precision BR type powder measure to handle the very light charge weights for the .17 cartridge. Features include: Micrometer adjusted metering chamber with hemispherical cup; cast iron and chrome construction; backlash eliminating micrometer for repeatability; adjustable powder baffle; positive metering chamber lock. Contact: Redding Reloading, Dept. FFG, 1089 Starr Rd., Cortland, NY 13045; (607)753-3331; www.redding-reloading.com
FUR-FISH-GAME New Products Archive