Rossi Wizard
18 Barrel Options in Rifle, Shotgun, & Muzzleloader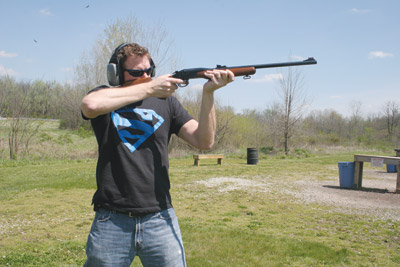 Rossi touts the Wizard as the most versatile multiple-barrel single-shot firearm made, thanks to a design that accommodates 18 different rimfire, centerfire, muzzleloader, and shotgun barrels. The same hammer strikes and fires rimfire and centerfire cartridges, shotgun shells and muzzleloader primers. Barrels can be exchanged in less than a minute, with no tools and no other adjustment needed.

The front sling swivel stud also attaches forend to barrel, and it can be turned out with fingers. Remove the forend, open the break-action, and remove the barrel. Now snap the next barrel onto the action and reinstall the forend. That's it.
We put a Leupold VX-3 4.5-14x 40mm scope on the .308 barrel, and it shot MOA groups with Federal Premium 168-grain Sierra MatchKing boat tail hollow points. The trigger broke at a crisp 4-1/2 pounds.

We swapped that barrel for a .22 LR barrel and shot that with the open fiber-optic sights that come on Wizard rifle barrels. The compact rifle handled well, and the modified Monte Carlo stock with raised cheek rest allowed fast sight acquisition shooting off-hand with open sights same as with the low-mounted scope.

Rossi sells complete Wizard rifles in .22-250, .223, .243, .270, .30-06 and .308. Other barrel options include .17 HMR, .22 LR, .22 Mag, .38-357 Mag, .44 Mag, .45-70, 7.62x39; .45 and .50 muzzleloader; and shotguns in .410, 20 and 12 gauge.

Barrels measure 23 inches; overall gun length 38.5 inches; total weight 7 pounds. Offered in a youth version with 22-inch barrels in .223, .243 and .308; overall length 36.5 inches; weight 6.25 pounds.

Hardwood stock (available in natural wood or camo finish) comes with a ventilated recoil pad. Receivers and barrels machined from carbon steel with blued finish. Fit and finish on our test gun were fine. Features include a simple yet effective built-in hammer key lock that prevents firing. The breech cannot be closed or opened when the hammer is cocked. Transfer bar mechanism and manual safety also help prevent accidental firing.

Complete guns found for $265 plus shipping on discount websites; barrels started at $124 depending on caliber. Muzzleloader barrel with special forend and ramrod $224. One-year NRA Junior Membership included with purchase of a youth gun. Contact: Rossi, Dept. FFG, 16175 NW 49 Ave., Miami, FL 33014; (305) 474-0401; www.rossiusa.com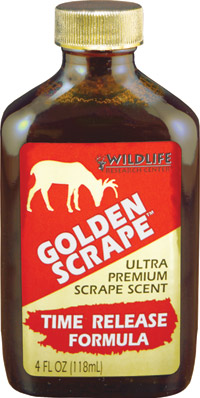 Wildlife Research Center Golden Scrape™ combines premium doe urine and estrus secretions with premium buck urine in a special time-release formula. Ideal for real or mock scrapes where the smell of a strange buck will enrage a dominant buck while the doe smells sexually arouse. Further enhanced with subtle earth tones and Territorial Musk™ to make it irresistible. Use Golden Scrape@ in a Wildlife Research Center Magnum Scrape-Dripper® to condition the buck to come calling only during daytime hunting hours. Suggested retail for 4 ounces $17.99. 100-percent money-back guarantee. For more information on the entire line of hunting lures and scent-elimination products, contact: Wildlife Research Center, Inc., Dept. FFG, 14485 Azurite Street NW, Ramsey, MN 55303; (800) 873-5873; www.wildlife.com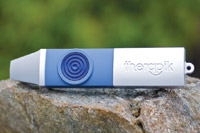 Therapik sooths the pain and itch from stings and bites by mosquitoes, bees, wasps, hornets, black flies, ants, fleas, ticks, chiggers, even jellyfish and stinging nettle. Based on a simple but scientifically proven principle. Most venom is sensitive to heat, and Therapik delivers the right heat at the precise location to neutralize the venom. As the heat increases blood flow to the area, there is a marked reduction in swelling, pain and itching. Can be used as often as necessary, but a single 20- to 30-second application usually stops the itch and pain permanently. Suggested retail $12.95. Contact: MorePower2U, Dept. FFG, 4638 N. Hiatus Rd., Sunrise, FL 33351; (954) 578-6909; www.therapik.com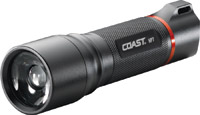 Coast HP7 LED Flashlight delivers all of the latest lighting technology in an impact- and water-resistant 5.5-inch aluminum casing. Weighs just 7.2 ounces (including the four provided AAA batteries) yet projects 251 lumens of brilliant light up to 693 feet with a run time of 5 hours and 45 minutes. Patent-pending Pure Beam™ Focusing System produces consistency across the beam from the tightest spot to the widest flood. Unique spot-beam optics provide a bright center with a wide-angle "halo" illuminating around the primary beam target. Fingertip Speed Focus Control™ let's you focus the light by simply pushing the front bezel forward or backward, leaving your other hand free. Beam Lock™ lets you then lock the light into the desired beam with a twist of the front bezel. Aluminum pedestal below the LEDs dissipates heat buildup for maximum light output and also increased LED lifespan. Heavy-duty nylon sheath included. Suggested retail $53. Contact: Coast Products, Dept. FFG, 8033 NE Holman, Portland, OR 97218; (800) 426-5858; www.coastportland.com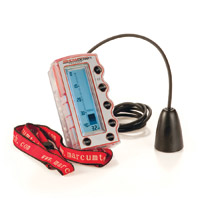 MarCum Technologies' ShowDown Troller delivers full-size sonar fish-finding performance in a walkie-talkie-sized portable device. Instantly locks onto the lake bottom, and then the crystal quick vertical display clearly shows the location of any fish and also your lure anywhere in the water column. The transducer fires right through the hull. No mounting or cutting necessary, although it can be permanently installed quickly and easily with epoxy. Six AA batteries provide up to 20 hours continuous use. Suggested retail $199. Contact: Versa Electronics, Dept. FFG, 3943 Quebec Ave. N, Minneapolis, MN 55427; (888) 778-1208; www.marcumtech.com
FUR-FISH-GAME New Products Archive