.357 Benjamin Rogue ePCP
"… Most technically advanced and versatile hunting airgun ever …"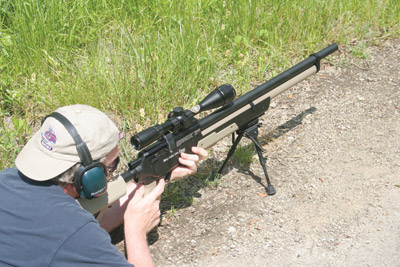 Crosman claims their .357 Benjamin Rogue ePCP is the most technically advanced and versatile hunting airgun ever, a six-shot repeater that may be set with the push of a button to shoot three different weight .357 bullets at low, medium or high power. Muzzle velocity goes from 700 to 1,000 feet a second with knockdown energy from 100 to 250 foot pounds depending on the bullet and the power setting. With the right combination, the gun may pick off a jack rabbit at 100 yards, a coyote at 75 yards, or drop a wild hog in its tracks at 50 yards.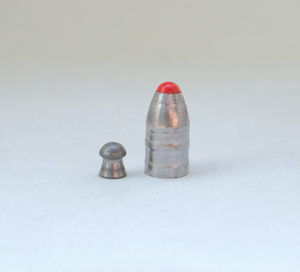 145-grain ballistic-tip dwarfs a .22 pellet.

Microprocessor-controlled air valve system matches the air push to the bullet weight and power setting while also monitoring the pressure in the rifle's air reservoir to maintain consistent velocity. All of the information a hunter needs to manage this is on an LCD screen alongside simple push-button controls.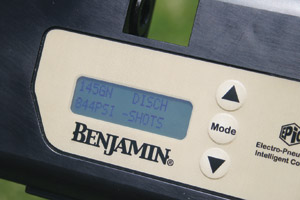 Crosman also promises superb hunting accuracy, a claim we tested with 145-grain ballistic-tip Benjamin eXTREME™ bullets, developed by Nosler specifically for this gun; 90-grain hollow point and 175-grain round nose also offered. The bullets are softer than traditional lead with stepped-bands to better engage the rifling.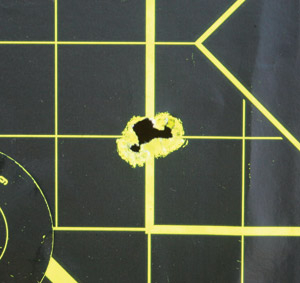 We got close to MOA accuracy at high power. Point of impact dropped when the power setting was changed from high to medium. But then our best five-shot group left a single hole in a 20-yard target. The two-stage electronic trigger broke without a hitch at less than 2 pounds pressure.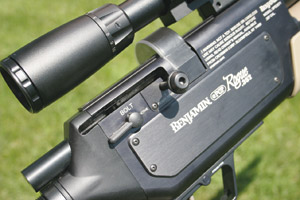 Because the 3,000 psi onboard air reservoir must be filled slowly with clean, dry air, Crosman says it must be charged with compressed air from either a scuba tank or an airgun refill bottle—no hand pumps. At the highest power setting, we got six shots from each reservoir refill; at medium power, that jumped to about 15 shots.

AR-style pistol grip synthetic stock features an adjustable buttstock that slides out to the desired length of pull. Comes with 3/8-inch dovetail rail for scope mounting, but no sights. Overall length 48 inches. Total weight (without scope) 9.5 pounds. Sold as a package with soft padded carry case, bipod, scope, and 3-year extended warranty for $1,500 on Crosman website, found without the extras for $1,299 on discount websites. Contact: Crosman, 7629 Routes 5 & 20, Bloomfield, NY 14469; (800) 724-7486; www.crosman.com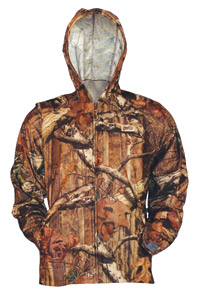 GameHide Youth Series ElimiTick clothing with Insect Shield Repellent Technology binds a man-made version of a natural insect repellent to the fabric fibers so tightly the repellency effectiveness is retained throughout the life of the garment. The U.S. EPA rates the odorless and invisible repellent category IV, deemed appropriate for children of all ages, including infants. Youth Series includes a Cover Up Jacket with attached hood and full-length zipper. Also available in Youth Cover Up Pants with elastic waist and adjustable cuffs. Made of featherlight, breathable Hush Hide® fabric for the utmost in quiet hunting. Suggested retail price $49.95 (jacket) $39.95 (pants). Contact: GameHide, Dept. FFG, 11421 Rupp Dr., Burnsville, MN 55337, (888) 267-3591; www.gamehide.com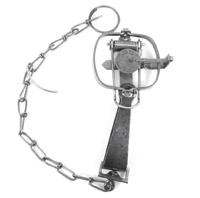 Oneida Victor® No. 1 STOP LOSS® is back and better than ever with extra-strong, high-quality long springs; galvanized spring steel guards for added strength; galvanized guard springs; and galvanized plated pin that holds the guard in place until an animal pulls against the chain. Then, the pin pulls and the guard releases. The use of galvanized metal for all of these critical components ensures years of reliable service. Contact: Oneida Victor, Dept. FFG, P.O. Box 32398, Euclid, OH 44132; (216) 761-9010; oneidavictor@ameritech.net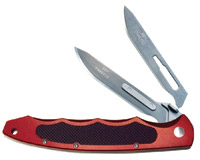 Havalon Piranta-Torch replaceable-blade razor knife features a newly designed 60A blade which is 20-percent thicker and stronger than the standard 60XT blade while still retaining the famous Havalon "crazy-sharp" surgical edge. When the edge finally does dull, just snap on a new one. An easy-off safety tab makes removing blades from the handle easier while keeping fingers away from the cutting edge. Accepts 60A, 60XT and 22XT blades. Extremely light in the pack, weighing only 2.1 ounces. Also extremely rugged with 6061-T6 aluminum alloy handle. Blade length 2-3/4 inches; overall length 7-3/8 inches. The Torch comes with black rubber grip inserts, an open back for easy cleaning, ambidextrous thumb studs, liner lock and a removable pocket clip. Offered in three colors: Light Copper, Lime Green and Brick Red. Suggested retail price $59.95. Contact: Havalon Knives, Dept. FFG, 3726 Lonsdale St., Cincinnati, OH 45227; (800) 638-4770; www.havalon.com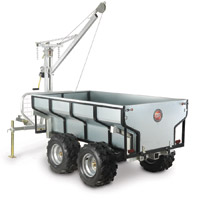 DR Versa-Trailer is a must-have accessory for ATVs, UTVs, and compact tractors. This all-steel construction utility trailer can haul loads up to 2,000 pounds and features a boom-lift that pivots to lift and load up to 440 pounds from either side of the trailer. The boom-lift can also be used to raise and lower the galvanized steel bed. The bed itself can be removed (no tools required), quickly converting the trailer to a stake bed for hauling long loads. Designed with a rearward pivot point, which achieves a 35-degree dump angle for clean unloading. Tandem wheels pivot on a single axle, allowing it to "walk" over uneven ground anywhere an ATV, UTV, or compact tractor will go. List price $2,199. Contact: DR Power Equipment, Dept. FFG, 75 Meigs Rd., Vergennes, VT 05491; (800) 687-6575; www.drpower.com
FUR-FISH-GAME New Products Archive