Remington Versa Max
"Most versatile 12-gauge autoloader ever …"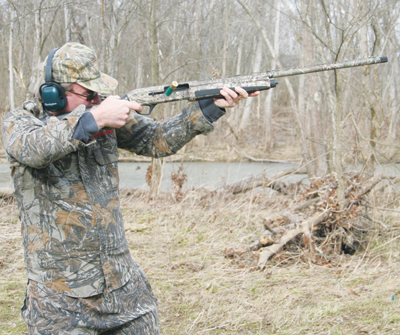 Remington touts the Versa Max as the most versatile 12-gauge autoloader ever, capable of cycling the mildest target load or the most potent magnum with no adjustments and less felt recoil than some 20-gauge guns. The self-regulating gas system at the heart of the new gun is ingeniously simple, based on the fact that shotshell pressure tends to correlate with shotshell length. The gas ports are located in the chamber where longer, more powerful shells cover and block some, reducing the amount of gas going to the piston that drives the automatic feed and ejection. Shorter shells leave more ports exposed so that even though less gas pressure is produced by the shell, about the same amount goes to the piston.

To see how well this works, we filled the tube and chamber with a mix of everything from 2-3/4-inch AA target loads to 3-1/2-inch high-speed steel waterfowl loads. No matter the sequence, the Versa Max cycled all without a hitch.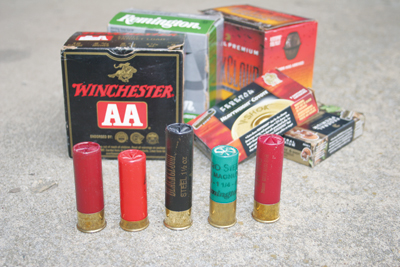 To take advantage of that versatility, the Versa Max stock is designed so the shooter can make adjustments to "tweak" the fit for different hunting and target shooting situations. In addition to the SuperCell™ recoil pad, the stock comes with spacers that can increase the length of pull up to 1 inch. Drop and cast may be adjusted with nothing more than a screwdriver and Allen wrench. The cheek comb insert also may be adjusted for better eye alignment with different stock configurations and sighting systems.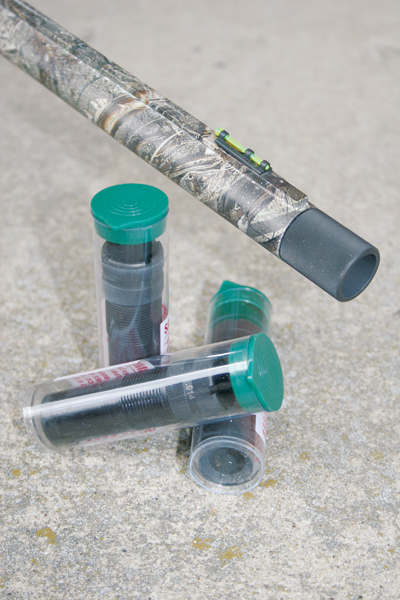 Mil-spec anodized aluminum receiver for lightweight strength. Hammer-forged 4140 steel barrel with nickel-plated bore. Internal action components also nickel-plated to resist rusting. Ventilated rib tapers from receiver to muzzle for instinctive sighting with fiber-optic HiViz® front sight (interchangeable white, green and red light pipes). Receiver is drilled and tapped for mounting other optics. Comes with four choke tubes for hunting everything from quail to coyote. Ships in a hard-plastic carrying case. Service plan covers a free cleaning and inspection. Available with 26- or 28-inch barrel, in camo or black synthetic finishes. Contact: Remington Arms Company, 870 Remington Drive, P.O. Box 700, Madison, NC 27025-0700; (800) 243-9700; www.remington.com
RZ Hunting Mask with N99 Active Carbon filter locks in any odors exhaled by the user, providing total scent control for hunters. Deer can detect minute traces of human scent at more than a quarter-mile, and exhaled breath is a primary source of that scent. With its realistic camo pattern, the RZ Mask also effectively hides the lower half of the hunter's face. The neoprene material insulates against wind and snow, as well as wicking away rain or other moisture, assuring a dry face. Frigid air is conditioned to a comfortable level as it is inhaled, mitigating cold air dangers, too. For more information, contact: RZ Mask, Dept. FFG, 949 Rivage Ln., Burnsville, MN 55306; (888) 777-9422; www.RZMask.com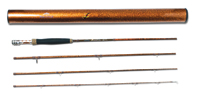 Wright & McGill Generation II Fly Girl and Blair Wiggins Signature Series rods feature Carbon Nanotube resin and proprietary S-Curve technology, components and technology that are literally the best available. Yet most sell for $99, with the Blair Wiggins saltwater fly rods retailing for a nominal $149. Carbon Nanotube (CNT) resin is filled with millions of minuscule carbon particles that act as a buffer between the layers of 1K high-density woven graphite cloth. The addition of this resin improves both the strength and durability of the rod while simultaneously adding a heightened degree of sensitivity. Overall, CNT increases the strength of the rod by 20 percent while reducing the weight by 20 percent. Merely picking one up is a true pleasure. The newly engineered high-density rubber handle is noticeably more comfortable than cork, a welcome addition to an already innovative rod. From tip to butt, the 4-piece rods are distinctive in finish, notable for quality, and remarkable for their use of cutting-edge technology at an affordable price. Cases included at no additional cost. For more information, contact: Wright & McGill Co., Dept. FFG, 4245 E. 46th Ave., Denver, CO 80216; (720) 941-8700; www.wright-mcgill.com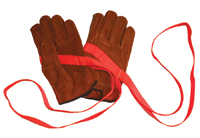 Big Game Drag Glove™ simple yet effective design provides exceptional leverage to make light work of dragging a deer out of the woods. Durable heavy-duty nylon straps are sewn into each glove, ensuring a secure grip with no slippage. Simply attach the straps to the animal, and you're ready to drag. Also makes lighter work of hanging the deer for skinning. Compact, lightweight and silent when stowed in a field pack. Durable split cowhide construction with custom sizing for a perfect fit. For more information, contact: Big Game Drag Glove, Dept. FFG, 2084 Aerotech Dr., Colorado Springs, CO 80916; (719) 465-1825; www.biggamedragglove.com

AMERISTEP Skyscraper 22-foot ladder stand towers above the competition, and secure installation at high elevation is easy with a patent-pending Truss Technology System that replaces the old-style stabilizer bar still found on other ladder stands. Safe for use on crooked or leaning trees; three times stronger and more stable than other systems, and without the noisy hardware. Ladder leveler provides extra-wide footing on uneven ground. Detachable seat frame reduces top-heavy weight for safer installation. Trap door for easy, quiet entry. Platform locks to prevent trespassing or theft (lock not included). Platform is 38.5 by 28.5 inches. Steel construction rated for 300 pounds. Total weight 115 pounds. Suggested retail $403. For more information, contact: Ameristep, Dept. FFG, 901 Tacoma Ct., Clio, MI 48420; (810) 686-4035; www.ameristep.com
FUR-FISH-GAME New Products Archive