T/C Impact Muzzleloader
High quality at a low price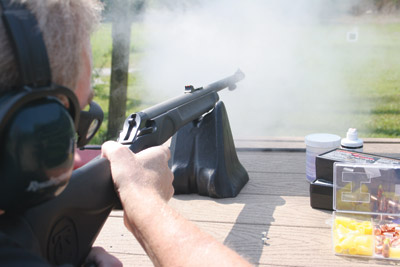 Thompson/Center says their Impact™ muzzleloader delivers high-quality performance at a low-end price. Our test rifle lived up to the claim, handling flawlessly while shooting near-MOA groups. The finish was fine and the fit precise.

A slightly over-wide Quick Load Accurizor® muzzle allowed easy loading with just fingers and the solid aluminum ramrod that comes as standard equipment with the gun. The break barrel opened with an easy thumb-pull of an ambidextrous release lever located at the back of the breech.

The T/C-patented hammer and trigger mechanism (only two moving parts) released cleanly under less than 4 pounds of pull pressure, and we got top accuracy loading two Hodgdon 50-grain Triple Seven pellets under a 250-grain spire-point polymer-tipped bullet, apparently a good load for the 1-in-28-inch rifling twist in the 26-inch barrel. Williams fiber optic sights are standard equipment, and the barrel also comes drilled and tapped for mounting a scope.

Our test rifle barrel featured the T/C Weather Shield® finish, far more resistant to corrosion than stainless steel alone. The gun is also offered with a blued barrel at a lower price. The black composite stock (also offered in RealTree Hardwoods camo finish for more money) comes with QD swivel sling studs and a 1-inch spacer installed ahead of the ventilated recoil pad. To get a better fit for a young shooter, remove the spacer and shorten the length of pull from 13-1/2 to 12-1/2 inches.

Loaded carry weight (without scope) is less than 7 pounds; overall length is 41.5 inches. Full retail price in gun stores ranges from $250 to a little over $350 depending on finish. We found the version we shot (black stock with Weather Shield barrel) on a discount website for $238 plus shipping. Contact: Thompson Center Arms, Dept. FFG, 2100 Roosevelt Ave., Springfield, MA 01104; (866) 730-1614; www.tcarms.com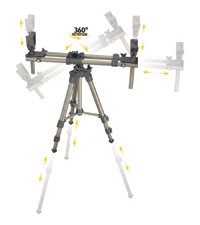 Caldwell DeadShot® FieldPod™ provides benchrest accuracy when it matters most—in the field. The FieldPod features a fully adjustable dual frame upper and a solid tripod base capable of supporting rifles, shotguns, muzzleloaders and even crossbows. Fully compatible with detachable magazine rifles like the popular AR-15. Length and elevation adjustments ensure fit and balance while the precision cast hub system allows the rest to pivot up and down, rotate left and right. Constructed of high-quality, lightweight aluminum, the DeadShot FieldPod weighs just 5 pounds. With a height adjustment range from 20 to 42 inches, it works great for hunters sitting on the ground or in a chair. Ideal for shooting from inside a ground blind. Collapses for easy carry. Suggested retail $99.99. Contact: Caldwell Shooting Supplies, Dept. FFG, 5885 W. Van Horn Tavern Rd., Columbia, MO 65203; (573) 445-9200; www.battenfeldtechnologies.com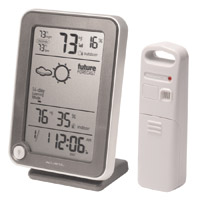 AcuRite Digital Weather Station with Focused Sensor Based Forecasting technology utilizes a sensor to collect data right from the user's backyard, generating a personalized 12- to 24-hour forecast. Wireless operation means you can simply set the sensor unit outside and the indoor weather station will receive all data. Features include: indoor/outdoor temperature/humidity; atomic self-setting clock and calendar. Icons show 14 different weather conditions. Blue backlit screen for easy reading. Runs on AA batteries (not included). Set on a tabletop or hang on a wall. Suggested retail $64.99. Contact: AcuRite, Dept. FFG, 965 Wells St., Lake Geneva, WI 53147; (877) 221-1252; www.acurite.com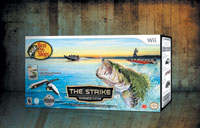 Bass Pro Shops® The Strike: Tournament Edition for the Nintendo Wii™ offers outdoor enthusiasts and gamers a rich new experience. Ambidextrous fishing pole easily attaches to a Wii controller so you can cast, reel, and jig just like out on a real lake. Each "boat" is equipped with a fish-finder, GPS and even a radio with a large music library. Fish one of 12 North American lakes for 14 species of fish using more than 100 authentic Bass Pro Shops lures and a huge selection of rods and reels. Pre-Fish mode lets you scout each lake ahead of time. Sports Ticker keeps you updated on how the competition is doing. Career Mode mimics the real life of a tournament angler starting out as a rookie looking to climb the ranks against established pros, collecting sponsors, boats and prize money that can be used to upgrade equipment as he progresses. Suggested retail $49.99, software only $29.99. Contact: Bass Pro Shops, Dept. FFG, 2500 E Kearney, Springfield, MO 65898; (800) 227-7776; www.basspro.com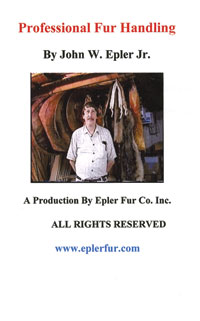 Professional Fur Handling by John W. Epler Jr. demonstrates step-by-step how to skin, flesh, and stretch raccoon, muskrat, fox, opossum, beaver, otter, mink, and bobcat. A must-see DVD for all beaver trappers. John specializes in fleshing beaver while tacking the pelts directly onto the boards for stretching and drying. Includes many helpful tips to help you care for knives, tools, stretchers, and more. Drawn from 30-plus years of experience, this 2-hour DVD will increase your fur check by improving your skills. $24.95 plus $3.95 shipping and handling. Contact: Epler Fur Co., Inc., Dept. FFG, 733 East Second Mountain Rd., Orwigsburg, PA 17961; (570) 366-1261; www.eplerfur.com
FUR-FISH-GAME New Products Archive