Crosman's Benjamin Marauder
Hunting power in a .22 air pistol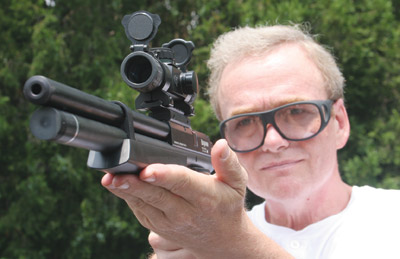 Crosman claims their Benjamin Marauder PCP .22 air pistol packs more than enough power for small game at 30-plus yards, launching lead pellets at up to 700 feet a second with pinpoint accuracy.

I didn't use a chronograph to check velocity, but right out of the box, the test gun shot dime-size groups at 25 yards with 14-grain Crosman Premier Ultra-Magnum domed hunting pellets.

The fully adjustable two-stage drop sear trigger, made of heat-treated metal, broke crisply under less than 1 pound pressure. The short-throw bolt action cycled rounds quickly and flawlessly from the self-indexing eight-shot rotary clip.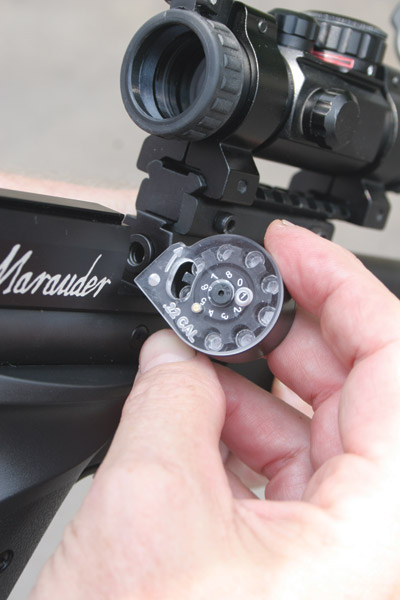 Like all precharged pneumatic air guns, the Marauder draws its power from a built-in air reservoir that may be filled with a compressor, from scuba tanks, or with a special high-pressure hand pump. I used a pump to build 2,500 pounds per square inch pressure in the 3,000 psi reservoir, and I took 40 shots before needing to pump it back up.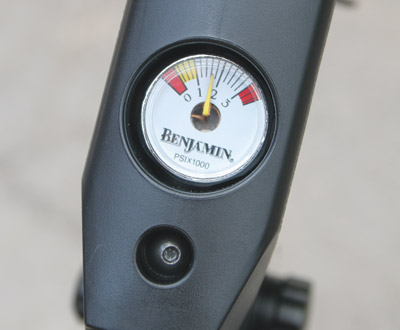 There are no sights on the 12-inch choked and shrouded rifled steel barrel. Instead, the aluminum receiver has a full-length dovetail for mounting scope or dot sights at different eye reliefs. We used the provided 30mm CenterPoint Multi-Tac Quick Aim Sight, which has four reticle options in both red and green: single dot, tactical for fast shot acquisition, German for framing shots in low light, and "crossbow" with three stacked dots to match the trajectory of the shot at different ranges.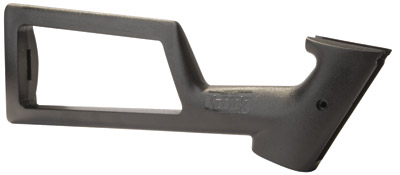 Matte-black finish on the pebbled synthetic stock matches barrel and receiver. A rifle-style butt stock also comes with the gun. To make the swap, simply pull the screws on the pistol grips. Overall length (with pistol grip) 18 inches, weight 2.7 pounds (without sight). Suggested retail $419. Found on a discount website for $378 plus shipping. For more information, contact: Crosman Corporation, 7629 Routes 5 & 20, Bloomfield, NY 14469; (800) 724-7486; www.crosman.com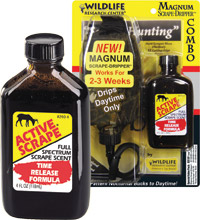 Wildlife Research Center® Active-Scrape® Time Release Formula is ideal for hunting over a real or mock scrape, arguably the overall most effective way to target and tag a quality buck. The full-spectrum scent is made with a blend of natural doe urine (with estrus secretions) and strong, natural buck urine. The smell of a strange buck in his territory enrages a dominant buck, while the scent of the doe sexually arouses him. It's the full, natural smell of a fresh, active scrape. Jump-start a real or mock scrape with these intense smells. Then use the Wildlife Research Center® Magnum Scrape-Dripper® to keep the deer coming back, automatically adding fresh scent during daylight hours for 2 to 3 weeks. Active-Scrape® Time Release Formula lasts longer by evaporating at a slower, more even rate. All products 100-percent money-back guaranteed. Contact: Wildlife Research Center, Inc., Dept. FFG, 14485 Azurite Street NW, Ramsey, MN 55303; (800) 873-5873; www.wildlife.com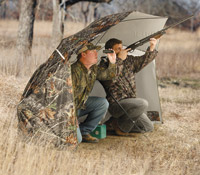 Sport-Brella 9-foot-wide group umbrella provides portable protection from sun, rain and wind with domed shape, side flaps, and 125 SPF. Comes in a variety of colors and patterns, including camo for use as a blind. The umbrella-action opening mechanism allows it to be set up in just three seconds. Includes top wind vents, side zippered windows, internal pockets for gear and valuables, convenient carry bag, and tethers with ground stakes for additional stability. Contact: SKLZ, Dept. FFG, 5823 Newton Dr., Carlsbad, CA 92008; (877) 225-7275; www.sklz.com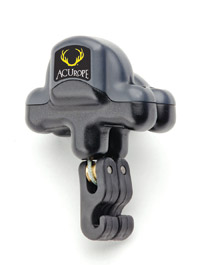 TenPoint Crossbow Technologies® ACUrope™ is the only portable and fully retractable rope-cocking mechanism (patent pending). Works like traditional rope cockers, but that's where the comparison ends. When you finish cocking the bow, the ACUrope draw cord completely retracts inside one of the two grips. Then, the grips dovetail neatly together to form a compact unit that slips into a belt-mounted holster. Clever, convenient and user friendly, eliminating the safety hazard of hanging a rope cocker around your neck or the inconvenience of finding one tangled up in a fanny pack. The slender draw cords, pound-for-pound 15 times stronger than steel, are made of heat and abrasion resistant SPECTRA® 1000 fiber. A pair of heavy-duty constant-force springs packed neatly inside the retracting grip power the spool, which is mounted on a steel axle and frame. The grips are made from DuPont™ Zytel™® Super Tough Nylon. Contact: TenPoint Crossbow Technologies, Dept. FFG, 1325 Waterloo Rd., Mogadore, OH 44260; (800) 548-6837; www.tenpointcrossbows.com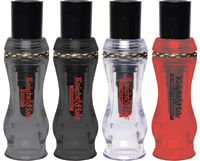 Knight and Hale Ultimate Predator 1, Cottontail Rabbit, Jackrabbit, and Rodent calls all have been completely redesigned. The barrel of all of these mouth-blown calls features a new ergonomic look and feel, and the "threadlock" design screws directly into a shortened end piece for easy assembly and disassembly. The wedge, reed and sound board also have been redesigned, so the reed "locks" into place every time. This allows the user to reassemble a call just as it came from the factory, every time. The result is a great sounding, user-friendly, compact call with a lot of volume. Contact: Knight & Hale Game Calls, Dept. FFG, 715 B Summit Dr., Decatur, AL 35601; (800) 500-9357; www.knightandhale.com
FUR-FISH-GAME New Products Archive