Escort 20 Gauge Slug Gun
Versatile deer slayer with or without a scope
Legacy Sports International says their Escort 20-gauge pump slug gun is exceptionally dependable and accurate, capable of MOA accuracy shooting high-speed Hornady SST sabot loads. To test those claims, we mounted a Leupold VX-3 4.5-14x40mm scope to the built-in cantilever rail and then shot an assortment of slugs, in addition to the Hornady SST.

The pump action cycled the mix of 2-3/4- and 3-inch shells without a hitch, and the high-speed loads did, indeed, approach MOA accuracy. The trigger released consistently at 6 pounds pressure following a smooth pull.

A company spokesman attributed the accuracy to the solid Escort action (built in Turkey by Hatsan Arms), tight tolerances, and a chromium steel barrel with precision-cut rifling at 1-in-26 twist for stabilizing those fast loads (made in the United States by Badger Defense).

Shooting off-hand, the compact, lightweight pump gun handled very well. The built-in cantilever scope mounting rail features a fully adjustable fiber-optic rear sight and the muzzle end of the barrel has a rifle-style fiber-optic front sight for shooting without a scope.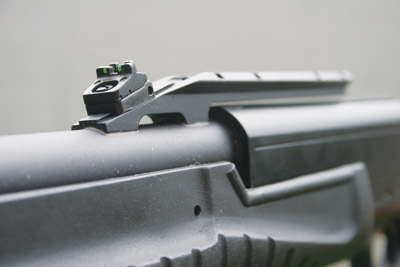 Synthetic stock comes with soft-rubber recoil pad. Sling attachments on buttstock and magazine tube cap. Black matte finish on stock and exterior metal. Overall length 42 inches; weight 6 pounds (without scope). Also offered in 12 gauge and in a youth version 20 gauge with a shorter stock and 13-inch length of pull. Semiautomatic versions and 1.5-6x36mm Nikko Stirling riflescope packages also offered. Suggested retail for the 20-gauge pump gun (without scope) $497. Found on discount websites for as low as $312 plus shipping. Contact: Legacy Sports International, 4750 Longley Lane, Suite 208, Reno, NV 89502; (800) 553-4229; www.legacysports.com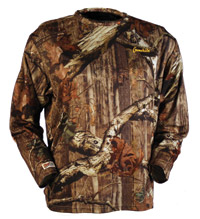 Gamehide ElimiTick clothing stops ticks, chiggers and other pesky insects with a revolutionary process that bonds a man-made version of a natural repellent found in chrysanthemum flowers right to the fabric fibers. The repellent is odorless and retains complete effectiveness through 70 washings; has earned the EPA's safest rating. Wearing ElimiTick clothing can help protect against deer ticks without the inconvenience and odor of sprays. With the incidence of Lyme disease spreading along with deer tick populations, why take the risk? The line includes a 5-pocket pant, long-sleeve tee, button-down shirt, cover-up pant and jacket, plus face mask, cap and lightweight gloves. Contact: Gamehide, Dept. FFG, 12257C Nicollet Ave. S., Burnsville, MN 55337; (888) 267-3591; www.elimitick.com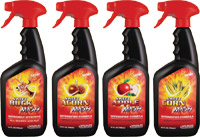 Wildlife Research Center® Sweet Buck Mash™, Sweet Acorn Mash™, Sweet Apple Mash™ and Sweet Corn Mash™ attractor sprays are made with scents and ingredients that deer and other wildlife love; tried and tested for years by the experts at Wildlife Research Center so you know they work. Sweet Mash Sprays - Make Your Spot Smokin' Hot!™ with penetrating sweetness enhanced with Special Musk and other ingredients to draw deer all season long, but especially during the rut. Any of the new attractor sprays will mask human odor around a hunting area. Offered only in large, 24-ounce spray bottles with a suggested retail of $12.99. Contact: Wildlife Research Center, Inc., Dept. FFG, 14485 Azurite Street NW, Ramsey, MN 55303; (800) 873-5873; www.wildlife.com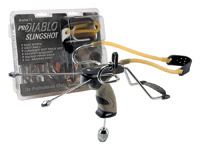 Barnett Outdoors Pro Diablo SlingShot features a contoured soft-touch molded comfort grip with stainless steel arms, 3-piece stabilizer system, detachable wrist brace, Magnum Power Bands, and adjustable sighting. Comes with target ammo and a complete Shooter's Guide. Everything a pro or beginner needs to hit the mark. If you want a great-looking, great-shooting, top-of-the-line, high-tech SlingShot, take a look at the Pro Diablo. Contact: Barnett Outdoors, LLC, Dept. FFG, P.O. Box 1209, Tarpon Springs, FL 34688; (727) 234-4962; www.barnettcrossbows.com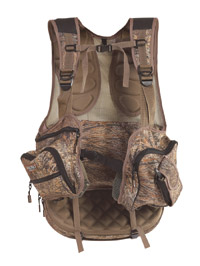 FoxPro Furtaker Predator Vest is a fully adjustable one-size-fits-most outer garment designed specifically to keep predator callers better organized and more comfortable in the field. Twenty pockets provide plenty of room to pack just about anything you may want. There are pockets to store a FoxPro caller, the remote, AR clips, rifle ammo holders, shotgun ammo holders, internal pockets for noise-free carry of hand calls with lanyards, a large cargo pocket to store binoculars or rangefinder, a water bottle pouch and more. Six D rings provided to attach any larger gear you may need. Nonslip shoulder padding makes rifle or shotgun carry more comfortable. Padded, conformed backrest and 2-1/2-inch-thick foam seat help you stay comfortably on stand for longer periods of time. Lightweight with a vented back panel to keep you dry and comfortable. Designed by predator hunters for predator hunters. Contact: FoxPro Inc., Dept. FFG, 14 Fox Hollow Dr., Lewistown, PA 17044; (717) 248-2507; www.gofoxpro.com
FUR-FISH-GAME New Products Archive