FoxPro FireStorm Digital Remote Caller with FoxBang
Mr. Coyote? Bang – you're dead!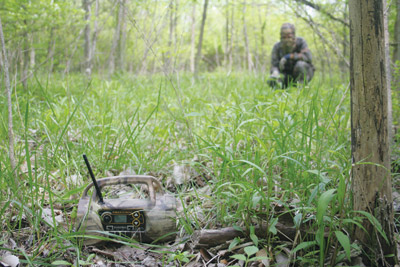 Like other FoxPro remote-control digital game callers, the FireStorm lets you switch between scores of sounds, raising and lowering volume, muting, and otherwise orchestrating the show. However, the latest FoxPro innovation isn't a sound, per se, but rather a feature in the FireStorm electronics that lets you set the caller to automatically switch itself to a new sound when you fire your gun.

Experienced callers know it pays to keep calling after a shot, because while critters may run, it's in reaction to the sudden noise and not necessarily because the animals are spooked. And when the calling continues, a running critter may pause, and a pausing critter may resume its approach. When the calling sound changes quickly to a ki-yi cry or pup distress, this response is even likelier with coyotes, and FoxBang does it automatically.The FoxBang feature on our test caller worked exactly as advertised. The rabbit squeals we were playing stopped, replaced by the louder, more intense ki-yi cries we had previously selected.

The FireStorm utilizes a built-in dual-amplification speaker system to produce clear sound at low or high volume. Comes programmed with 50 calling sounds, and holds up to 200.

TX9 remote (standard equipment with the FireStorm) lets you preset your FoxBang sound and also one other. It displays all of the sounds programmed in the caller on a rolling backlit screen, allowing for quick selection even at night. Volume can be turned up or down. Mute button pauses any sound instantly. Recall button lets you jump back to the last sound and volume played. Other TX9 features include a battery charge indicator and a timer that tells how much time has elapsed since the caller started playing.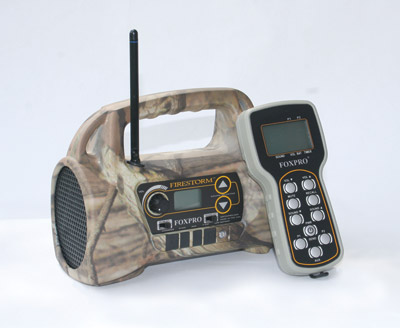 There are jacks on the FireStorm for left and right external speakers, should you want more volume. There also is an auxiliary jack to connect a motion decoy or a camera (which the TX9 remote then also controls). In addition to FoxPro .FXP sound files, the unit plays .MP3, .Wave, .OGG, and .FLAC files. Download files and reprogram right from your computer through USB 2.0 port. Eight "AA" batteries will power the unit for hours, and a charging jack can be used with the FoxPro "AA" battery charger or fast charger system. The remote control requires one 9V battery. Made in USA; backed by 5-year limited warranty. Suggested retail $419.95. FoxBang is also offered as an upgrade for some other FoxPro callers. Contact: FOXPRO, Inc., 14 Fox Hollow Dr., Lewistown, PA 17044; (717) 248-2507; www.gofoxpro.com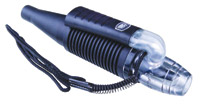 MAD Hyper Growl with Hyper Ventilator Tube air passageway simulates a real deer's nasal passage, creating the most realistic sounds ever produced with a reed system. Place a hand over the end of the main airflow to create perfect snort-wheezes without cutting off all of the air flow. This allows you to reach out with deep, guttural grunts and growls as well as realistic snort and wheeze vocalizations. And the call still produces the tending grunts and "pops" made popular by other MAD deer calls. Can be blown without any finger manipulation for top volume. Will not lock up no matter how much airflow you give it. Comes with instructional DVD. Contact: Flambeau Outdoors, Dept. FFG, 15981 Valplast Rd., Middlefield, OH 44062; (800) 457-5252; www.flambeauoutdoors.com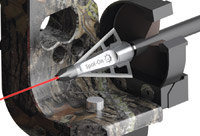 Clean-Shot™ Archery Spot-On™ combines laser sighting technology with superior broadhead construction. A laser beam built right into the broadhead can be moved up or down through 24 inches of elevation at 30 yards, as well as for left-to-right windage, by simply turning a set screw. Can be "sighted in" so the arrow hits where the laser beam hits, or can be used with sight pins, aiding in set-up and calibration for accuracy out to 70 yards, as well as to field check pins. Eliminates the parallax error inherent with peep sights. The micro-laser module is activated automatically at full draw by a simple magnet mounted on the bow. Can be used with any bow, including a crossbow. Replaceable three-blade broadhead flies true, with a patented Hollow-Point Tip that cuts on contact and keeps on cutting a core hole 1-1/8-inches wide for maximum penetration and a massive wound channel. Available in 125-grain base weight; or change the Hollow-Point Tip from Standard to Large to move the weight up to 150 grains. Disposable battery packs are good for approximately 100 shots each, or get the Full Broadhead Kit with 12-volt car charging unit to recharge the battery for hundreds of shots. Contact: Clean-Shot Archery, Inc., Dept. FFG, 4004 NE 4th St., Suite 107, Renton, WA 98056; (800) 242-9023; www.clean-shot.com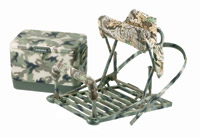 Krylon® Sand and Woodland Light Green spray paints can be used with the existing Krylon palette of Black, Khaki, Brown and Olive to create desert and woodland camouflage schemes on sporting and hunting equipment. The non-reflective paint dries in 15 minutes to an ultra-flat, durable finish. EZ Touch Dial Spray Tip enables greater coverage per pass while reducing overspray, runs and drips. Krylon Fusion for Plastic® technology bonds to most plastic surfaces as well as wood and metal. Contact: Krylon Products Group, Dept. FFG, 101 Prospect Ave. NW, Cleveland, OH 44115; (800) 247-3268; www.krylon.com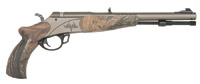 Traditions Vortek .50 muzzle-loading pistol uses the key features from the performance-proven Vortek rifle platform, including the patent-pending quick-release Accelerator Breech Plug. Three turns with fingertips, and the plug can be removed. CeraKote™ finish on barrel and frame is impervious to corrosion. Count on years of reliable performance and uncompromising appearance. 209 ignition; porting aids in recoil control. Walnut stock and forend perfectly balance the 13-inch, 1:28 rifled barrel; Williams™ Metal Sights. Backed by Limited Lifetime Warranty. Contact: Traditions Performance Firearms, Dept. FFG, 1375 Boston Post Rd., P.O. Box 776, Old Saybrook, CT 06475; (860) 388-4656; www.traditionsfirearms.com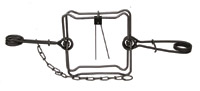 Bridger 280 Magnum is a superior bodygrip at a bargain price. Extensive field-testing resulted in a unique design with complete corner closure of the 8-by-8-inch jaws. Slight center gap protects the dog and trigger in the event of a dry fire. Limited time introductory pricing in effect at Minnesota Trapline Products, Inc., Dept. FFG, 7444 County Road 27 NW, Pennock, MN 56279; (320) 599-4176; www.minntrapprod.com
FUR-FISH-GAME New Products Archive