Jetboil Zip Backpack Stove
Cook Faster with Less Fuel

Jetboil Zip™ provides light weight in a pared-down yet complete backpacker's cooking system. Innovative FluxRing® on the bottom of the cooking cup shields, vents and directs the flame for maximum efficiency. No windscreen required. Insulated cover/cozy and snap-on rubber lid decrease heating time and then help to keep the contents hot.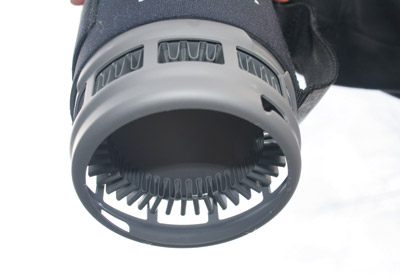 Set up in a brisk 50-degree crosswind, our Zip brought two cups of water to a full boil in less than 2 minutes. Jetboil touts the Zip as ideal for making a quick cup of tea or preparing an entire hot meal.

Strainer and pouring spout built into the lid. Comes with a fold-out tripod base for the fuel canister and also a support for using other pots or pans. Total weight 12 ounces. Nests and stores in a compact package; cover doubles as measuring and serving cup. Suggested retail $69.95. Contact: Jetboil, Inc., Dept. FFG, 540 North Commercial St., Manchester, NH 03101; (888) 611-9905; www.jetboil.com
***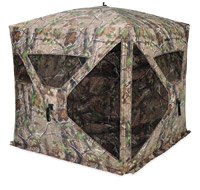 AMERISTEP® TomTaker® 2 Blind features low profile run-and-gun setup that allows a hunter to hide in any situation. Sturdy, stable hub-style frame sets up in just seconds. Durashell PLUS UV-protected fade-resistant weatherproof and wear-resistant soft fabric reduces noise. Reinforced carbon-enhanced shadow guard interior eliminates shadows and silhouettes. Triangular shoot-through camouflage mesh windows provide easy target acquisition for turkeys at close range or deer at a distance. Comes with a camo backpack with turkey hauling Game Pouch System. Stakes and tie-down ropes included. Shooting width 66 inches; 50 inches tall; weight 12 pounds. Contact: Ameristep, Dept. FFG, 901 Tacoma Court, Clio, MI 48420; (810) 686-4035; www.ameristep.com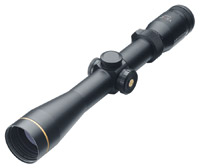 Leupold® VX-R™ Illuminated Riflescopes combine fiber optic technology with a FireDot™ reticle for fast, precise target acquisition in any light. A touch of a button illuminates the dot within the reticle, and the shooter can quickly select one of eight intensity settings pushing the same button. After five minutes of inactivity, the system switches to stand-by mode to save battery life but then automatically reactivates at the same intensity the next time the rifle is moved. The dot illuminates with bright, sharp definition while the rest of the reticle remains non-illuminated, leading the eye naturally to center aiming. Models include: 1.25-4x20mm, 2-7x33mm, 3-9x40mm, 3-9x50mm, 4-12x40mm and 4-12x50mm. The 3-9x and 4-12x models offered with Custom Dial System that lets the shooter set the scope to match the ballistics of the chosen cartridge and get on target quickly at any range. Index Matched Lens System maximizes light transmission. Blackened lens edges enhance clarity and contrast. DiamondCoat ion-assisted lens coatings optimizes light management and abrasion resistance. One-turn, non-locking eyepiece for smooth, fast focus adjustment. Precision finger-click adjustments for windage and elevation. Second generation Argon/Krypton waterproofing. All backed by a Full Lifetime Guarantee. Contact: Leupold, Dept. FFG, P.O. Box 688, Beaveton, OR 97075-0688; (800) 538-7653; www.leupold.com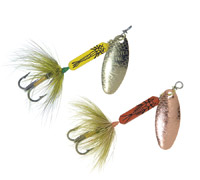 Worden's Rooster Tail spinners now available in four new Nature Series colors, three new colors with copper blades, and three new colors featuring UV coating on the blades. The Nature Series colors are Rusty Mayfly, White Stonefly, Olive Mayfly, and Yellow Damselfly. Each features a natural fly with coordinating colors on the spinner body and that famous hackle tail. Great for trout, bass, and other fish that feed on insects. The new UV Rooster Tails are Tinsel Brown, Tinsel Rooster Tail and Tinsel Gold. UV coating on the willow leaf spinner makes the lure more attractive in off-color water and on cloudy days. The new copper-bladed Rooster Tails are Copper Glitter Rainbow, Copper Glitter Chartreuse, and Copper Glitter Fire Tiger. Contact: Yakima Bait Company, Dept. FFG, P.O. Box 310, Granger, WA 98932; (509) 854-1311; www.yakimabait.com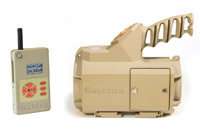 Flextone Game Calls ECHO HD remote-contol electronic caller comes already loaded with 100 high-definition calls that will drop your jaw with realistic animal sounds. Programmable for calling sequences. Water resistant and rubber coated for use in all weather conditions. Comes with rechargeable batteries and a lanyard for easy transport; weighs 3 pounds. Contact: Echo HD, Dept. FFG, 602 Fountain Pkwy, Grand Prairie, TX 75050; (800) 847-8269; www.flextonegamecalls.com
FUR-FISH-GAME New Products Archive