Traditions Pursuit Ultralight
One of the lightest muzzleloaders in the world
Yet loaded with high-end hunting features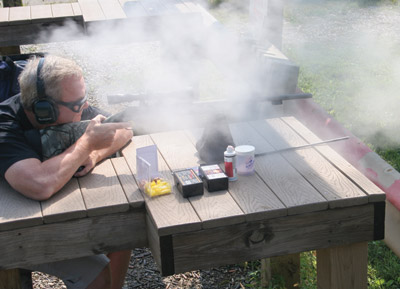 Traditions Pursuit Ultralight is one of the lightest production muzzleloaders in the world, tipping the scales at just over 5 pounds. And it's not a stripped down gun, but rather a high-end hunting arm built on an LT-1 alloy frame. The 26-inch chromoly barrel is tapered and fluted to keep weight down without sacrificing accuracy.

Premium CeraKote Finish on the barrel and action resists rusting far better than stainless steel alone, and the Soft Touch synthetic stock features deep checkering on the forend and pistol grip, a thick recoil pad, swivel sling studs and a Mossy Oak Treestand camo finish.

Williams fiber optic sights are standard equipment, and the gun also may be purchased with a 3-9x40 scope mounted and bore sighted at the factory. For our testing, we shot the scoped rifle right out of the box, loading Traditions 250-grain Smackdown SST saboted spire tips over two Hodgdon Triple Seven pellets (100-grain equivalent load).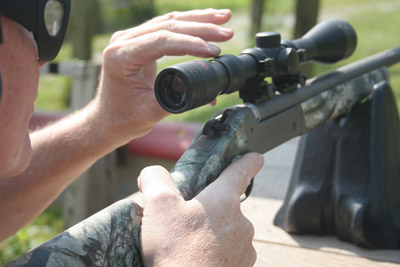 The trigger broke cleanly at 3 pounds pull pressure, and groups held between 1-2 inches. According to a paper target shipped with the gun, it shot 2-inch groups at the factory with the same bullet ahead of three Triple Seven pellets (150-grain equivalent load). To stabilize bullets at high muzzleloader speeds, the bore is rifled at a relatively fast 1-in-28-inch twist.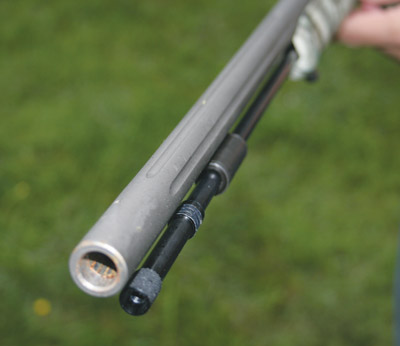 The slightly over-wide Speed Load System muzzle made it easy to start bullets using just the aluminum ramrod that came with the gun. To unload in the field or for a thorough cleaning afterwards, you can screw out the Accelerator Breech Plug™ with just your fingers, though a spanner wrench is also provided.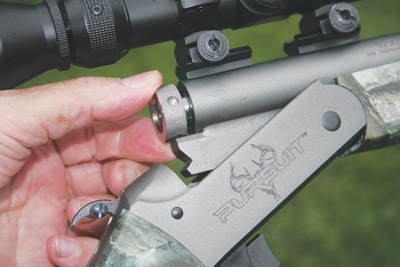 A push-button safety is built into the trigger guard, and an internal safety also blocks the hammer from striking the firing pin if the trigger hasn't been pulled. A button on the front of the trigger guard lets the shooter release the break-barrel action with his trigger finger and then open the break-barrel with both hands still gripping the rifle in the shooting position.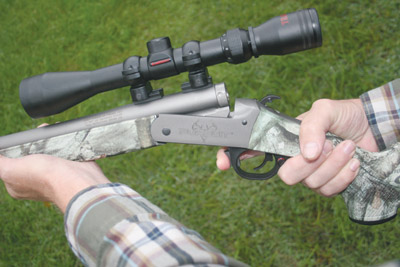 Total weight 5.15 pounds (with scope 6.75 pounds). Overall length 42.5 inches. Also offered with thumbhole stocks, black synthetic stocks, and blued metal. Suggested retail ranges from $295 to $435 for the premium package we shot (found on a discount website without the scope for $320). Contact: Traditions Performance Firearms, 1375 Boston Post Road, P.O. Box 776, Old Saybrook, CT 06475; (860) 388-4656; www.traditionsfirearms.com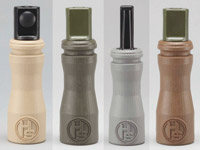 Stealth-Flex™ Johnny Stewart® mouth-blown calls make realistic sounds that bring in the most wary critters. The PC-8 Variable Pitch call can produce pup squeals, mid-range and high-pitched squeals and low-pitched long-range squalls. It can also reproduce raccoon chatter and chicken cackles. Other Stealth-Flex calls include the Pitch Controlled Predator Call, Rabbit Distress Call, Stealth-Flex Fox Call, and Johnny Stewart Slammer Crow Call. All feature a soft rubber barrel to help callers control tone and volume. For more information, contact: Hunter's Specialties, Dept. FFG, 6000 Huntington Court NE, Cedar Rapids, IA 52402; (319) 395-0321; www.hunterspec.com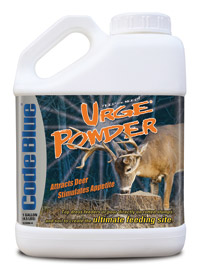 Code Blue Urge Powder is formulated so deer not only smell it, they also see and taste it, greatly increasing the odds of holding a trophy buck where you want him. Because it is a powder, particles are carried farther by the wind. Once discovered, the scent and taste create an appetite for more. Can be poured on top of feed in feeders, on rotted stumps, or straight on the ground. One application lasts for weeks. Code Blue, LLC, set new quality standards for the scent industry as the first and only company with a patented, certified collection process that guarantees "One Deer to One Bottle." That same commitment to quality is now seen in a full line of premium scents, scent dispensers, and scent eliminators. Contact: Code Blue, Dept. FFG, 101 N. Carney St., Atmore, AL 36502; (251) 368-4089; www.codebluescents.com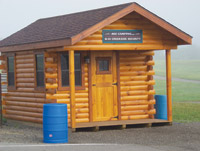 Trophy Amish Cabins are custom built and then delivered throughout the United States. Made from eastern white pine and trimmed inside with red cedar. Thirty-year CertainTeed Landmark architectural shingles or 40-year Painted Tin roof; Sikkens exterior stain. Grown & Built in America. Rough electric wiring, cabinetry and furniture offered. Ask for veteran, firefighter or police officer discounts and free options. Contact: Trophy Amish Cabins (248) 459-2716; www.trophyamishcabins.com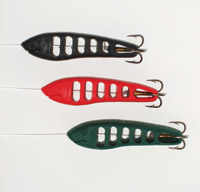 Mean Guy Dip Minnows patented design helps get the most out of any catfish dip bait. Holds more dip bait longer, which means you not only rebait less but also fish with confidence knowing you still have bait on the lure helping the cats home in. Rigged on a 20-pound 15-inch leader and a No. 6 treble hook. Includes a threader for re-rigging or changing hooks. Approximately 2-3/8 inches long. Comes three to a pack: one red, one green and one black/charcoal. Contact: C. KLR Enterprises, LLC, Dept. FFG, P.O. Box 827, Byron, IL 61010; www.fishmeanguy.com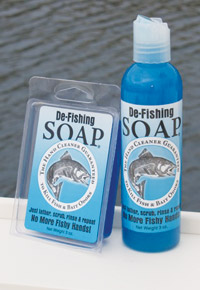 De-Fishing Soap neutralizes fish odors. Works in fresh or saltwater. Beats bleach, lemon, vinegar, salt, and those stainless-steel metal cleaning bars "hands down." Gentle on skin; contains Australian Tea Tree oil, long used by aboriginals for healing cuts, burns, and infections. The scent is also a fish attractant called star anise. Just rub a little on the fishing line when cinching up knots. Sold in convenient reusable containers; one bar lasts most anglers a full fishing season. Contact: De-Fishing Soap, Dept. FFG, 2644 Burgener Blvd., San Diego, CA 92110; (619) 276-1299; www.defishingsoap.com
FUR-FISH-GAME New Products Archive