Rossi Circuit Judge .410/.45 Cold Revolver Carbine
"Performance exceeded expectations."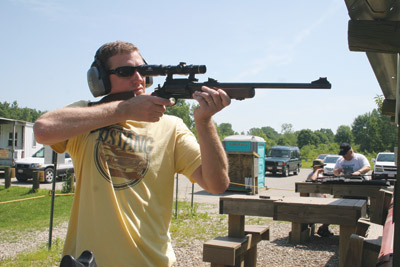 Rossi Circuit Judge revolver-action carbines shoot .410 shotshells and .45 Colt cartridges interchangeably with the same cylinder and barrel. The gun was originally designed to use a smoothbore barrel for shotshells and a rifled barrel for bullets, with the shooter swapping out to match the ammunition. But then it was redesigned to shoot both shotshells and bullets with the same back-bored, fully rifled 18.5-inch barrel.

Typically, rifled barrels produce uneven shot patterns because the rifling spins the column of shot, causing pellets to fly erratically when they leave the barrel. To get tighter patterns, a straight-rifled choke tube is screwed into the end of the Circuit Judge barrel, which stops the pellets spinning as they leave. But rifling spin stabilizes bullets in flight, so the straight-rifled choke is removed when shooting bullets and a smooth tube put in its place to protect the screw-in threads without hindering the bullet's spin.

Rossi touts the gun as fun to shoot, good for self-defense, for hunting hogs within .45 Colt range (50 yards) and also small game within .410 range (25 yards).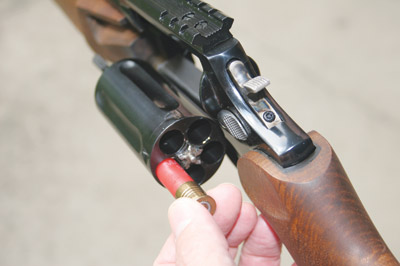 Who would argue that a revolver carbine in mild loads like .44 and .410 isn't fun to shoot? Compact size, dependable five-shot action, and load versatility certainly testify to the gun's utility for self-defense. To test the hunting accuracy, we mounted a Leupold VX-R HOG 1.25 4x20mm scope and shot a box of premium Black Hills .45 Colt cartridges and also a box of Winchester .410 target loads.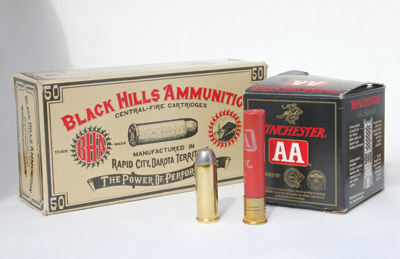 Our test gun shot the 250-grain round-nose flat-point bullets in groups that measured less than 1 inch at 25 yards, and then, with the straight-rifled choke tube installed, .410 shotshell patterns were full and even at 25 yards.

In single-action mode (first cocking the hammer with a thumb) the smooth trigger broke crisply under 5 pounds of pull. Double-action (pulling the trigger to turn the cylinder, cock the hammer and fire) took 10 pounds. The gun was easy to aim and shoot quickly from the standing off-hand position. When I raised the Monte Carlo stock to my cheek, my shooting eye easily aligned with scope or fiber optic rifle sights (standard equipment).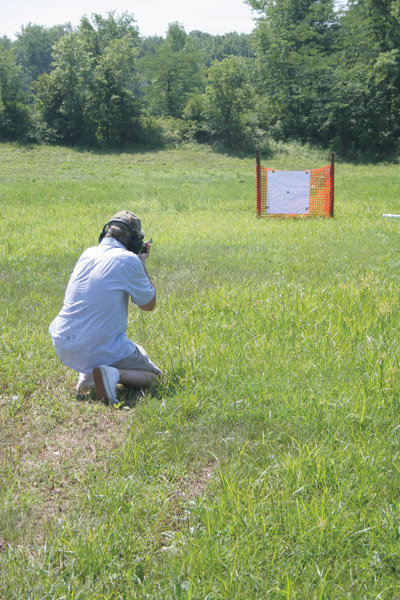 The hardwood stock comes with swivel sling studs and a deeply cushioned recoil pad. Other nice features of the gun include yoke detent cylinder design, transfer bar safety, and built-in Taurus Security System® gunlock. Frame, barrel, and cylinder are all polished and deeply blued. Extras include a hammer extension, pull-through cleaning brush, and cylinder plugs to keep the gun legal where hunting restrictions limit magazine capacity. Over-all length 36 inches; weight 5 pounds. The company is introducing a stainless steel version; a tactical black version with thumbhole stock and handguard Picatinny rail; a .44 Magnum; a .22 Long Rifle; a .22LR/.22 Mag. (requires two different nine-shot cylinders); and even a lever-action version. Suggested retail prices range from $633 up to $680. We found the original Circuit Judge, the one we tested, on a discount website for $428 plus shipping and handling. Contact: Rossi, 16175 NW 49 Ave., Miami, FL 33014; (305) 474-0401; www.rossiusa.com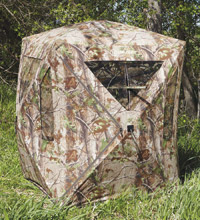 Hide 'N Hunt Blind from Hunter's Specialties® is compact and easy to set up quickly in almost any situation. The hub-style blind measures 65 inches tall and 62 inches wide when set up yet quickly folds into a compact package for easy transport. Comes in Realtree® APG™ Camo and features "shoot-through" camo netting windows that work great for bowhunters. Each side of the blind has a large window with a split net. Zippered triangle door for easy entry; two interior mesh storage pockets. Comes with carry bag, ropes, and stakes. For more information, contact: Hunter's Specialties, Dept. FFG, 6000 Huntington Court NE, Cedar Rapids, IA 52402; (319) 395-0321; www.hunterspec.com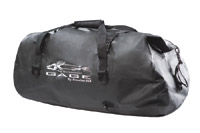 Grundens USA Shackelton Duffel and Rumrunner Backpack are rugged and waterproof, built to the same standards that make Grundens the choice of professional mariners worldwide. Crafted from 500 Denier PVC Tarpaulin Fabric with 100-percent RF welded seams and roll-top closures, these packs keep clothing and gear dry and protected. With its cavernous 105-liter capacity, the Shackelton Duffel easily holds all you need for a multi-day cruise or backwoods excursion. With its three-fold roll-top closure waterproof seal, the Shackelton Duffel is a great "dry bag" for canoeing. The innovative design includes padded backpack straps that stow in a zippered compartment in the bottom panel when not in use. The 30-liter Rumrunner Backpack features the same roll-top closure for a waterproof seal. Other features include a moisture-wicking back panel for increased comfort, convenient front mesh pocket with retention straps, two water bottle pockets, and neoprene shoulder strap pockets. Contact: Grundens USA, Dept. FFG, P.O. Box 2068, Poulsbo, WA 98370; (800) 323-7327; www.grundens.com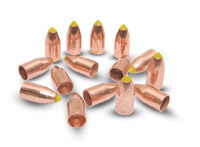 Traditions™ Full Bore bullets are extremely easy to load and do not require a sabot. Ballistic coefficient of .285 is one of the highest for any full-diameter muzzleloader projectile. Full Bore bullets are extremely accurate, having shot 1-inch groups at 100 yards with Traditions rifles. The copper jacket eliminates lead fouling, and the patented Flex Tip™ delivers devastating terminal performance at any range. Upon impact, the elastomer tip compresses into the nose of the bullet, creating a large, temporary cavity. The copper jacket then controls expansion for deep penetration. Contact: Traditions Performance Firearms, Dept. FFG, 1375 Boston Post Rd., P.O. Box 776, Old Saybrook, CT 06475; (860) 388-4656; www.traditionsfirearms.com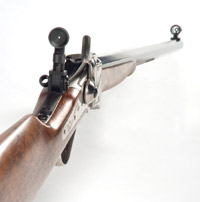 Lyman's Sharps-Style Rifle is elegantly scaled down in size and weight, a superior single-shot hunting rifle in renowned .38-55 and .22 Hornet chamberings. Named the Ideal Model, this rifle's streamlined lock profile and vintage-style laser engraving are not available elsewhere. Further, Lyman's proven tang sight and globe front sight combine with the rifle's double set triggers to deliver the full measure of accuracy this premium rifle offers. Perhaps most important among the exclusive features are bore dimensions specified by Lyman's ballistic laboratory to optimize performance from both cast and jacketed bullets. Barrel length 26 inches; rate of twist 1:18. Overall length 42 inches; weight 6 pounds. Manufactured exclusively for Lyman by Chiappa Firearms, Italy. For more information or to request Lyman's full-line catalog, contact: Lyman Products Corp., Dept. FFG, 475 Smith St., Middletown, CT 06457; (860) 632-2020; www.lymanproducts.com
FUR-FISH-GAME New Products Archive