Darex Work Sharp
Knife & Tool Sharpener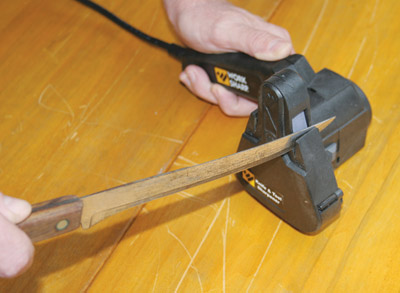 Darex Work Sharp Knife & Tool Sharpener uses a flexible motor-driven abrasive belt, the same method used by knife makers to put a razor edge on new blades. Spring tension holds the belt securely in place yet allows it to flex around a blade's edge to shape, sharpen and hone a slightly rounded convex bevel that is stronger and sharper than the flat bevels produced by traditional wetstones and other rigid-surface sharpening systems. Sharpening to a convex edge also removes less metal and extends blade life.

Comes with two sets of belts (coarse, medium and fine) and two guides, one for sharpening kitchen knives (20-degree angle on each side) and another for outdoor knives (25 degrees for a stronger edge). The outdoor knife guide also has guides for sharpening scissors and serrated blades.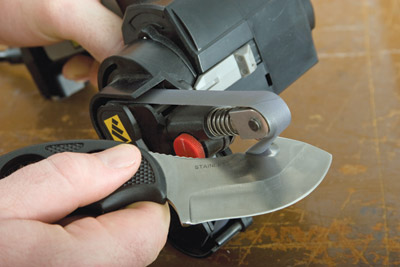 Slip on a belt and an edge guide, place the Work Shop on a table or bench, and you are ready to sharpen a knife. Just turn on the motor-driven belt and draw the blade slowly through the guide. Now move to the other side of the guide and draw the blade through again, putting the same angle edge on the opposite side of the blade. Repeat five times. For a polished edge, swap the medium belt for the fine and repeat.

Gut hooks, broadheads and other items with unusual edge shapes and angles may be sharpened without a guide by simply holding the blade edge angled against the flexible belt. To sharpen axes, lawn mowers and other large items, secure the large blade by hand or in a vise and pivot the Work Sharp grinder head into one of three more straightforward positions for easier handheld use. The entire device, including 6-foot electric power cord, weighs about 1-1/2 pounds. May also be used as a handheld grinder for sharpening a shovel or taking the burr off the edge of a foothold tap jaw. Three-position on/off switch works with finger pressure or can be locked "on" for extended use.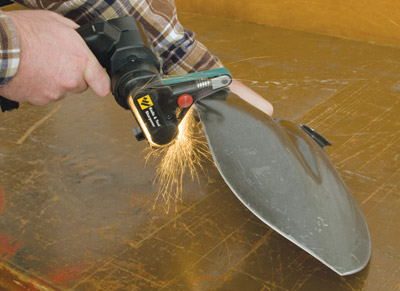 Our test sharpener worked as the company claimed it would, quickly and easily sharpening kitchen knives and a hunting/skinning knife with a pronounced sweep to the blade. It took about 1 minute each to put polished edges on the blades. Belts and guides swapped out in seconds with no tools required.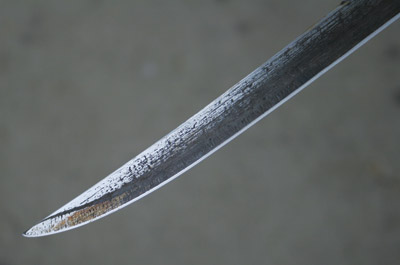 Instructional video takes you step-by-step through the process. Found on a Darex-recommended website for $69.95 with free shipping. Contact: Work Sharp - Darex LLC, Dept. FFG, 210 E. Hersey St., Ashland, OR 97520; (800) 597-6170; www.worksharptools.com
***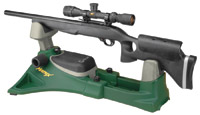 Caldwell Matrix shooting rest offers rock-solid stability with innovative features at an affordable price. The ultra-rigid U-channel frame easily adjusts for length while remaining completely stable. Converts into a compact front rest by simply removing the rear portion. Plenty of clearance underneath for high-capacity detachable-magazines or lever-actions. Storage compartment in the front base has a removable lid that doubles as a butt support when shooting handguns. The front elevation system's spring-tension mechanism allows easy one-hand knob adjustment while keeping the front cradle wobble-free. Over-molded front and rear supports protect a gun's finish yet are firm enough to eliminate give or play. Contact: Caldwell Shooting Supplies, Dept. FFG, 5885 W. Van Horn Tavern Rd., Columbia, MO 65203; (573) 445-9200; www.battenfeldtechnologies.com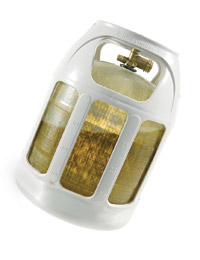 Lite Cylinder composite-construction propane fuel tanks are lightweight and see-through. You can tell at a glance how much fuel remains in a tank, which means you will never again haul a heavy steel tank to camp only to later discover it half empty. The tanks are 30-percent lighter than steel tanks of comparable volume, and they never rust. Available in 10-, 20- and 25-pound sizes. The 9-inch-diameter 17-inch-high 10-pound cylinder weighs 20 pounds when full. The 20-pound cylinder is 18 inches tall, 13 inches wide, and weighs 32 pounds full; the 25-pound cylinder is 24 inches tall, 13 inches wide, and weighs 45 pounds full . All feature a flat-bottom case to keep the cylinder from rolling and an easy-carry handle. Approved by the U.S. Department of Transportation and Transport Canada. Contact: The Lite Cylinder Company, Dept. FFG, 139 Southeast Parkway Ct., Franklin, TN 37064; (866) 412-5483; www.litecylinder.com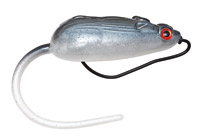 Z-Man® UltraMouse™ swims through matted weeds, pads or surface wood without snagging, taking the "rat through the mat" method to a new level with a lifelike profile and swimming motion that lunker largemouth find impossible to resist. Perfectly balanced with a self-righting design that can be twitched or slowly reeled without yawing or rolling. When fished slowly with sharp jerks of the rod tip, UltraMouse darts from side-to-side in walk-the-dog manner. Made in the USA from 10X Tough ElaZtech® to withstand strike after strike without tearing or coming apart. Even when nicked by a toothsome pickerel or pike, ElaZtech stays intact. Will not waterlog; stays on the surface all the time, a real benefit when working slowly through heavy cover. Comes rigged on a needle-sharp Z-Man TriggerHook™ that assures proper upright presentation whether on the retrieve or when paused. Recessed channel in the back allows weedless rigging without sacrificing hook-setting ability. Four inches long; offered in six color patterns. Contact: Z-Man Fishing Products, Dept. FFG, 9801 Highway 78, Ladson, SC 29456; (800) 822-3398; www.zmanfishing.com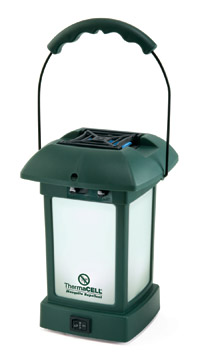 ThermaCELL outdoor lantern is up to 98-percent effective at repelling mosquitoes, black flies, and no-see-ums. Eight LEDs produce twice as much light as earlier ThermaCELL lanterns. Easy-grip handle and less than 1 pound weight for easy transport and hanging. The lantern light and mosquito repellent can be operated separately or together. Insect repellent operates on a single butane cartridge, which heats a mat releasing allethrin, a synthetic copy of a natural insecticide found in pyrethrum flowers, creating a 15-foot insect-repelling comfort zone. Each repellent mat provides up to four hours of protection and each butane cartridge provides up to 12 hours of operation. Replacements available from ThermaCELL or at retailers. Light operates on four AA batteries (not included). For more information, contact: ThermaCELL, Dept. FFG, 26 Crosby Dr., Bedford, MA 01730; (866) 753-3837; www.thermacell.com
FUR-FISH-GAME New Products Archive