Benjamin Trail
Nitro Piston XL 1100


Benjamin Trail Nitro Piston™ XL 1100 air rifles fire 14-grain .22 lead pellets at 950 feet a second and lighter alloy pellets at 1,100 ft/s, performance that exceeds most spring-piston air rifles and many precharged pneumatic rifles, which also require an air compressor or a special hand pump. Simply work this rifle's break-barrel action one time, and it fires pellets with 30 foot-pounds of energy, more than enough to handle rabbits, squirrels, other small game and varmints out to 50 yards.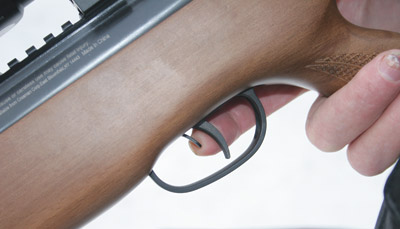 Traditional break-actions compress a steel spring behind a piston. Pulling the trigger releases the spring, which pushes the piston through a chamber, compressing a charge of high-pressure air behind the loaded pellet. As this compressed air naturally expands, the force is what propels the pellet down the barrel. Nitrogen piston rifles replace the spring with a sealed chamber of nitrogen gas, a more efficient system. Benjamin claims its Nitro Piston technology reduces recoil and firing noise as much as 70 percent compared to comparably powerful spring-piston rifles, and unlike a compressed steel spring, compressed nitrogen gas does not lose any of its power over time, which means the rifle can be carried cocked and loaded, a big plus when hunting. Quicker lock time and a rifled steel bull barrel also enhance the rifle's accuracy potential.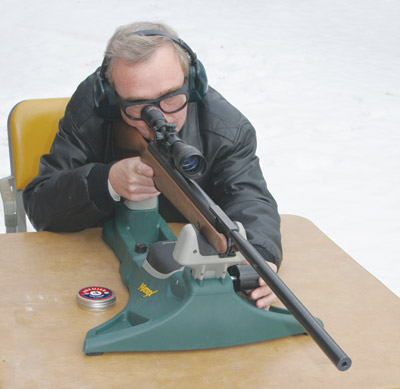 We did not compare our test rifle to a comparably powerful spring-piston gun. However, the rifle certainly seemed quiet enough, recoil was minimal, and straight out of the box, it shot 1/2-inch groups at 25 yards with Crosman Premier .22 Ultra Magnum Hunting Pellets.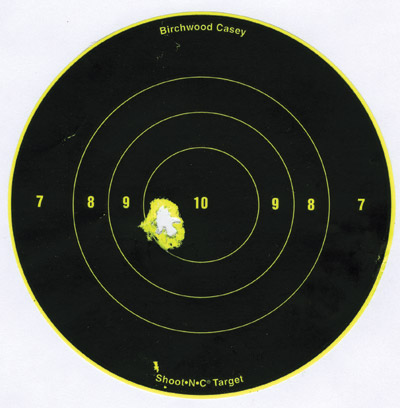 Comes with a CenterPoint 3-9x40mm scope in the rings and ready to mount on a Weaver-style receiver rail. Scope is parallax adjustable from 30 feet to infinity; mil-dot reticle allows precise hold-over aiming at different ranges.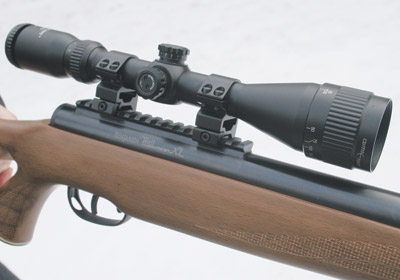 Hardwood stock features an ambidextrous thumbhole, raised cheek piece, checkering in grip areas, and a ventilated soft rubber butt pad. Nylon sling included. Overall length 48 inches; weight 8.8 pounds (10 pounds with scope). Suggested retail $360; found on discount website for $290 plus shipping. Benjamin Trail NP rifles are also chambered in .177 and .25, with different barrel lengths and velocities. Also offered with synthetic stocks. Contact: Crosman Corporation, 7629 Routes 5 & 20, Bloomfield, NY 14469; (800) 724-7486; www.crosman.com
***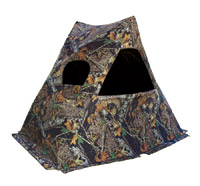 Gorilla® Gear Undercover™ FX2 2-hub blind offers concealment, quick set-up, and easy carry at only 12 pounds. Ideal for run-n-gun hunting, this highly portable blind features a 76-by-62-inch base, 72-inch height, and a 37-by-23 front shooting window. Additional windows cover every approach. Made of whisper-quiet 300 D fabric and Gorilla's Durahub™ system for strength and durability. Mossy Oak® Break-up™ exterior and ShadowBlocker™ interior for superior concealment. Comes with a backpack-style carrying bag. For more information, contact: Gorilla Gear, Dept. FFG, P.O. Box 380, Flushing, MI 48433; (810) 733-6360; www.gorillablinds.com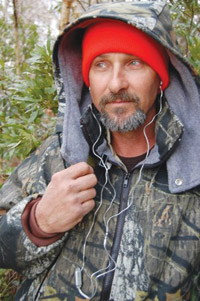 Altus Brands Incredible Hear™ is an easy-to-wear, compact, adjustable, comfortable amplification product that enables the wearer to easily hear whisper-slight sounds from up to 100 feet away. Features a small clip-on microphone and comfortable earbuds that fit snuggly in the ears, allowing the user to wear a hat, cap or hood while hiking, hunting, shooting or performing other outdoor activities. Amplification volume is adjustable. For more information contact: Altus Brands LLC, Dept. FFG, 484 W. Welch Ct., Traverse City, MI 49686; (800) 891-3660; www.altusbrands.com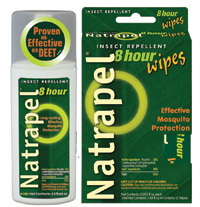 Natrapel® 8 hour offers an effective alternative to DEET-based insect repellents. In head-to-head testing, the active ingredient Picaridin has equaled or bettered medium-DEET products for mosquito and tick protection. In fact, an EPA-approved study concluded that the 20-percent Picaridin Spray formula used in Natrapel 8 hour actually provides 12-plus hours of protection against mosquitoes, two hours more than 100-percent DEET-based repellents. Unlike DEET repellents, Natrapel is non-oily, non-greasy and offers a mild scent rather than a chemical smell. Gentle on sensitive skin. Won't ruin fishing line, camera lenses or sunglasses. Picaridin, also known as KBR3023, has been in use since 1998 and is the active ingredient in repellents sold in Europe and Australia. The World Health Organization recommended Picaridin for repelling malaria-carrying mosquitoes. In 2005, the CDC recognized Picaridin as one of only three active ingredients (the others are DEET and Oil of Lemon Eucalyptus) that effectively repel mosquitoes. Available in 3.5-ounce pump bottle, 5-ounce continuous spray bottle, or convenient wipes. Contact: Tender Corp., Dept. FFG, 106 Burndy Rd., Littleton, NH 03561; (800) 258-4696; www.tendercorp.com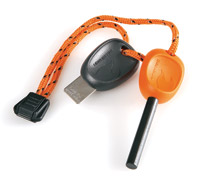 Swedish FireSteel is the favorite of survival instructors worldwide, and the new Swedish FireSteel 2.0 has an improved striker that makes it even easier to build a fire in wet weather—even when the striker itself gets wet. Just slide the striker slowly and forcefully down the length of the friction rod to throw 3,000-degree Celsius sparks. Ergonomic design makes it easy to use correctly the first time. Handle has a built-in signalling whistle. Lanyard also included. Scout model will throw more than 3,000 sparks; Army model is good for up to 12,000. Contact: Industrial Revolution, Inc., Dept. FFG, 9225 151st Ave. NE, Redmond, WA 98052; (888) 297-6062; www.industrialrev.com
FUR-FISH-GAME New Products Archive