Remington 870 SPS Mag Turkey/Predator
A deadly accurate 12-gauge pump package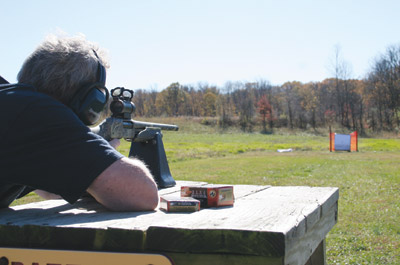 Remington touts the Model 870 SPS Super Mag Turkey/Predator as a deadly accurate 12-gauge pump package for turkeys, predators or deer. To test that sweeping claim, we took our test gun to the range with an assortment of Federal Premium 3-inch high-velocity loads.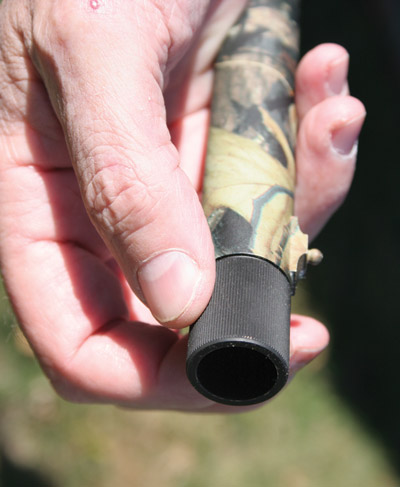 Any screw-in Rem choke may be installed in the 20-inch barrel, but we did all shooting with the Turkey/Predator Extended Rem Choke that comes with the gun. A TruGlo illuminated dot sight also comes with the gun, installed on a Weaver-style rail, and our test gun came out of the box zeroed dead-on at 40 yards. With this sight, the shooter selects a red or green dot and then adjusts the illumination intensity to match the available shooting light.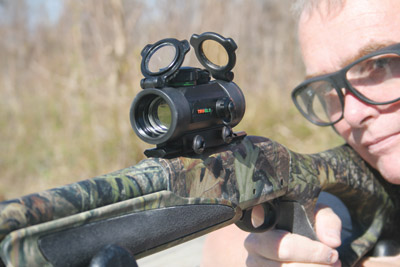 We set our pattern targets at 40 yards and started with No. 7 Mag Shok turkey loads. While No. 7 shot may seem small for turkeys, these shells deliver 1-5/8 ounce loads of denser-than-lead Heavyweight™ pellets at 1,300 feet a second, more than matching the impact of the No. 5 lead shot in a more traditional turkey loading.

The first shot peppered a 30-inch pattern circle with 336 hits, saturating the 15-inch core with 219 hits. The next shot, taken with No. 6 Mag Shok, scored 238 hits with 126 in the core of the pattern. Then we shot a 1-3/4 ounce payload of No. 4 copper-plated lead, perhaps a crossover load for turkeys or coyotes. That 30-inch circle took 201 hits, with 100 in the 15-inch core and again no significant gaps.

We moved back to 50 yards for the Federal Premium Heavyweight Coyote, which launches 1-1/2 ounces of heavier-than-lead BB pellets at 1,300 ft/s. The pattern concentrated 50 hits in a 30-inch circle, a pattern that likely would have dropped a coyote with multiple hits at 60 or even 70 yards. At 50 yards, the impact surely would have dropped a deer.

The ShurShot® lightweight synthetic stock features an ambidextrous thumbhole, pistol grip, overmolded black rubber grip panels, and soft-rubber recoil pad. While those magnum loads produced punishing recoil, this innovative stock design helped to keep it all manageable. The gun handled well shooting off-hand, too. Pull the raised butt stock snug to your cheek, and the optic sight naturally aligns on target. The slick 870 pump action cycles fast follow-ups from the four-shot tube magazine.

Handles 2-3/4-, 3-, and 3-1/2-inch shotshells interchangeably. Mossy Oak Obsession camo finish. Padded, quick-attach sling included. Weight (with optic sight and sling) 7-3/4 pounds; length 40-1/2 inches. Suggested retail $679, found on a discount website for $517 plus shipping. Contact: Remington Arms Company, Inc., Dept. FFG, 870 Remington Dr., P.O. Box 700, Madison, NC 27025-0700; (800) 243-9700; www.remington.com
***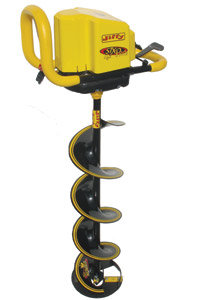 Jiffy® STX Pro II Lectric™ ice auger sets the new standard for electric ice drills, carving through the thickest ice cleanly and quietly. The high-torque heavy-duty electric motor is powerful enough to drive 6-, 8- or 10-inch auger blades, running off of a rechargeable onboard AGM sealed battery or connected to a vehicle's electric power system. The HTT Transmission™ and Stealth STX™ cutting technology, only from Jiffy, allow a drill to cut 30 percent more holes with each battery charge. E-Z Connect collar allows fast, tool-free coupling and uncoupling of the augur blade from the rest of the drill. 1-2-3 year warranty also exclusively from Jiffy. Contact: Feldmann Engineering & Mfg. Co., Inc., Dept. FFG, 520 Forest Ave., Sheboygan Falls, WI 53085; USA (800) 344-0712; Canada (877) 289-2313; www.jiffyonice.com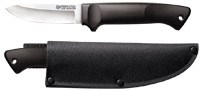 Cold Steel Pendleton Lite Hunter is a high-quality knife reasonably priced to fit just about anyone's budget. Resembles the rest of the Pendleton family with drop-point blade, modest guard, hollowed bolster area and flared butt, but the use of more affordable 4116 Krupp steel and polypropylene instead of Kraton for the handle let us get the price down to $21.95. Holds a decent edge, is easy to sharpen and tough as nails. Blade length 3-5/8 inches; overall length 8-1/2 inches. Contact: Cold Steel, Inc., Dept. FFG, 3036-A Seaborg Ave., Ventura, CA 93003; (800) 255-4716; www.coldsteel.com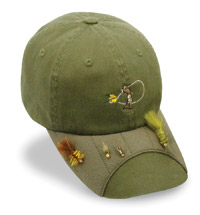 Imperial Headwear Roaring Fork Cap is designed for fly-fishermen, with a worsted felt panel across the visor to hold flies. Extra-long bill with dark gray under-visor helps minimize glare. Made of premium twill and available in khaki or moss. For more information, contact: Imperial Headwear, Dept. FFG, 17101 E. Ohio Dr., Aurora, CO 80017; (800) 950-1916; www.imperialheadwear.com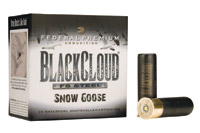 Federal Premium® Black Cloud® Snow Goose shotshells are designed especially for hunting geese at long range with a payload made up of 60-percent standard steel pellets and 40-percent patent-pending FliteStopper® steel pellets with a cutting edge that rips and tears on impact. The 3-inch 12-gauge shells launch the combined 1-1/8-ounce payload from the muzzle at 1,635 feet a second, utilizing the proven Flitecontrol wad to hold the pattern together for downrange impact. The combination of FliteControl wad and FliteStopper Steel is absolutely devastating. Offered in BB and No. 2 shot. For more information, contact: Federal Cartridge Co., Dept. FFG, 900 Ehlen Dr., Anoka, MN 55303-7503; (800) 322-2342; www.blackcloudammo.com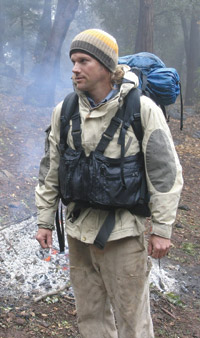 Ribz Front Pack is an innovative new substitute for a backpack, the perfect solution for anyone who wants essential gear in a fast and easy-to-reach location. Capable of carrying more than 600 cubic inches of gear (smaller 400-inch version also available). Ribz fits comfortably and securely around the rib cage, positioning the contents so that they do not impede torso or arm movement. Heavy-duty but also lightweight, made from 210D waterproof ripstop nylon; water resistant 600D nylon also available. When used with a backpack, Ribz allows essential items to be moved forward to a readily accessible location, allows more items to be carried, and positions the weight to increase comfort, balance and mobility. Four external zippered pockets and four additional internal pockets provide plenty of storage options. Extra-wide, heavy-duty nylon shoulder straps evenly distribute the weight yet remain comfortable even when worn with an additional backpack. The back of the Ribz pack consists of two adjustable Velcro straps that will not bunch up or sag when worn with a backpack. Comes in black, camo and blaze orange. Contact: RIBZ, Dept. FFG, 506 Glorietta Blvd., Coronado, CA 92118; (707) 901-7429; www.ribzwear.com
FUR-FISH-GAME New Products Archive