Rock River Coyote Carbine
3/4 MOA Guaranteed Coyote Thumper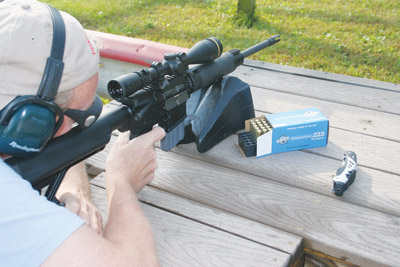 Rock River Arms Coyote Carbine .223 combines the proven utility of the AR military platform with exceptional accuracy from a semiautomatic. The company promises 3/4-inch groups at 100 yards, a level of accuracy that brings 400-yard coyotes into lethal range. To confirm that guarantee, we mounted a Leupold VX-3 4.5-14x 40mm scope and loaded premium 40-grain Hornady V-Max cartridges from Black Hills Ammunition.

The first three shots at the 25-yard sight-in target left a hole not much bigger than .223. After scope adjustment, we settled down on a 100-yard target and put the next three shots in a group that measured less than 1/2-inch. After swabbing the barrel and letting it cool, the next five shots went in a sub 3/4-MOA group.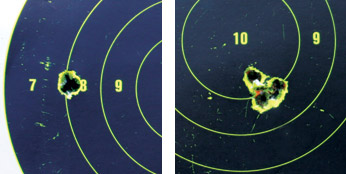 Above (left) is the first three shots at 25-yard sight-in target.
To the right is the next three shots at 100 yards.
Clearly, high-speed Black Hills hunting loads were a good match for the Wylde-chambered 16-inch chrome moly barrel on our test gun. Published muzzle velocity for the cartridge is 3,600 feet a second from a 24-inch barrel; from the 16-inch Coyote Carbine barrel, velocity is approximately 3,400 ft/s. With 1-in-9-inch rifling, the barrel should have no problem stabilizing heavier bullets, too.

The Wylde match chamber is designed for semiautomatic rifles shooting either .223 Rem. or 5.56mm NATO cartridges. It is relieved in the case body for smooth extraction and features a short throat for match-grade accuracy.

The two-stage match trigger on our test gun broke cleanly at 3.5 pounds.

With the scope dialed down to low power, the gun was easy to sight and fire from the standing off-hand position. Total weight with scope and a full 20-round magazine topped 9.5 pounds. Yet it all balanced naturally between the hands and held steady. The pebbled texture of the rubber Hogue pistol grip and overmolded free-float tube provided a sure hold.

The gun comes with a forged aluminum upper receiver and an Operator A2 buttstock. Other standard features include an extra-deep winter trigger guard for easier firing with a gloved hand, tactical mounting rails front and back, and a Smith Vortex flash hider at the muzzle. Overall length 36 inches. Total weight (unloaded without the scope) is 7 pounds.
Go to the company website, and you can customize a Coyote Carbine with elevated sighting options, upgraded grips, buttstocks, and controls. When we checked, the upgrade to a chromed bolt carrier group was being offered at no additional charge. Suggested retail $1,190. Found on a discount website for $950 plus shipping. Contact: Rock River Arms, Inc., Dept. FFG, 1042 Cleveland Rd., Colona, IL 61241; (866) 980-7625; www.rockriverarms.com

***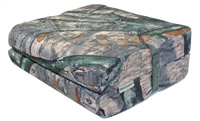 Hunt Comfort Specialist high-tech folding cushion seat uses SuperLight gel cushion technology to deliver comfort comparable to Hunt Comfort's ultra premium seats yet is lighter by 12 ounces. Built on three layers of varied compression foam to provide unprecedented comfort from a 2-1/2-inch-thick cushion. The seat is further enhanced with two elliptical 1-inch gel pads that relieve and spread out seated pressure. Ample seat and back support for all-day comfort. Covered in ComfortTEX outdoor seating fabric, available in Mossy Oak New Breakup®, Treestand®, or Hunt Comfort's own Foliage Green and Coyote Khaki solid colors. Three-year warranty. Contact: Hunt Comfort (888) 757-3232; www.huntcomfort.com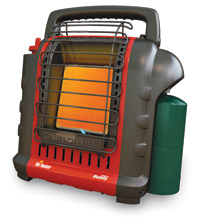 Mr. Heater® Portable Buddy® MH9BX features a larger heating surface to direct more radiant heat over a wider area. Fold-down handle for easy carry and compact storage; swivel-out fuel connection allows for easy installation of LP cylinders and hoses. Also features an all-in-one control with Piezo instant igniter and hi-lo settings that deliver 4,000 or 9,000 BTU radiant heat for up to 6 hours on a single 1-pound disposable propane cylinder, or up to 110 hours from a 20-pound LP tank (hose connections offered as an option). CSA approved indoor safe; low-oxygen shut-off and tip-over safety shut-off. Weighs 8 pounds. Contact: Mr. Heater Corp., Dept. FFG, 4560 W 160th St., Cleveland, OH 44135; (800) 251-0001; www.mrheater.com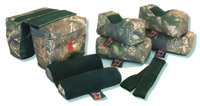 X-7 Bulls Bag Shooting Rest system provides unmatched stability for more accurate shooting from a variety of positions. The system is made up of two base "zipper" connecting sleeves, two rectangular insert sleeve bags, two owl/rabbit ear insert bags and one semi-round/vise-grip bag with 2-inch center-spread gun cradle that locks rifles in place with a vise-like grip. Suede exterior protects the gun stock while providing a better grip to reduce movement during sighting and firing. Transforms from a one-bag adjustable gun vise into seven independent shooting rests that support more than 50 different shooting arrangements including a toe and heel shooting rest, pistol/handgun rest, and window/tree blind rest. Ten inches long and weighs 30 pounds when filled with media. Easily transported with shoulder carry-strap. Made of durable 900 polyester tree-patterned material with rubberized contact surfaces for extended wear and nonslip grip. Double-seam construction. Also offered in an X-3 three-bag system or an X-4 four-bag system. Contact: Bulls Bag Co., Dept. FFG, 460 Hilldale Dr., Needmore, PA 17238; (888) 665-2855; www.bullsbag.com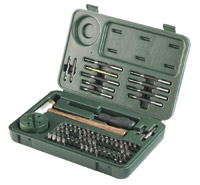 Weaver Deluxe Gunsmith Tool Kit includes all of the hand tools needed for everything from professional scope mounting to major firearm repairs. Even the most accomplished gunsmith will find what he needs in this 88-piece set. Includes an incredible array of bits and punches as well as a driver, hammer and bench block. To learn more about Weaver and to see the company's complete lineup of mounts, kits and optics, go to: www.weaveroptics.com
FUR-FISH-GAME New Products Archive