Mossberg 4X4 Rifle
With Factory Scope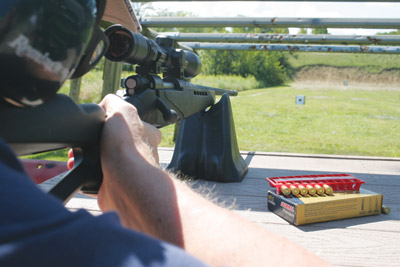 Mossberg is now offering their 4X4 bolt-action rifle with a 3-9x40mm Mossberg scope factory installed and laser bore sighted. The company touts the 4X4 as a best-value big-game rifle, built and chambered for rounds from .25-06 Rem. up through .338 Win. Mag. The scope package is only offered in .270, .30-06 and .300 Win Mag. We ordered a .270 for our test shoot.
The scope was "on paper" at 50 yards. A three-shot group followed by scope adjustment and a final confirming shot had the rifle sighted in at 100 yards and ready to go.
Shooting from a bench rest, the rifle and scope put Federal Premium 150-grain Nosler Partition loads in 1-inch groups.
The adjustable Lightning Bolt Action™ trigger came set at just under 3 pounds pull weight, and it broke crisply with no noticeable creep.
The rifle handled well shooting off-hand, too. Felt recoil was more than manageable, and the smooth 4X4 bolt action cycled fast follow-up shots from a top-load drop-box magazine.
The free-floated 1-in-10-inch-twist button-rifled barrel ends in a recessed-crown ported muzzle brake. Barrel length 22 inches, with muzzle brake, 24 inches.
The distinctively styled skeletonized black synthetic stock features barrel-cooling forend vents; a Monte Carlo-style raised cheek piece; comfortably slim wrist grip; and a thick, soft, rubber butt pad.

Total weight for rifle and scope just under 8 pounds. Overall length 46 inches. Matte blue finish on metal; also offered with Mossberg Marinecoat™all-weather protective finish. Also offered with laminate-finish on skeletonized stock, solid walnut or gray laminate wood stocks. Suggested retail for rifle and scope $633. Found on a discount website for $430 plus shipping. Contact: O.F. Mossberg & Sons, Inc., Dept. FFG, 7 Grasso Ave., North Haven, CT 06473; (203) 230-5300; www.mossberg.com
***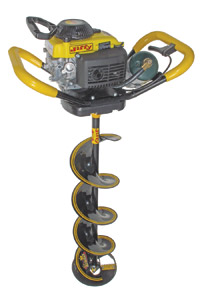 Jiffy Pro 4™ Propane Powered Ice Drill is fueled by a standard 1-pound sealed propane tank, making it easy to start in the coldest weather with no smoke, no choke, no prime and no flooding. The high-torque 4-stroke, OHV, 49cc engine and HTT Transmission™ combine to efficiently carve the thickest ice with an 8- or 10-inch auger blade. E-Z Connect Collar for fast tool-free coupling and uncoupling of the auger blade with rest of drill. Stealth STX™ blades covered by best-in-the-business limited 3-year warranty. Transmission warranty good for 2 years; motor warranty 1 year. Contact: Feldmann Engineering & Mfg. Co., Inc., Dept. FFG, 520 Forest Ave., Sheboygan Falls, WI 53085; USA (800) 344-0712; Canada (877) 289-2313; www.jiffyonice.com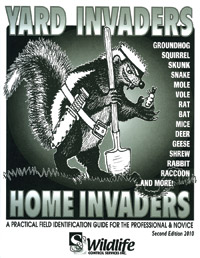 YARD INVADERS - HOME INVADERS A Practical Field Identification Guide for the Professional & Novice, by Rick Shadel of S&S Wildlife Services, is one of the best reference manuals ever published for nuisance wildlife control. Those affected by wildlife problems, whether inside or out, need Sherlock Holmes skills to quickly discover the culprit and determine what can be done to resolve the problem. Rick is an industry leader, and here shares valuable information on identifying the signs of the most common nuisance animals. The details needed to understand the problem and expedite a solution are provided In an easy-to-follow format. 65 pages with 318 pictures. Contact: Wildlife Control Supplies, Dept. FFG, P.O. Box 538, East Granby, CT 06026; (860) 844-0101; www.wildlifecontrolsupplies.com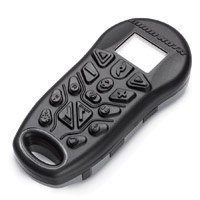 Minn Kota® i-Pilot™ seamlessly integrates GPS technology into Minn Kota Terrova™ PowerDrive V2, Riptide® ST, or Riptide SP bow-mounted trolling motors. Record a Track feature allows a track up to 2 miles in length to be stored in memory for immediate retracing or a later trip. Spot-Lock holds boat position like an anchor. If the boat drifts more than 5 feet, i-Pilot activates the trolling motor to keep the angler on the spot. Automatically corrects for wind, waves, current and drift; and the "recall" feature lets you return to that exact location later. With Cruise Control, i-Pilot maintains real-time, on-the-water boat speed in .1 mph increments. That precision allows the angler to "dial in" bait presentations while trolling. GPS-based Advanced AutoPilot™ utilizes a series of waypoints to maintain a true heading while also adjusting for wind, waves, current and side-drift. Minn Kota's CoPilot™ wireless trolling motor control system is integrated into the i-Pilot so the user can control speed and steering with a remote from anywhere in the boat. Contact: Minn Kota, Dept. FFG, P.O. Box 8129, Mankato, MN 56002; (800) 227-6433; www.minnkotamotors.com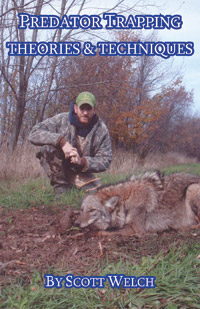 Predator Trapping Theories & Techniques, by Scott Welch, covers equipment, locations, sets, lures, baits, line layout and management, and more. Written in a down-to-earth style, this book avoids chest thumping and one-upmanship, instead relying on 145 pages of solid information to help you become a better, more successful trapper. Includes photos of locations and catches from the Eastern mountains to the Midwest and down into the deep South. No matter where you operate, whether you target coyotes, fox, bobcats or all of the "big three," this book can help you succeed. Contact: Welch's High Production Lures & Baits, Dept. FFG, 5054 Co. Rd. 50, Glenmont, OH 44628; (330) 378-2304.
FUR-FISH-GAME New Products Archive