Katadyn MyBottle
Water Purifier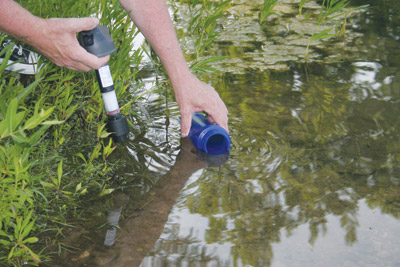 Katadyn MyBottle Purifier filters and purifies drinking water almost instantly. Simply dip the bottle full, insert the filter (attached to the screw-on cap), flip open the mouthpiece, and squeeze. No chemicals to add, no waiting, and no pumping. Simply fill the bottle and squeeze out a stream of pure drinking water.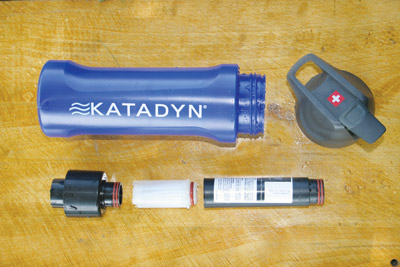 The carbon prefilter removes sediment and reduces chemicals to clean up the taste. Then the second-stage cyst filter removes Giardia and other contaminants down to 1 micron in size. Finally, the ViruStat® microbial water purification cartridge uses iodine resin to kill 99.9999 percent of waterborne bacteria and 99.99 percent of viruses. Adheres to strict EPA microbiological water purifier test protocols.
To test the MyBottle Purifier, we dipped it full at a nearby lake, flipped open the soft mouthpiece, and squirted in a healthy mouthful. The water tasted fine, with no muck or iodine flavor.
Designed as a personal water bottle that can be refilled from any reasonable freshwater source (but not intended for brackish or salt water). The bottle holds 24 ounces and supplies about a cup of clean drinking water a minute. Each filter is good for up to 100 liters, depending on water quality, and replacement filters are available from the company. A nifty counter built into the cap keeps track of how many times the bottle is filled and the cap screwed back on, so you always know approximately how much water has gone through the system. Doesn't leak, and an integral carry loop in the cap allows easy attachment to pack or belt; 10 inches tall, weight with filters installed 8 ounces. Costs $49.95 plus shipping on the company website. Also available in outdoors stores. Contact: Katadyn, 6325 Sandburg Road, Minneapolis, MN 55427; (800) 755-6701; www.katadyn.com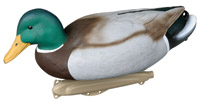 Flambeau Storm Front™ Premium Mallard Decoys feature a laundry list of innovation. Proven to be extremely durable and deadly on greenheads. Each box includes two Active Drakes, one Skimmer Drake, one Rester Drake, one Active Hen, and one Rester Hen. The combination of relaxed, active and feeding birds creates an extremely versatile package for just about every hunting situation. In addition to front and rear tie points, the keel includes center tie points for added motion on light-wind days. This allows hunters to customize the motion of a spread, truly bringing it to life. A depth-adjusting eyelet allows hunters to change water depth without excess line, and a secure strap weight location ensures easy setup and tear down. Developed with patent-pending UVision™ Technology matching the reflectance of real waterfowl feathers in the full range of light visible to waterfowl, including ultraviolet. A new proprietary polymer blend yields the hard, tough "battleship" feel and unsurpassed paint adhesion. Contact: Flambeau Outdoors, Dept. FFG, 15981 Valplast Rd., Middlefield, OH 44062; (800) 232-3474; www.flambeauoutdoors.com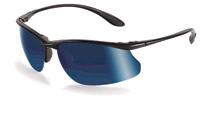 Bollé Marine Collection brings the benefit of activity-specific lens technologies to anglers and other water sports enthusiasts. Two specialized tints—Offshore Blue and Inland Gold—both block vision-blurring blue light wavelengths to minimize eye fatigue in these difficult environments. Polarization is standard on all models, to reduce glare and improve the ability to see below the water's surface. Because glare can also sneak up from behind, the backside of the lens also has an anti-reflective treatment. A hydrophobic coating promotes the dispersion of water off of the lens, fights smudging, and is impervious to sunscreen and skin oils. And because just about anyplace there's water there's also wind, all models feature Thermogrip® temple tips and nose pads for a stable, comfortable fit. To ensure the best possible combination of strength, flexibility and minimal weight, frames are constructed of the purest available nylon, Bolle's proprietary b-88™. Offered in 11 individual styles (each with multiple frame colors). Floating retainer included with every pair. Contact: Bushnell Outdoor Products, Dept. FFG, 9200 Cody, Overland Park, KS 66214; (800) 423-3537; www.bushnellperformanceoptics.com
Hot-Scrape® Mock Scrape Kit creates a realistic mock scrape in two simple steps. The Mock Scrape Conditioner™ removes unwanted odors and adds a fresh earth smell, just like at a real whitetail scrape. The second step is the Scrape Activator™, which adds the complex combination of odors found in a real scrape. These natural odors include buck smells, doe smells and other key elements. Works best in conjunction with a Wildlife Research Center® Magnum Scrape-Dripper™. Since it drips only during the day, it conditions the deer to come during legal hunting hours. The Hot-Scrape Kit includes a 24-ounce Mock Scrape Conditioner trigger-spray bottle for easy application as well as an 8-ounce Scrape Activator squirt-top bottle to apply the long-lasting scrape scent formula. 100-percent money back guarantee. Contact: Wildlife Research Center, Inc., Dept. FFG, 14485 NW Azurite St., Ramsey, MN 55303; (800) 873-5873; www.wildlife.com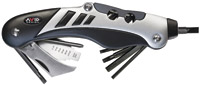 Gun Tool combines 18 of the most commonly used long-gun tools in one pocket-size frame. The choke wrench features a unique step design with sharp edges that securely engage the slots in the choke tube to exert sufficient torque to loosen even stubborn choke tubes; works with every gauge from .410 to the mighty 10. The tool also includes a pin punch to take down trigger assemblies, multiple Torx and Allen wrenches that fit the most common rings and bases, magnetic bit driver and bits, a scope windage/elevation adjuster, and a claw-point blade that is sharp enough and tough enough to cut rope. Contact: Avid Design, Dept. FFG, 10700 W Hwy 55, Suite 150, Plymouth, MN 55441; (800) 286-0567; www.theguntool.com
FUR-FISH-GAME New Products Archive