Traditions Ultralight Vortek
High-Performance Muzzleloader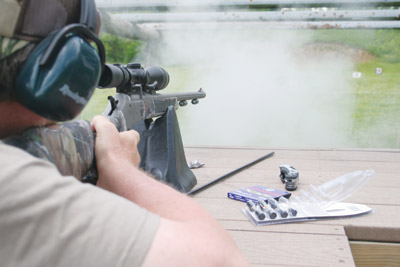 Traditions Ultralight Vortek high-performance break-action inline .50 muzzleloader is built to launch conicals or saboted bullets 200 yards or more, at velocities approaching big-bore centerfire rifles. In fact, the straight-line synthetic stock would look right at home on a centerfire rifle, as would the tapered, fluted and ported chrome moly steel barrel. Comes equipped with Williams fully adjustable metallic fiber optic sites; also drilled and tapped for mounting a scope.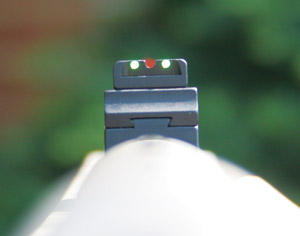 Comes with fully adjustable metallic fiber optic sights.
The Accelerator Breech Plug directs the full fire of a 209 shotgun primer into the powder charge, efficiently igniting up to 150 grains of loose powder or three 50-grain-equivalent pellets. We loaded our test rifle with Hodgdon Triple Seven Pellets and saboted 275-grain Traditions LTB hunting bullets, perhaps not as streamlined as the latest spire point bullets, but a proven load for white-tailed deer at close and long range. Three-shot groups, fired from the bench and sighted with a Leupold VX-3 4.5-14x40mm hunting scope, measured 2 inches and less at 100 yards. The trigger broke at a crisp 3 pounds, 6 ounces.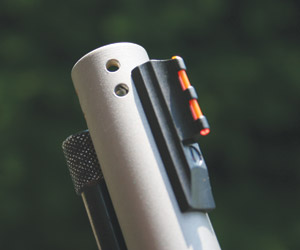 Ported muzzle helped tame muzzle jump from the powerful 150-grain equivalent loads.
In addition to 360 Degree porting, the muzzle of the 28-inch barrel (1-28 rifling) incorporates an over-bore Projectile Alignment System that makes it easy to start saboted bullets. The breech plug screws out with just fingertip pressure, allowing the shooter to unload without firing. The trigger assembly can be pulled following removal of a single screw, ideal for field maintenance or fast cleanup.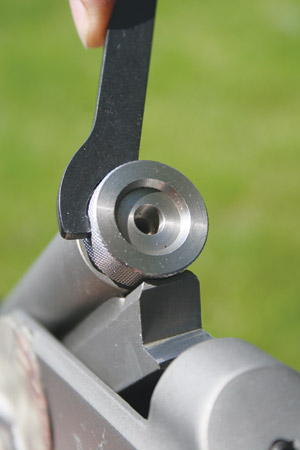 Breech plug easily screwed out for unloading or a quick cleanup later.
Alloy frame and barrel feature rust-resistant CeraKote finish. Soft Touch finish camo stock with Hogue Comfort-Grip overmolding for sure handling in wet or cold weather. Quick Relief Recoil Pad and aluminum ramrod also included. Overall length 44-1/2 inches, total weight (with ramrod) 6-3/4 pounds. Suggested retail $499; found on discount website for $381 plus shipping. Contact: Traditions Firearms, 1375 Boston Post Road, P.O. Box 776, Old Saybrook, CT 06475; (860) 388-4656; www.traditionsfirearms.com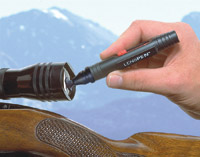 LensPen is small enough to clip in a pocket yet can keep all of your optics clean and ready for maximum performance. Slide out the retractable brush end and use it to remove dust and dirt from the lens or eyepiece. Made from natural goat hair that is so gentle it can do no damage. To remove fingerprints or other grease blemishes, take the cap off the other end and use the flexible chamois tip, embedded with the same carbon compound used in printer's ink. Works on the same principle that makes the use of newspapers popular for cleaning windows. A pad of carbon compound in the cap constantly refreshes the chamois. Nothing to spray on, nothing to dry out or wear out, nothing to replace. Use with confidence in desert heat or arctic cold. RoHS compliant; meets even California's rigid Proposition 65 standards. Contact: LensPen/Parkside Optical, Inc., Dept. FFG, 650-375 Water St., Vancouver, BC, Canada V6B 5C6; (877) 608-0868; www.lenspen.com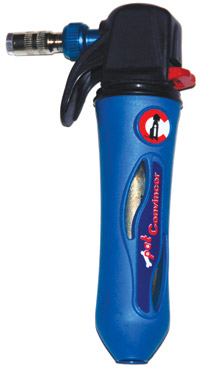 Pet Convincer training tool releases a swoosh of compressed air with an accompanying sound that is inaudible to the human ear yet effective for correcting dog and cat behavior. Painless to the animal yet immediately gets its attention, to quickly correct unwanted barking, aggression, digging, whining, indoor peeing, scratching, climbing, and other bad behaviors. Comes with two CO2 cartridges. Replacement cartridges cost $1.49 and are available from Pet Convincer (or at any full-service bicycle shop). Each provides about 25 one-second bursts. Extensively tested by dog behavior experts, veterinarians, and pet owners around the world. Contact: Canine Innovations, Inc., Dept. FFG, P.O. Box 393, Mt. Clemens, MI 48046-0393; (888) 364-9492; www.petconvincer.com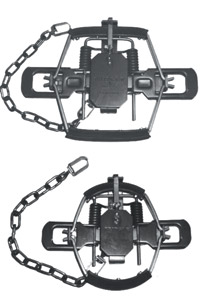 Bridger Rubber Jaw traps are made with the quality that you have come to expect from all Bridger traps. They come out of the box base-plated for added strength, with a D-ring to center-swivel attach the chain to the trap. The rubber pads are bolted on with a retainer on the underside of the jaw that uses lock nuts to assure it stays in place. Whether you are using them for ADC work, live-trapping, or fur trapping, you won't be disappointed. May be ordered with two or four coilsprings, in sizes No. 1.65 (round jaw), No. 2 and No. 3 (square jaw). Contact: Minnesota Trapline Products, Dept. FFG, 7444 County Road 27 NW, Pennock, MN 56279; (320) 599-4176; www.minntrapprod.com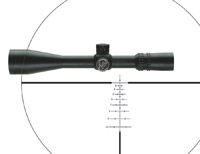 Nightforce Velocity Reticles are engineered for precision shooting with the fastest cartridges out to 1,000 yards, and there is a Nightforce V reticle to match just about any modern rifle cartridge, with minimal point-of-impact deviation from the reticle markings. The Nightforce online ballistic calculator allows the shooter to enter specific cartridge details. It then indicates the specific V reticle that most closely matches that cartridge. Once the range of the target is known, the shooter simply chooses the corresponding elevation mark and aims dead on. V reticles are marked in 50-yard elevation increments to 800 yards and 25-yard increments from 800 to 1,000 yards. Windage compensation is marked in 5 mph increments. Sighting with the Nightforce V series is up to twice as fast as traditional designs since there is no need for drop charts, elevation adjustments, calculations or guesswork. The actual reticles are clean and uncluttered, providing the ultimate in speed and accuracy. All Nightforce riflescopes come standard with illuminated reticles. Contact: Nightforce Optics, Inc., Dept. FFG, 336 Hazen Lane, Orofino, ID 83544; (208) 476-9814; www.nightforceoptics.com
FUR-FISH-GAME New Products Archive