Mossberg Model 464
Lever Action .22


Mossberg introduced their M464 as an affordable yet well-made update of the Winchester Model 94 lever-action .30-30. The new, scaled-down .22 rimfire version seems to be equally well made.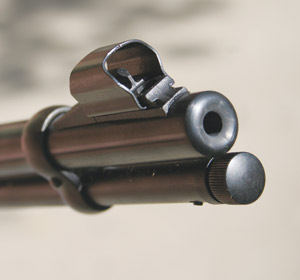 Mossberg says the barreled action is exceptionally accurate for a lever rifle, and the .22 version is designed to accommodate a rimfire scope with a 3/8-inch dovetail mounting rail machined into the receiver top (the .30-30 comes drilled and tapped for scope bases). The rear sight flips down to make room for the scope's bell, and angle ejection throws spent cases out to the side away from the scope.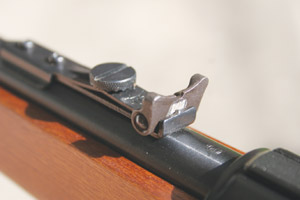 I installed a Leupold VX-1 2-7x28mm rimfire scope on our .22 test rifle and then settled in at the bench to shoot 50-yard targets with four different cartridges, ranging in power from mild Eley target loads up through Remington Hi-Speed Thunderbolts to CCI Mini-Mags that leave the muzzle at 1,260 feet a second.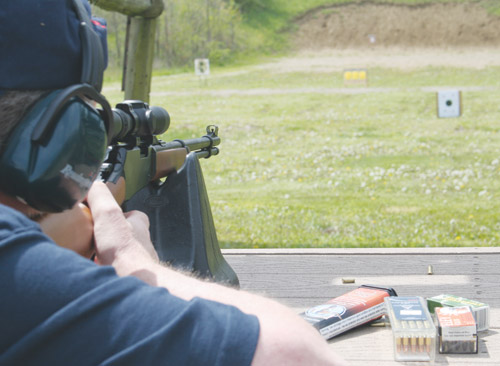 The rifle shot all well but showed a marked preference for the faster loads, putting both the all-lead Thunderbolts and copper-plated Mini-Mag hollow points in groups that measured less than 1 inch. Being a lever action, the trigger was a little stiff at close to 5 pounds. However, it broke cleanly with little if any creep.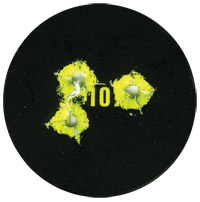 Next, I removed the scope to see how the compact, lightweight rifle handled. It shouldered effortlessly, and the wide V rear sight and hooded front blade sight lined up on-target the moment the butt stock met my cheek. The lever action was smooth and easy to work, and I had no trouble keeping the sights on target for rapid, repeat shots.
The tang safety is positioned on top behind the hammer, handy for right- or left-handers, and the trigger won't release until the trigger hand holds the lever snug against the straight-grip stock.
The button rifled 18-inch barrel features a recessed crown. Tube magazine holds 13 rounds plus one in the chamber. Overall length 36 inches, weight 5-1/2 pounds. Limited 2-year warranty. Suggested retail $468. Found on discount website for $369 plus shipping. Contact: O.F. Mossberg & Sons, Inc., Dept. FFG, 7 Grasso Ave., North Haven, CT 06473; (203) 230-5300; www.mossberg.com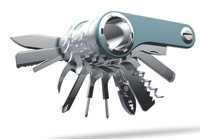 Quirky Switch ultimate pocket utility tool has 18 different attachments that you can mix and match to make your own custom tools. Change the width of the frame by swapping out inner axles and group tools into different categories of use: home, outdoors, etc. The list of tool attachments includes: Knife, Pliers, Scissors, Nail File, Tweezers, Thin Flathead Screwdriver, Philips-Head Screwdriver, Eyeglass Philips-Head Screwdriver, Eyeglass Flathead Screwdriver, Wood Saw, Serrated Blade, Corkscrew, Combination Bottle Opener/Flathead Screwdriver, Combination Can Opener/Wire Stripper, Pen, Magnifying Glass, LED Flashlight, 1GB USB Memory Stick. The full set comes with a carrying case, two exterior body covers for encasing different sets of tools around one of three interior axle assemblies—small (2-6 tools), medium (4-10 tools), and large (7-13 tools). Contact: Quirky, Dept. FFG, 628 Broadway, 3rd Floor, New York, NY 10012; (866) 545-4623; www.quirky.com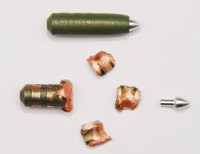 Brenneke® Quik-Shok® Copper lead-free rifle bullets combine penetration with controlled fragmentation that results in more terminal effect than conventional bullets, regardless of bullet material. Quik-Shok Copper expands quickly upon contact then separates into four segments that continue to penetrate. The result is expansion far larger than the bullet's initial caliber, four wound channels versus just one, increased shock and blood loss. The principles have been field-tested for well over 20 years. Initially in 155-grain weights for .30-06 and .308. The .30-06 produces 2,953 fps velocity and 3,001 foot pounds of energy at the muzzle while the .308 generates 2,789 fps and 2,675 foot pounds. Additional calibers planned. While best known in the U.S. for their slugs, Brenneke has manufactured rifle bullets since 1898. In fact, the firm pioneered many elements of bullet construction, including one of the first boat-tail designs in 1910 and a cutting edge "wadcutter" bullet in 1930. Contact: Brenneke of America, Dept. FFG, P.O. Box 1481, Clinton, IA 52733; (800) 753-9733; www.brennekeusa.com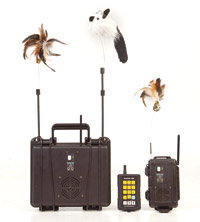 Kanati Tek game calls, both the Compact CX and Power PX Series, feature simple remote operation with LED file indication that can be seen at a glance; works even at very cold temperatures. The remote also can control dual decoys; crystal-clear cone speakers and an external horn speaker; special sound effects that add a twist to any sound file; and auxiliary jacks. Designed to extend battery life with alkaline or rechargeable batteries. Call for 8 hours or more at maximum volume on a single charge. Customize up to 100 sounds (35 sounds included at no charge) on your home computer, using the USB Memory Key. Simply plug the key into your computer; no card reader or cable needed. Both CX and PX Series are modular and upgradeable with decoys, external horn speakers, extra battery trays, and battery-less lightweight external decoys and scent misters. Start with the call and add the rest as needed. Manufactured in the USA. Contact: www.KanatiTek.com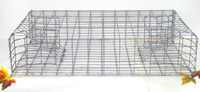 OL' School Trap Company Multi Catch No. 1 muskrat colony trap collects more muskrat than regular colony traps because of its unique design. The entrance doors are 6 by 6 inches, but located in the center of 14-inch-wide ends that act to funnel muskrats into the trap. Unlike round funnel traps, the rectangular Multi Catch is more stable on the bottom and thus better able to stay located in a muskrat run. More than double the size of a regular colony trap, to better block runs and also hold more muskrats. Contact: OL' School Trap Company, Dept. FFG, P.O. Box 54, Wheatfield, IN 46392; (219) 613-0504; www.backwoodsfurtrappers.com
FUR-FISH-GAME New Products Archive