Remington M700 VTR A-TACS
Redefining the varmint target bolt rifle


Remington touts the Model 700 VTR A-TACS as the next generation in target varmint rifles. It certainly doesn't look like any other rifle Remington offers, starting with the triangular contour of the barrel. The barrel weighs less than a round or fluted target-grade barrel of comparable length, and the company says the design maintains rigidity and dissipates heat better than a round or fluted barrel of the same weight. The last 2 inches of the 22-inch barrel is a muzzle brake that vents at the top to reduce recoil and muzzle jump.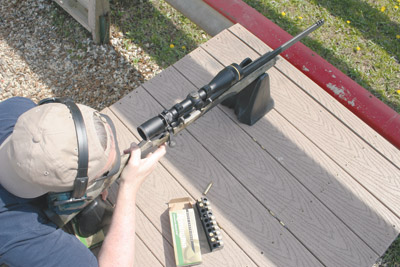 The synthetic stock features patented Hogue® overmold grip areas and venting in the beavertail forend to allow the barrel to cool between shots. The "pixilated" Advanced Tactical Concealment Systems camo pattern creates an illusion of depth and shadow at a distance. There are two studs in the forend to accommodate a sling and a bipod at the same time.

The rifle is made in .223 and .308 Winchester. We tested the .223, shooting Remington 55-grain Premier AccuTip cartridges, sighting with a Leupold VX-3 4.5-14x40mm hunting scope.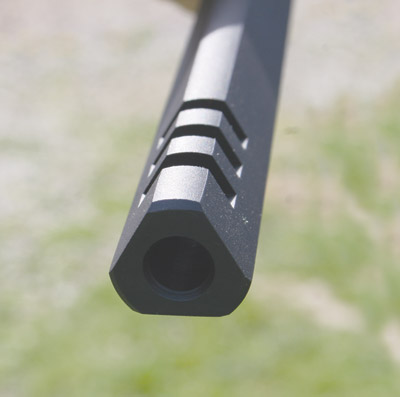 To simulate field hunting conditions, the bore was swabbed clean before each five-shot group. One cartridge went in the chamber and four more in the internal magazine. Then five shots were taken off of a solid rest, pausing long enough after each shot to carefully line up the next, but not long enough to let the barrel completely cool. The first five shots at 100 yards grouped under 3/4-inch, and more shooting only confirmed that accuracy.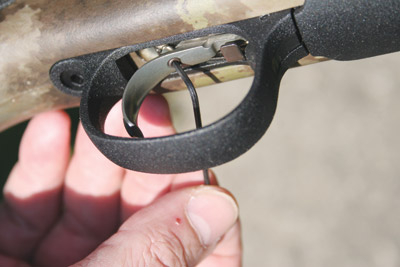 The X-MARK PRO™ trigger was exceptionally crisp, with no discernible creep. The break weight can be adjusted from 3 to 5 pounds without taking anything apart. Simply turn an adjustment screw in the trigger blade.

A SuperCell™ pad on the buttstock reduces recoil by half. The .223 is such a mild round it was hard to appreciate any recoil reduction from the pad or the muzzle brake. However, there was so little muzzle jump I had no trouble watching bullet hits through the scope.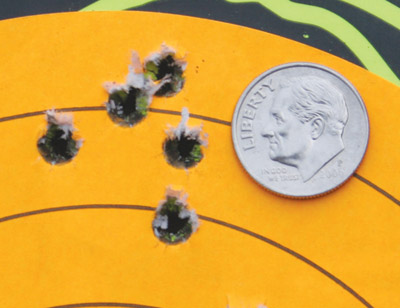 The hammer forged carbon steel barrel is rifled at a twist rate of 1 turn in 9 inches (the .308 barrel comes with 1-in-12 rifling). Barrel, machined solid steel receiver and hinged floor plate are protected with a durable satin black oxide finish. Overall length 41-5/8 inches; total weight 7-1/2 pounds. Suggested retail $872; found on discount websites for $753 plus shipping. Contact: Remington Arms Company, Inc., 870 Remington Dr., P.O. Box 700, Madison, NC 27025-0700; (800) 243-9700; www.remington.com
***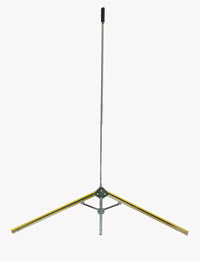 WeedRazer Pro pond and lake weed cutter's adjustable blades effectively and efficiently clear aquatic weeds in minutes. Weighs just 8 pounds, light enough to toss as far as 30 feet from a dock, shore, or boat, yet heavy enough to sink to bottom and clear a path with each retrieve. Eight different blade positions to cut weeds in a swath up to 62 inches wide, down at the base in deep or shallow water, in narrow channels or dense weed beds. Ideal for almost any emerged or submerged water plant, including lily pads, cattails, bulrush and wild rice. Comes fully assembled, and once the job is done, simply fold the blades and store. Patent pending. Contact: Jenlis Inc., Dept. FFG, 902 East Second St., Suite 350, Winona, MN 55987; (877) 356-6455; www.weedrazers.com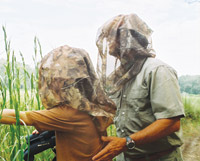 Concealor Boonie Bug Hat™ protects face and head from swarming, biting, disease-carrying insects. Comes in a wide variety of hat and cap designs, each with the lightweight, see-through mesh fabric hidden away in a compact zippered compartment in the top. When pulled down, this camouflage netting covers the entire head, face and neck. Contact: Altus Brands, LLC, Dept. FFG, 484 W. Welch Ct., Traverse City, MI 49686; (800) 891-3660; www.bughat.com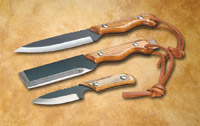 Pro Tool Utility Knife Collection includes the PT100 Hunt Utility Knife, PT101 Camp Utility Knife, and PT102 Chisel Utility Knife. The Hunt Knife is compact, balanced and versatile enough to be used for cleaning and skinning animals, self-defense, or general utility. Camp Knife is ideal for everything from light brush clearing to food preparation. The Chisel Knife acts as three tools in one, serving as knife, chisel and wedge/prying tool. The Hunt Knife is made of 3/16-inch thick carbon steel with full tang for strength and durability; deep hollow-ground and drop point 3-inch blade. Weighs 4.8 ounces. The Camp Knife has a 3/16-inch thick, 1075 carbon steel blade, deep hollow-ground drop point 5-1/2 inch blade, and full tang. Weighs 9.8 ounces. Chisel Utility Knife is 10-5/8 inches long by 1-1/2 inches wide at the handle, with 5/16-inch thick 1075 carbon steel blade. Full tang allows a generous flat on the top edge to strike with mallet or hammer for maximum force cut. Flat ground knife edge 4-3/4 inches long with chisel ground tip at the end, 1-1/2 inches wide. Weighs 20.8 ounces. All blade steel is annealed, heat-treated, blasted and powder-coated solar black. Handles made from hand-sanded hardwood ash, treated with Pennsylvania German Harvest Brown oil stain and finished with nickel-plated heavy-duty rivets. Come with 1800 denier black nylon sheaths with belt loops and Molle compatible straps on the backs. Contact: Pro Tool Industries, Inc., Dept. FFG, 337 Circle of Progress Dr., Pottstown, PA 19464; (800) 708-5191; www.protoolindustries.net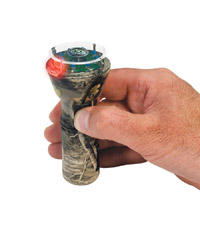 Firefly technically sophisticated patent-pending electronic wind detector takes 512 readings each second, analyzes those readings, and displays the results with easy-to-read LED lights. Simply hold Firefly upright, push the button, wait three seconds, and flashing red lights tell you the wind direction each second for five seconds. It then shuts off. Hunters know that wind can be fickle and that thermals change. Firefly tells you even when you can't feel it. Available in black or camo patterns, including Predator, Waterfowl and Orange. Contact: Firefly, Dept. FFG, 3662 N. Perry Park Rd., Sedalia, CO 80135; (303) 408-0250; www.huntfirefly.com
FUR-FISH-GAME New Products Archive