Redfield Revolution
Riflescopes by Leupold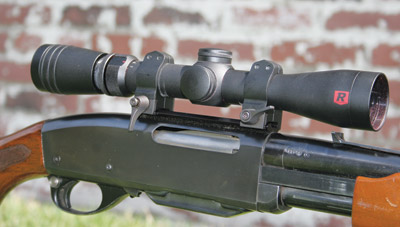 Redfield riflescopes are now made by Leupold at their plant in Beaverton, Oregon. The new Redfield Revolution lineup includes four variable-power scopes: 2-7x33mm, 3-9x40mm, 3-9x50mm, 4-12x40mm. The scopes are priced from $129 to $219 and come with full lifetime warranties, same as Leupold brand name scopes, and the company says they are made to similarly exacting standards. The 1-inch main tubes and exterior components are machined from aircraft-grade aluminum.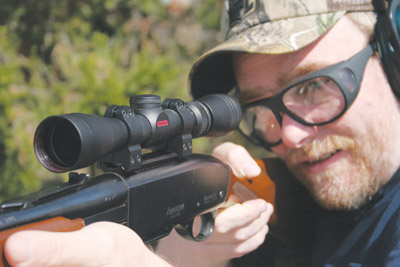 We tested the 2-7x, a compact scope the company touts for hunting in woods and thickets. The sight picture was crisp and clear from edge to edge. At the low setting (actually 2.5x magnification) field of view at 100 yards was a full 43 feet. Eye relief was generous, and the gnarled power ring was easy to find and adjust by feel alone, thanks to a flat surface at the indicator. The Rapid Target Acquisition™ eyepiece was equally easy to turn and focus. The 1/4-MOA finger-click windage and elevation knobs turned with finger-tip pressure only, no coin needed.

To compare the scope's low-light sighting capability against other scopes, we used a simple test suggested by our gun editor, Ed Hall. We taped a magazine to a target, backed off around 60 yards, and carefully focused the Redfield scope on the cover. Then we did the same with a comparably powerful and priced Simmons scope, a Leupold VX-1 2-7x28mm rimfire scope, a Millett Buck 3-9x44mm, and a Leupold VX-3 4.5-14x40mm.

As daylight slowly faded, we kept working through the scopes, switching back and forth, checking to see when we could no longer read different sizes and colors of type on the magazine cover and also when it became difficult to see the scope's reticle on the target.

The Redfield scope performed better than the Simmons, both in full light and twilight. In fact, it was comparable to the similarly powerful but significantly more costly Leupold rimfire scope. The more powerful, larger-aperture Millett and Leupold scopes worked better. But considering the field of view, overall quality, price and lifetime warranty, the Redfield 2-7x could be first choice for a deer slug gun or woods rifle.

For $10 more, you can get an Accu-Range bullet-drop compensation reticle. Probably not helpful with the 2-7x, but a plus with the more powerful optics. Zero many big-game cartridges at 200 yards and also get hold points for 300, 400 and 500 yards. Zero faster magnum cartridges at 300 yards, and the same hold points are good for 400, 500 and 600 yards. For more information, contact: Redfield, P.O. Box 688, Beaverton, OR 97075-0688; (877) 798-9686; www.redfield.com
***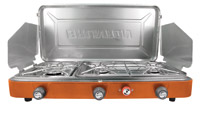 Brunton Profile 3-Burner Stove takes up little space on a picnic table and packs away neatly for storage. Three 12,000 BTU burners and a quick-connect, flexible hose allow the Profile more versatility than most stoves in its class. Right burners are spaced to allow a cook to use both under one large pot, while the left burner remains free for another pan. Use with propane or butane fuel canisters; twist piezo ignition; weight 11.5 pounds. Contact: Brunton, Dept. FFG, 2255 Brunton Ct., Riverton, WY 82501; (800) 443-4871; www.brunton.com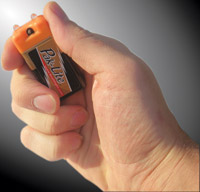 Pak-Lites are powerful, incredibly compact LED flashlights. Just snap on an alkaline 9V battery and it will run up to 600 hours in the soft reading setting or 30 hours in the bright setting. Can be tucked away in a pocket with a total weight of 1.5 ounces. The Super Bright White LEDs are rated for 100,000 hours, which translates to 11 years continuous. The new Pak-Lite Orange Glow glows for several hours after the LEDs are turned off. The simple design provides for a small, lightweight, long-running, durable, and bright flashlight. Included in U.S. Air Force F-16 survival kits. Contact: Pak-Lite Company, Dept. FFG, P.O. Box 365, Sunny Valley, OR 97497; (877) 715-4448; www.9vlight.com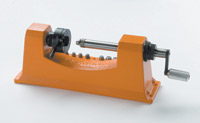 Lyman Universal Carbide Case Trimmer brings the longer life and ultra-sharp cutting of carbide to Lyman's already highly regarded universal trimmer. Holds precise dimension longer, making it ideal for volume reloading any case from .17 to .458, with no collets or shell holders required. Includes nine caliber pilots. For more information or to request a Lyman catalog, contact: Lyman Products Corp., Dept. FFG, 475 Smith St., Middletown, CT 06457; (860) 632-2020; www.lymanproducts.com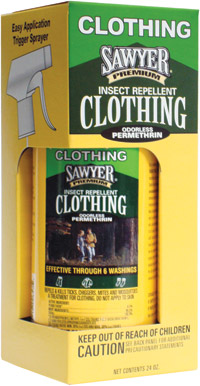 Sawyer Permethrin Insect Repellent Clothing Spray repels and kills ticks, mosquitoes, chiggers, mites and more than 55 other kinds of insect. Effective as 100% DEET and lasts through up to six washings. Simply spray on outdoor clothing and let it bond with the fibers as it dries. After drying on clothes, it is odorless. Will not stain clothing or outdoor gear, and unlike DEET, if it gets on your skin, it breaks down to harmless proteins, carbon dioxide and water. May also be used on tents, mosquito netting, sleeping bags and other gear. Available in aerosol spray, pump spray, soak system, and economy trigger-spray bottle. For more information, contact: Sawyer Products, Dept. FFG, P.O. Box 188, Safety Harbor, FL 34695; (800) 356-7811; www.sawyer.com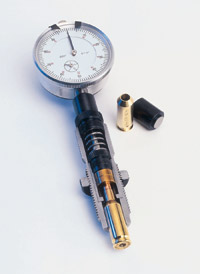 Redding Reloading Equipment has added two calibers to their line of Instant Indicator Tools. The new calibers expand the line both up and down with .338 Lapua Magnum and. 204 Ruger. The Redding Instant Indicator is a multifunction tool allowing the user to sort bullets and cases for uniformity, sort cases fired in different rifles, set and check seating, compare sized cases to fired cases to establish headspace, check uniformity of shoulder bump, sort loaded ammunition for uniformity, determine when cases need trimming and check trim length. Comes with all the needed contactors and gauges to complete the above operations quickly, accurately, and while mounted in an existing reloading press. For more information and a current color catalog, contact: Redding Reloading Equipment, Dept. FFG, 1089 Starr Road, Cortland, NY 13045; (607) 753-3331; www.redding-reloading.com
FUR-FISH-GAME New Products Archive