Federal Flitecontrol
Tightens Patterns for Turkey & Coyote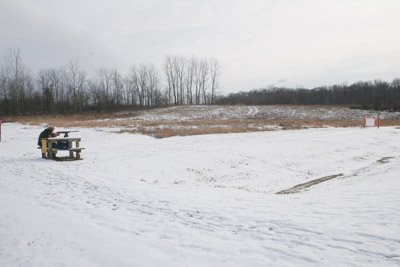 Federal says their Flitecontrol shotshell wads produce extra-tight patterns with standard shotgun chokes, and filling the wads with denser-than-lead Heavyweight pellets also boosts the impact, extending the range of high-speed hunting loads without the use of specialty chokes.
Unlike a conventional wad that opens to release the shot as it exits the muzzle, a Flitecontrol wad still contains the shot as much as 10 yards downrange, until air resistance slows the lighter wad and allows the shot string to speed away. The company says the result is consistently tight, even patterns. To check that claim, we shot the 3-inch No. 7 and No. 6 Federal Premium Heavyweight Mag-Shok turkey loads, the No. 4 lead Mag-Shok and the BB Heavyweight Coyote V-Shok load through the same Modified choke 12 gauge.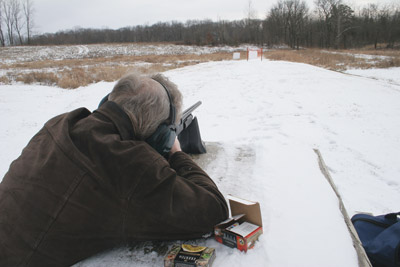 Federal's recommended range for the No. 7 turkey load is 40 yards. Because the Heavyweight pellets are a third more dense than lead, they hit with virtually the same impact as No. 5 lead at that range.
Our 40-yard patterns averaged 123 hits in a 15-inch circle, evenly distributed with no significant gaps. The No. 6 shot scored 86 hits at 40 yards and 67 hits at 50 yards, again evenly distributed.
The No. 4 lead shot scored 90 evenly distributed hits in a larger 30-inch circle at 50 yards, with no coyote-size gaps. The BB load of Heavyweight shot averaged 49 hits, again with no significant gaps.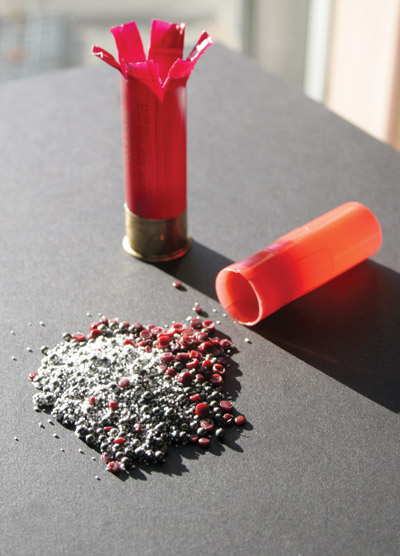 A mix of powder-type buffer and plastic shock absorbers cushion the pellets as
they accelerate down and out the barrel.
The extra-dense Heavyweight BB shot should deliver more than adequate punch for coyotes at 60 yards, maybe more, and while we didn't pattern test at such ranges, based on the 50-yard patterns, I just might take that longer shot.
Contact: Federal Cartridge Co., 900 Ehlen Dr., Anoka, MN 55303-7503; (800) 322-2342; www.federalpremium.com
***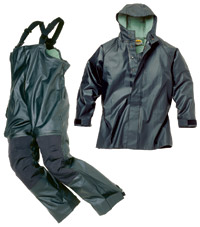 Cabela Alaskan Guide® Rain Parka and Rain Bibs deliver maximum protection in wet weather. If it's good enough for people who make their living on the water, it's good enough for you. Heavy-duty PVC construction; but what really sets them apart is the specially designed articulated knees and elbows of waterproof nylon. Creates the flexibility you need without compromising weatherproofness. Parka has a snap front with storm cover and three-piece hood. Bibs have adjustable suspenders; gusseted snap cuffs to seal out moisture. Comes in sizes Small through 3X-Large, in yellow or dark olive. Contact: Cabela's, Dept. FFG, One Cabela Drive, Sidney, NE 69160; (800) 237-4444; www.cabelas.com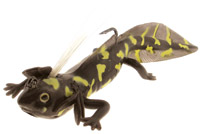 River2Sea Nest Raider is made to trigger strikes from nesting bass. Waterdogs and lizards bring out the mean-spirited nature of spawning bass, and the River2Sea Nest Raider is a full 7-1/2 inches of bass aggravation (also available in 5-inch size). Nest Raider anatomically correct waterdog imitation is molded around a 2-ounce rocker-style leadhead (again, also available in 5-inch, 3/4-ounce size) that creates movement with the slightest twitch of the rod tip. A special air chamber in the base of the tail floats the rear of the bait to make it appear to be feeding in the nest. The tail is molded with a thin, wide vein so any movement in the water also causes movement from the tail. A massive, extra-strong, extra-long-shank hook protrudes from between the back legs, in optimal hook-set position. Also works as a jig in deep water (ideal for lakes where the use of live waterdogs is not allowed). Available in four natural colors: Fire Newt, Watermelon Pearl, California Tiger, Red Bellied, and White Gold. Contact: River2Sea, Dept. FFG, 3701 Collins Ave. #2, Richmond, CA 94806; (510) 237-2405; www.river2seausa.com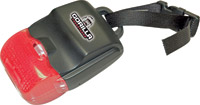 Gorilla Eye remote-control tree stand light has a flashing red locator light to aid you in locating a stand in the dark, as well as a red spotlight that shines 20 feet down to the ground, lighting a safe climb up the tree. The multi-function remote can activate the Gorilla Eye from 100 yards away; internal antenna for added durability. Mounts either on the stand or directly to the tree. For more information on the entire line of Gorilla tree stand accessories, contact: Gorilla Inc., Dept. FFG, P.O. Box 378, Flushing, MI 48433; (877) 685-7817; www.gorillatreestands.com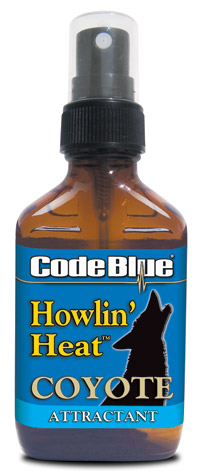 Code Blue Howlin' Heat Coyote Attractant contains all of the smells of a female coyote in heat, making it perfect for calling in a dominant male or for use as an attractant at trap sets. Can be used as a lure or cover scent. With coyote populations and depredation problems steadily growing, there's no better way to get in good with a farmer than harvesting a few coyotes. Contact: Code Blue Scents, Dept. FFG, 101 N. Carney Street, Atmore, AL 36502; (251) 368-4089; www.codebluescents.com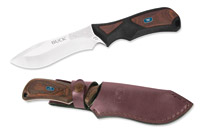 Buck ErgoHunter's thick, full-tang 4-3/4-inch blade with generous belly design is perfect for skinning. Right-hand ergonomic contouring in the handle for comfort. Anti-slip texturing, grip ridges and extra-large choil for control. Overall length 9-3/4 inches. In Buck's new Select, Avid and Pro program, the knife is offered at three price levels with the same basic design but different materials. All blades in all versions finished with Buck Edge2x™ technology to be sharp out of the box, hold an edge longer, and be easier to resharpen. Made in the USA and backed by Buck Forever Warranty. Contact: Buck Knives, Dept. FFG, 660 S. Lochsa Street, Post Falls, ID 83854-5200; (800) 326-2825; www.buckknives.com
FUR-FISH-GAME New Products Archive