Rock River Arms Custom AR
.223 Predator Pursuit Hunting Rifle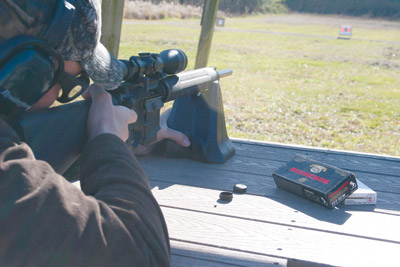 Rock River Arms touts the Predator Pursuit .223 as a custom-built AR hunting rifle. One-inch groups at 100 yards guaranteed, and the buyer can choose from dozens of performance options.

To check the accuracy guarantee, we mounted a Leupold VX-3 4.5-14x 40mm scope, settled in at the bench, and shot 40-grain Winchester Supreme Ballistic Silvertip .223 and also low-cost 55-grain 5.56mm full-metal-jacket loads.

Both cartridges shot MOA groups.

The stainless steel Wilson air-gauged 20-inch heavy match barrel and .223 Wylde chambering are designed to handle most predator hunting loads; knowledgeable handloaders report 3/4-inch and smaller groups with bullets across a wide range of weights.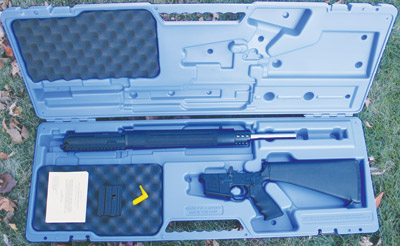 The National Match two-stage trigger broke crisply at 3 pounds, 5 ounces. Knurled and fluted free-float aluminum handguard and Hogue grip provide a secure hold for fast off-hand shooting, and the trigger guard is extra deep for easier shooting with gloves on in cold weather.

Standard equipment includes forged upper receiver with tactical-style front and rear rail mounts and a lightweight synthetic buttstock with latched storage compartment. Or you may go to the company website and put together your own custom rifle choosing from dozens of options, offered and priced on simple pull-down menus.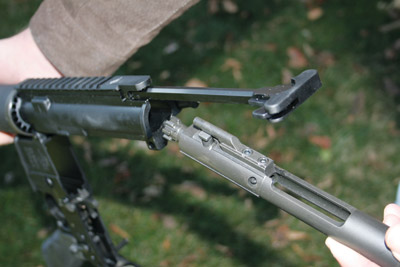 Upgrade to an EOP upper for $20; order the buttstock in green for $5 more, get a skeletonized stock for $35, or step all of the way up to a Magpul PRS stock for $230; choose one of eight ergonomic or tactical grips in black or green; replace the standard latch with a tactical latch; go with an ambidextrous magazine catch or safety; get the barrel bead blasted.

The standard rifle weighs 8 pounds; overall length 38 inches. Limited lifetime warranty. Suggested retail $1,110; found on discount website for less than $900. Ships in a molded carry case with steel latches. Contact: Rock River Arms, 1042 Cleveland Rd., Colona, IL 61241; (309) 792-5780; www.rockriverarms.com.
***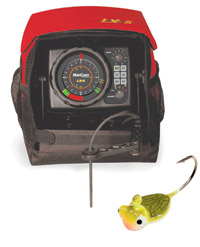 Northland Fishing Tackle Hexi Fly is designed on the precepts of antenna theory for maximum visibility with MarCum Technologies flasher-type fish finder screens. Anglers who used the Hexi Fly last winter immediately noticed that the flat, slightly concave body resembled a satellite dish. The reflective surface and shape "pings" the transducer with twice the signal strength of similar-sized jigs. Maximizes flasher performance on ice or during open-water vertical fishing. Because the jig bounces back such a strong return signal, you can tune down the gain on a unit like a MarCum LX-5. The reduced gain setting yields better target separation, improved interference rejection, and also the ability to filter out dense vegetation and other cover without losing sight of the jig within a cluster of signals. The special body shape also produces an appealing swimming action and flutter on the fall; wobbles and glides off to the side of the hole when jigged. Dress with a small soft bait and use tiny rod-tip quivers to impart a sweet cam-rocking action. Contact: Versa Electronics, Dept. FFG, 3943 Quebec Avenue North, Minneapolis, MN 55427; (888) 778-1208; www.marcumtech.com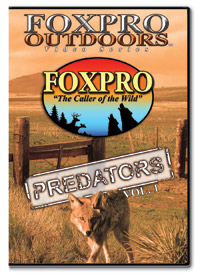 FoxPro Outdoors Predators Volume 1 takes you on 27 hunts with FoxPro Field Staff pros Dave Affleck, Tim Lewis, Mike Messina, Byron South, Jeff Thomason, Todd Woodall and friends. Enjoy action-packed day and night calling for coyote, bobcat and fox, from Pennsylvania to California. This is not just another bang-flop video. Also included are instructional segments covering setup, stand location, electronic calls vs. hand calls, night hunting and firearms. Bonus informational chapters cover the current FoxPro product line, the most innovative on the market. Contact: FoxPro Inc., Dept. FFG, 14 Fox Hollow Dr., Lewistown, PA 17044; (717) 248-2507; www.gofoxpro.com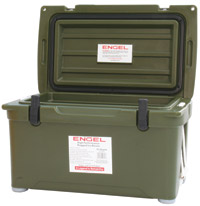 Engel 35-quart Hunter Green Cooler keeps provisions chilled for up to eight days with 2 inches of polyurethane insulation throughout sides, top and bottom. Airtight freezer-style lid gasket creates a virtually leak-proof seal; dry-ice compatible. Non-skid rubber feet, molded hand grips and heavy rope handles; marine-grade recessed rubber draw latches and full-length hinge add to the unmatched durability. Can double as a seat or a step. One-turn drain plug makes it easy to empty melt water. Interagency Grizzly Bear Committee certified as a "bear-resistant" container; just add a padlock to the corner locking holes. 25 inches long by 15 wide by 15 high. Contact: Engel USA, Dept. FFG, 1555 Jupiter Park Dr., Unit 5, Jupiter, FL 33458; (561) 743-7419; www.engel-usa.com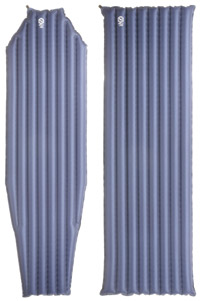 Big Agnes Dual Core Sleeping Pads in rectangular and mummy styles offer a more comfortable alternative to self-inflating pads. The 2.5-inch thick air chamber pads feature PrimaLoft Eco synthetic insulation layered with high-density foam for comfort and warmth. I-beam construction eliminates welded seams to reduce cold spots and ensures quick inflation/deflation, consistent airflow and stability. Durable 70D hexagonal rip-stop nylon top and 70D nylon bottom. Internal polyurethane coating. Non-breakable brass valve with plastic coated EZ-Flate™ mouthpiece. Repair kit included in a small inside pocket on the inside of the stuff sack. Each pad individually inflated and tested. Contact: Big Agnes Inc., Dept. FFG, P.O. Box 773072, Steamboat Springs, CO 80477; (877-554-8975); www.bigagnes.com
FUR-FISH-GAME New Products Archive