E.M.F. Deer Hunter Classic look and feel of
Model 1892 Winchester with .44 Magnum Power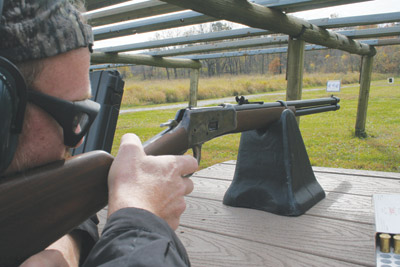 The EMF Deer Hunter is a faithful reproduction of the Winchester Model 1892 lever action, only with a couple of updates that make it a better choice for hunting. An inch-thick soft-rubber recoil pad is the visible upgrade, yet the .44 Remington Magnum chambering is the more significant. The .44 Mag was introduced as a high-power revolver cartridge years after Winchester stopped making the original Model 1892, and it is a fine fit for this compact, lightweight carbine.
Heavy 200- to 265-grain .44 bullets pack the punch for big game at close range, and a fast hunting load will retain enough of that energy for whitetails out to 100 yards or so, the understood standard for woods rifles like this one.
The deeply blued 20-inch carbine barrel (also offered with a 24-inch rifle barrel) comes with brass bead front sight and adjustable semi buckhorn rear sight. Out of the box, our test rifle's sights were right on at 50 yards, and shooting off of a rest, we consistently put five bullets in 1-inch groups at that range. The trigger was crisp for an open-hammer lever action.
But the fun began when we stood up and started shooting off-hand. The trim little gun handled like an original Model 1892, regarded by many as perhaps the best Western saddle rifle ever.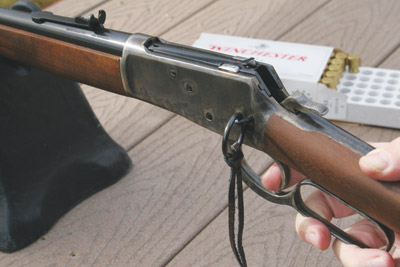 Classic look of the case-hardened steel receiver with Western saddle ring.
The lightning slick top-eject lever action cycled rounds from the tube magazine without a hitch, and the wide open sights promoted fast target acquisition.
Of course, much of the appeal of a gun like this is the classic look of the case-hardened steel receiver, the Western saddle ring. And a steel butt plate might be more authentic, yet the rubber recoil pad adds much comfort and is sculpted to seamlessly follow the lines of the straight-grip hardwood stock.
Total weight 5-1/2 pounds, overall length 39 inches. Lists for $600 on the company website. Contact: EMF Company, Inc., 1900 E. Warner Ave., Ste. 1-D, Santa Ana, CA 92705; (800) 430-1310; www.emf-company.com
***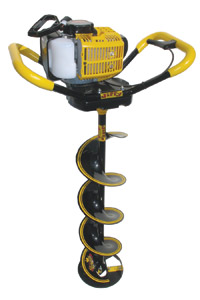 Jiffy STX Pro II™ with the Jiffy® 3500 Series™ engine was designed to work with the Jiffy High Torque Transmission's heavy-duty clutch and optimum gear ratio, to transfer optimum power and torque. Stealth STX™ Cutting Technology assures the longest-lasting blade in the industry with a 3-year limited warranty. Motor carries a 1-year warranty; HTT transmission comes with a 2-year warranty. Features include non-flood primer, see-through fuel tank, mitten grip recoil handle, and new E-Z Connect™ Collar—no tools required. Power your choice of 8-, 9- or 10-inch drill. Contact: Feldmann, Dept. FFG, 520 Forest Ave., Sheboygan Falls, WI 53085; (800) 344-0712; www.jiffyonice.com

Redfield® Revolution™ Riflescopes deliver unmatched optical and mechanical performance at an affordable $130 price. Offered in 2-7x33mm, 3-9x40mm, 3-9x50mm and 4-12x40mm, each with a wider field of view than competitively priced scopes. Maintube machined from aircraft-grade aluminum and nitrogen filled to be waterproof, fog proof and shock proof. Comes with either 4-Plex or optional Accu-Range™ reticle that provides hold points out to 500 yards. Illuminator® Lens System multi-coatings for a bright, crisp sight picture even in low light. Accu-Trac™ stainless steel knobs with resettable, precision finger click adjustment. Rapid Target Acquisition™ lockable eyepiece helps a shooter quickly find the "sweet spot" behind the scope for faster sighting. American made at the Leupold plant in Oregon. Lifetime Warranty. Free neoprene scope cover ($20 retail value) with purchase of Leupold® scope rings. Go to: www.redfield.com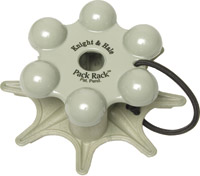 Knight & Hale Game Calls Pack Rack is the most convenient and effective deer calling device on the market. Produce realistic sparring sounds by simply placing the faces of the two acoustically designed sound plates together and turning in opposite directions; the more pressure applied, the louder the sound. Go from two small bucks sparring to two giants battling it out simply by changing the way you hold and twist the pieces together. Pieces stack to easily fit in a small hunting pack; tethered together so you will never lose one. Contact: Knight & Hale Game Calls, Dept. FFG, P.O. Box 1587, Fort Smith, AR 72902-1587; (800) 531-1201 ext. 103; www.knightandhale.com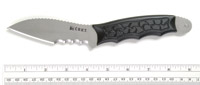 CRKT® Marine Utility Knife™ is a truly useful fishing knife, not a multi-tool that does an OK job cutting stuff. One of the most carefully thought-out blades ever produced by CRKT, yet it has the lowest suggested retail price of any knife in the catalog, at just $14.99. This is a knife you can grab with one hand and quickly shuck the blade protector to cut line or rope in an emergency. Offset-angle handle gives knuckle clearance when cutting bait or slicing fish on a table, and the soft polypropylene handle's four finger choils give a sure grip even when hands are cold, wet and slippery. The drop-point blade features a straight cutting edge and also a concave serrated section, and the rounded back reduces the risk of cutting entrails when cleaning fish. Non-slip grooves for thumb along the top of the blade also work great as a fish scaler. Full-tang blade made of high-carbon 52-55 HRC stainless steel. At the butt, there's a lanyard hole and a blood groove spoon. Available with black, blue, green or white handle; blade 4.25 inches; weight 2.9 ounces. Contact: CRKT, Dept. FFG, 18348 SW 126th Place, Tualatin, OR 97062; (800) 891-3100; www.crkt.com
FUR-FISH-GAME New Products Archive