Hastings Super Magnum
3-1/2 Inch 20 Gauge Slug Gun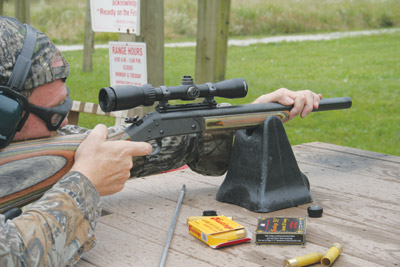 Hastings Custom 3-1/2-inch 20 Gauge Super Magnum Sabot launches a 410-grain projectile (350-grain lead slug plus 60-grain attached polymer wad) from a 22-inch barrel at 2,000 feet a second muzzle velocity with 3,643 foot-pounds of energy. Trajectory is so flat you can zero the scope 2 inches high at 100 yards and aim point blank out to 150 yards. At 200 yards, it hits 9 inches low with 1,227-foot pounds of retained energy.

To harness the long-range potential of this powerhouse 20-gauge load, Hastings offers a custom version of the single-shot New England Firearms Ultra Slug Hunter Deluxe, sold by gun dealers as the Open Field™ Slug Carbine. The 1-28-twist fully rifled heavy slug barrel is rechambered to accept the longer 3-1/2-inch shell and also cut down from 24 inches to 19 inches.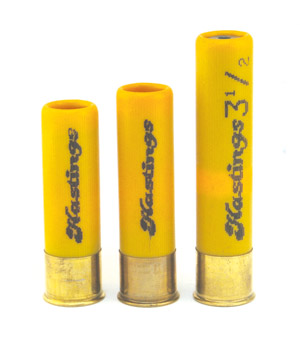 Hastings 20-gauge slugs: 2-3/4, 3, and 3-1/2 Super Magnum.
Richard Knoster of Sabot Technologies, Inc., who developed the super magnum 20-gauge load with Hastings, explained that shortening the barrel to carbine length sacrifices about 45 ft/s of muzzle velocity but improves accuracy because the slug exits the carbine-length barrel before the heavy recoil makes the muzzle jump. Hastings also chambers the 24-inch barrel for the 3-1/2-inch shell, but Knoster said he prefers the carbine.

To maximize the accuracy potential, he also advised setting up to shoot off of a rest same as you would a rifle, only with your offhand on top of the barrel, pulling down to dampen the muzzle jump.

In addition to the 3-1/2-inch super magnum loads, we shot 2-3/4- and 3-inch Hastings Laser Accurate Sabot Slugs. Muzzle jump did not seem to be a problem with the lighter loads, and we did not try the hand-on-the-barrel hold. The 3-1/2-inch Super Magnum loads were a different story, however, and pulling down on the barrel did seem to reduce muzzle jump and direct recoil straighter back into the shoulder. Three-shot groups with the 3-1/2-inch and the 2-3/4-inch shells hovered around 2 inches at 100 yards. But best accuracy came with the 3-inch shells, including a couple of MOA groupings.

Open Field Slug Carbine comes without sights but with a scope mounting rail installed on the barrel. Laminated hardwood Monte Carlo pistol grip stock includes a ventilated recoil pad and sling swivel studs; nylon sling also included. Overall length 34 inches, weight 7 pounds. Manufacturer suggested retail is $495. For more information, contact: Hastings, P.O. Box 175, Alum Bank, PA 15521; (814) 839-9334; www.hastingsammunition.com
***

Snosuit Gauntlet Glove mid-forearm length gauntlet-style gloves are ideal for keeping hands warm and dry when snowmobiling, hunting or even ice-fishing in extreme winter conditions. DuPont™ Teflon® fabric protector repels all water and oil-based liquids. The shell itself is 660 Denier Nylon, a remarkably durable yet supple fabric. SnoCore™ thermal insulation reflects and reuses the body's radiant heat, trapping warm air between micro-fibers while allowing moisture to escape through the breathable membrane. Combined, it's the most advanced winter protection ever. The back of the Gauntlet Glove is blanketed with 300 grams of insulation while the palm sports 150 grams, plenty to keep hands warm yet still allow the dexterity and sensitivity needed to feel, fight and land a fish on the ice. The palm, sidewalls and thumb are covered in goatskin, a leather superior to cowhide for suppleness, durability and softness. The outside of the thumb is cloaked with a special nose wipe material you'll appreciate with that first sniffle. Also offered in an ergonomically curved Gauntlet Mitt with flexible accordion panels to facilitate the grabbing and gripping of tools like an ice auger. Cinch tight the bungee and adjuster strap, and the mitt holds firmly in place. But when you want to bare-hand a fish, it can be thrown off faster than an oven mitt. Contact: Frabill Inc., Dept. FFG, N173 W21121 Northwest Passage, P.O. Box 449, Jackson, WI 53037; (262) 677-4740; www.frabill.com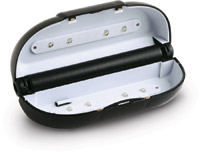 Rapala® Charge 'N Glow will charge glow baits, spoons and jigs with the latest LED technology and "why didn't I think of that" ease. Simply place the glow lure in the spring-loaded clam-style case, close the lid and push the power button. Eight LED bulbs produce 28 lumens of charging light; powered by three AAA batteries. For more information, go to: www.rapala.com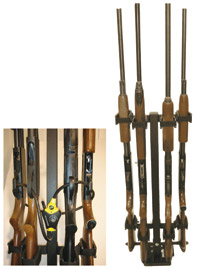 Rugged Gear 4-Gun floor mount makes it easy to carry four long guns to a shooting or hunting area. Mounts easily to the bed or floor of all pickup truck cargo boxes, golf carts, etc. Available as a permanent mount or with a base plate that allows quick removal. Rugged Gear's patented hook system uses neoprene channel over aluminum with Velcro straps to hold guns firmly without damage to gun stocks or metal surfaces; eliminates rattles over rough terrain. The lock kit (available as a separate item) features Masterlock's Python adjustable cable lock with a 10-gauge steel bracket that mounts to the holders using tamper-resistant screws. The swiveling cable itself is adjustable for length and made from cut-resistant 3/8-inch braided steel with vinyl coating to protect gun finish. Install/remove tool provided for side and base plates. Contact: Rugged Gear, Dept. FFG, 32588 477th Avenue, Elk Point, SD 57025; (800) 784-4331; www.ruggedgear.com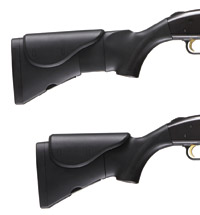 ATI Adjustable Hunting Stocks can turn your old scatter gun into a versatile hunting tool. Butt stock adjusts to four lengths of pull from 12-3/8 to 14-3/8 inches with the push of a button, making it quick and easy to accommodate extra clothing during winter months in the field. Hunters may prefer a shorter length of pull during turkey season, and reduction makes it easy to hand a youngster a properly fitted gun. Neoprene cheek rest and recoil-reducing butt pad with non-slip surface improve comfort; interchangeable grips put a personal touch on your stock. The forend is ergonomically tailored with a non-slip grip for added confidence. DuPont Reinforced Polymer shotgun stock and forend fits 12- and 20-gauge Remington 870, Maverick 88, Winchester 1200/1300 and Mossberg 500/590 models. Available in Matte Black, Camouflage and DyeHard™ Camo. Limited lifetime warranty. Contact: ATI, Dept. FFG, 2733 W. Carmen Ave. Milwaukee, WI 53209; (800) 925-2522; www.ATIgunstocks.com
FUR-FISH-GAME New Products Archive