Benjamin Marauder
Repeat-fire .177 & .22 air rifles for hunters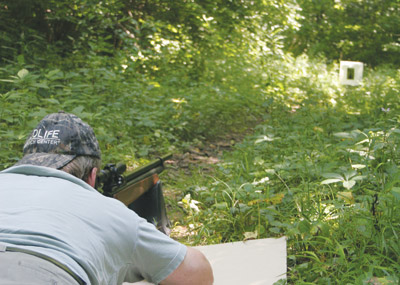 Crosman designed their Benjamin® Marauder PCP air rifle to hit a dime at 30 yards with more than enough power to cleanly kill a squirrel at 50 yards. The .22 version launches pellets at up to 1,000 feet a second, the .177 at up to 1,100 ft/s.

And it's a 10-shot repeater.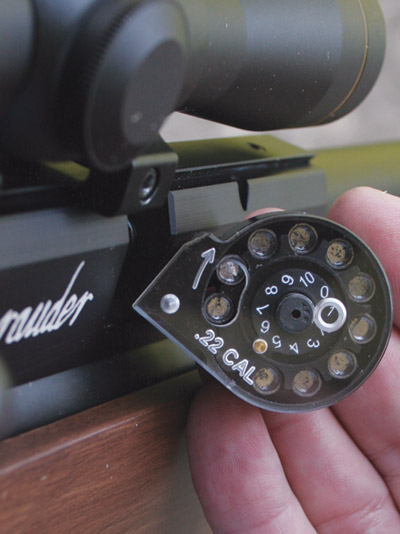 Like all PCP airguns, the Marauder draws power from a built-in air reservoir that may be charged from a high-pressure tank or with a heavy-duty hand pump. Unlike other PCP airguns, an optional adapter lets you also shoot the Marauder with CO2 cartridges. Crosman calls this Dual Fuel power. For performance and economy, however, the hand pump can't be beat. The Benjamin Three Stage High Pressure pump (sold separately) produces pressures and velocities beyond what can be achieved with CO2 cartridges, and while you must buy the pump, the air is free. Pump up enough pressure in the reservoir and get 40 or more full-power shots before needing to pump again.
The pull weight of the two-stage match-grade trigger is easily adjusted with an Allen wrench. Pellet velocity also may be adjusted. Set the rifle for a slower speed when target shooting and get more shots before needing to pump back up.
Our test rifle came with the trigger pull set at 2.5 pounds and the velocity set for accurate hunting-speed shots with Crosman Premier pellets. Since this is how we would set up the rifle for small game, we saw no need to make any adjustments before shooting. There are no open sights. The receiver is grooved for mounting an airgun scope. The grooves also accept 3/4-inch rimfire scope rings, and since a PCP doesn't produce the damaging whipsaw back-and-forth recoil of a spring-powered airgun, we used a rimfire scope.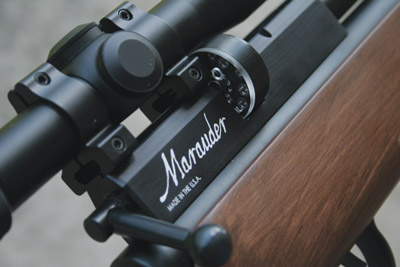 Right out of the box, the gun held 10-shot strings at under MOA accuracy. The bolt action cycled repeat shots from the indexed rotary clips without a glitch.
The 20-inch barrel is choked and also free floated for accuracy. A shroud surrounds the barrel to suppress muzzle blast and other firing noises.
American hardwood stock features a raised comb with palm swells on both sides for right- or left-hand hold. Charcoal matte finish on the metal resists scratching and rusting better than blued metal. Length 43 inches; weight 7.5 pounds. Available on discount websites for $499. Contact: Crosman Corp., 7629 Routes 5 & 20, East Bloomfield, NY 14443; (800) 724-7486; www.crosman.com
***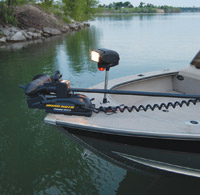 Golight Gobee™ Marine bow-mount light offers the ultimate in safety, portability and ease of use, at a price that won't sink the pocketbook. The main light rotates 360 degrees while tilting 90 degrees, allowing you to deliver the 1,000 lumen/80,000 candela light beam wherever you need it, making it easier to locate hazards, buoys and shoreline. Wireless handheld remote has an effective range of 25 feet, allowing use of the light from almost anywhere on the boat or on the dock. The low-profile design features an integral bicolor navigational light. Sits atop a 12-inch stanchion designed with trolling motor clearance in mind. Connects to any 2- or 3-pin bow socket and can be stowed away in a heavy-duty nylon carrying case until needed. One-year limited warranty. Contact: Golight, Inc., Dept. FFG, 37146 Old Hwy 17, Culbertson, NE 69024; (800) 557-0098; www.golight.com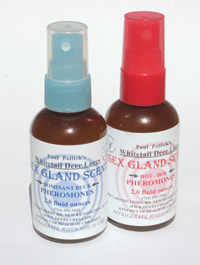 Paul Pollick's Whitetail Deer natural buck and doe sex gland scents contain the most complete concentration of authentic whitetail deer pheromones available. Made by separating and grinding only fresh, mature buck and doe sex and anal glands collected during the peak mating period of Pennsylvania deer-hunting season, at Pollick's own deer processing business. Contains 50-percent liquid sex gland scent secretions, which are irresistible to bucks and does during prerut, peak, and postrut mating cycles. The remaining 50 percent is a blend of tarsal gland (sexual identity advertising scent), interdigital gland (natural hoof musk trailing scent), and buck-in-rut or doe-in-heat urine. Buck Sex Gland Scent captures dominant buck aggression and territorial response when placed in man-made or natural scrapes. Also use as an intruder-buck trailing scent or to saturate scent wicks. Doe Sex Gland Scent is the most complete and natural scent in the woods, with the exception of a live estrous doe. Contact: Paul Pollick's Whitetail Deer Lures, Dept. FFG, 4940 Garvers Ferry Rd., New Kensington, PA 15068; (724) 295-3543; www.deerlures.com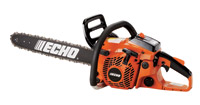 ECHO CS-450 Chain Saw features a 45cc high-performance, 2-stroke Power Boost Vortex™ engine for power and performance. Also features an easy-access, automotive-style air filter, a dual-post chain brake, an easy-to-use side access chain tensioning system, and a clutch-driven oiler that reduces oil consumption. Computerized ignition advance automatically adjusts engine timing. CS-450P "Performance Cutting System" version comes with a professional-quality bar and high-performance chain. Both the CS-450 and CS-450P come standard with 18-inch bar and chain; 16- and 20-inch lengths also available. Contact: ECHO, Inc., Dept. FFG, 400 Oakwood Rd., Lake Zurich, IL 60047; (800) 673-1558; www.echo-usa.com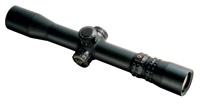 Nightforce NXS 2.5-10x32 Compact Scope provides great low-light capability in a compact, lightweight instrument that will not overwhelm a hunting rifle. At just 12 inches length and 19 ounces weight, it represents the optimum ratio of size-to-weight performance. Existing Nightforce Compact NXS scopes with 24mm objective lens have proven that riflescopes needn't be massive to provide exceptional clarity and resolution with advanced optical design. The 32mm objective of the new scope gives even more with minimal additional size and weight. Originally created for U.S. Special Forces use with night-vision devices, the NXS 2.5-10x32 has a larger exit pupil for faster target acquisition and improved light transmission. Available with fully enclosed hunting-style turrets in .250 MOA or exposed target-style turrets with .250 MOA, .1 Mil-Rad, or 1.0 MOA elevation/.5 MOA windage adjustments. The target-style turrets include Nightforce ZeroStop technology with windage limiter, allowing a quick return to absolute zero regardless of previous elevation adjustments. Three new "V" ballistic reticles designed for hunting shots out to 600 yards. Sight in at 200 yards, with elevation lines clearly marked from 100 yards to 600 yards at 50-yard intervals. Windage compensation is marked in 5 and 10 mph increments. After the rifle is zeroed, there is no need for a drop chart, turret adjustment in the field, or other calculations. Virtually all common hunting calibers adapt flawlessly to one of the three reticles. Made in the USA. Contact: Nightforce Optics, Inc., Dept. FFG, 1040 Hazen Lane, Orofino, ID 83544; (208) 476-9814; www.nightforceoptics.com
FUR-FISH-GAME New Products Archive