Marlin .338 MXLR Lever Rifle
Delivers the Hornady .338 Marlin Express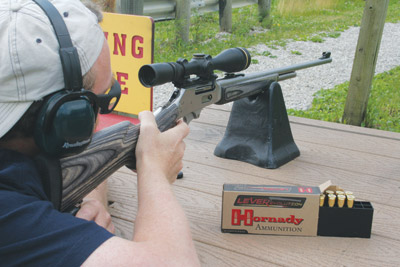 The Marlin .338MXLR rifle is built to wring maximum performance out of the equally new Hornady LeveRevolution .338 Marlin Express cartridge, a combination being touted as the first traditional lever rifle with enough punch for elk, moose and the big bears at long range.

According to Hornady, the 200-grain bullet leaves the muzzle at 2,565 feet a second, and the aerodynamic "flex tip" design (ballistic coefficient .430) maintains that velocity well enough to match the performance of a full-load 180-grain .30-06 from a bolt-action rifle. Zero at 200 yards, and the bullet hits just 6-1/2 inches low at 300 yards with 1,760 foot-pounds of energy. At 400 yards, the bullet hits 25 inches low with 1,471 foot-pounds.
Specially engineered propellants generate that power with a pressure curve that peaks well below the safety limits of the lever action, and the 24-inch barrel's six-groove, 1-in-12 right-hand rifling twist is ideal for stabilizing the big .338 bullet.
After taking a couple of shots from a rest to confirm the factory alignment of the adjustable folding semi-buckhorn rear sight and hooded brass bead front sight, we took turns plugging a 50-yard target, shooting offhand. (While gun and load are clearly designed for long-range, it's still a lever rifle, after all.) We finished that phase of the test shoot by emptying five-shot magazines in rapid-fire fashion, taking just enough time to work the lever and re-acquire the target. The rifle handled extremely well, and the lever action cycled repeat rounds without a glitch.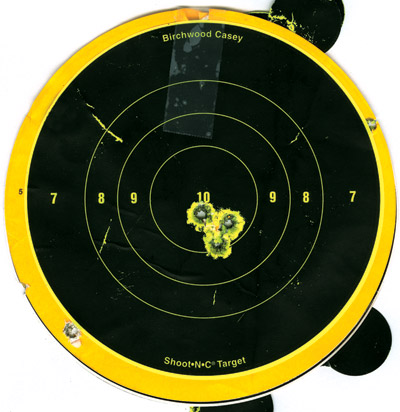 To check accuracy, we installed a Leupold VX®-3, 4.5-14x40mm adjustable objective scope. The side-ejection, solid top receiver comes drilled and tapped for mounts. Three carefully aimed shots at a 25-yard target left bullet holes touching in a classic cloverleaf pattern. We moved the target out to 100 yards, where the rifle continued to display MOA accuracy, holding a five-shot group right at 1 inch. The trigger felt crisp and clean; recoil seemed mild for such a powerhouse round.
Features include a fluted bolt and hammer-block safety. All major metal (except sights) stainless steel. Laminated hardwood pistol grip stock with fluted comb, cut checkering, soft recoil pad and nickel-plated swivel studs. Length 42.5 inches; weight 7 pounds. Suggested retail $805. Contact: Marlin Firearms, PO Box 248, North Haven, CT 06473-0905; (800) 544-8892; www.marlinfirearms.com
***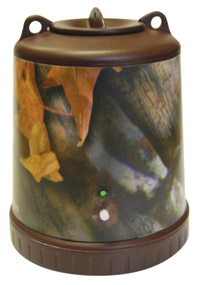 Code Blue TEMPtation Electronic Scent Warmer heats scent to the body temperature of a live deer and then disperses the scent as a vapor throughout the hunting area. The vapors travel farther and smell fresher than any other scent-dispersal system. Use with Code Blue Doe Estrous or Standing Estrous and a decoy then watch how single-minded a mature buck can be. Operates on four AA batteries, which are included. Contact: Code Blue Scents, Dept. FFG, 101 N Carney Street, Atmore, AL 36502; (251) 368-4089; www.codebluescents.com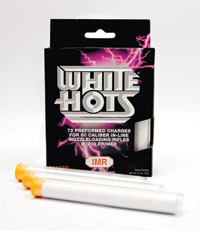 IMR®-Legendary Powders White Hots® offer high performance in preformed muzzleloader charges. IMR propellant looks like nothing seen before in preformed charges and is especially well suited for speed loading in-line 209-primer .50 rifles. Delivers faster velocities for more knockdown power. Shoots consistently with pinpoint accuracy. Is cleaner burning for faster follow-up reloading and easy cleanup. Produces no strong odors and is sulfur and charcoal free. For proven load data and other information, contact: IMR-Legendary Powders, Dept. FFG, 6231 Robinson, Shawnee Mission, KS 66202; 913-362-9455; www.imrpowder.com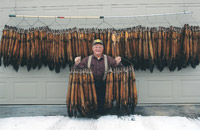 Tom Krause Marten Trapping DVD is like riding along on a Rocky Mountain pro's 'line. Tom makes large catches in only a few weeks, year after year, and he holds nothing back in this DVD, sharing knowledge that will let you excel immediately. Learn to make your own trapline maps, to find new sets directly and easily. Pick up tricks and tips for Conibear as well as foothold sets. See numerous catches, including spectacular canary martens. Follow the step-by-step construction of a Russian deadfall—with an improved American trigger. This DVD offers everything you need to know to catch more marten than the competition, and then you get fur-handling tips that will help you earn top-lot grades at auction. Contact: Tom Krause, Dept. FFG, 3200 Lewis Rd., Riverton, WY 82501; tkrause@wyoming.com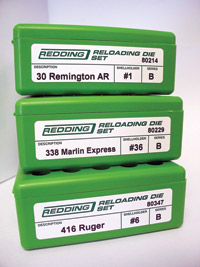 Redding Reloading Die Sets now available for .30 Remington AR, .338 Marlin Express, and .416 Ruger. All three of these new cartridges have major factory support and should be moved for SAAMI adoption quickly. Redding is known for both quality and a vast selection of available dies, including many popular and not-so-popular wildcats. Those seeking dies for a truly unique or obsolete cartridge should contact the Redding Custom Die Center. The Engineering Group at Redding requires only a chamber reamer drawing or 5 fired cases from the firearm in question to quote the production of custom dies for virtually any caliber and firearm which can be made with a 7/8 x 14 TPI die body. Redding offers unique solutions to improve the accuracy, consistency and reliability of your hand-loaded ammunition. For more information and a current catalog, contact: Redding Reloading Equipment, Dept. FFG, 1089 Starr Road, Cortland, NY 13045; (607) 753-3331; www.redding-reloading.com
FUR-FISH-GAME New Products Archive