Remington Model 870 Express ShurShot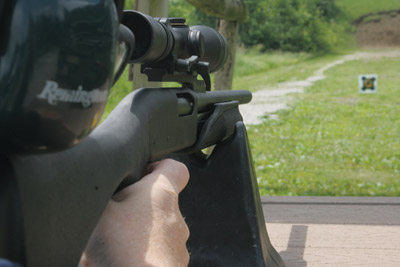 The new 20-gauge version of the Remington Model 870™ Express® ShurShot Synthetic Fully Rifled Cantilever was designed to take full advantage of newer, flatter-shooting slugs. So, for our test shoot, we requested the equally new 20-gauge Remington Premier® AccuTip Bonded Sabot Slug.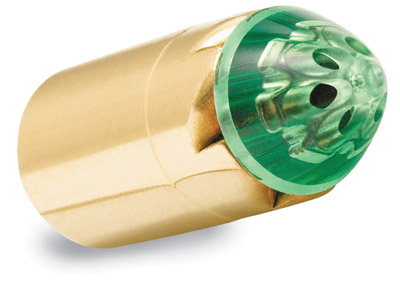 According to company ballistics, the 2-3/4-inch Premier AccuTip (also offered in 3-inch shells) launches its 260-grain polymer-tipped slug at 1,850 feet a second. Zero the sights for a long shot at 150 yards, and the flat-shooting load hits just 3.6 inches high at 100 yards, with 1,130 foot pounds of retained energy.
To maximize that long-shot potential, the Express ShurShot's cantilever mount locks the scope directly to a fully rifled barrel; ambidextrous pistol grip provides an exceptionally stable hold.
All of our three-shot groups, sighted with a Leupold VX-3 4.5-14x40mm scope, measured less than 2 inches at 100 yards, and the best was right at 1 inch.

The heavy 18-1/2-inch barrel is cut with a rifling twist rate of 1 in 24 inches. Handles both 2-3/4- and 3-inch shells with four-round magazine capacity. Matte black-oxide finish on barrel and receiver match the glare-free synthetic stock; recoil pad and molded-in swivel studs standard. Total length 38-3/4 inches, weight 6-3/8 pounds (without scope). Manufacturer suggested retail price $532. Contact: Remington Arms, 870 Remington Dr., P.O. Box 700, Madison, NC 27025; (800) 243-9700; www.remington.com
***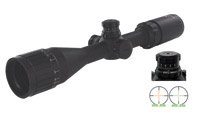 FM Optics Total Tactical Riflescopes feature illuminated red/green Mil-Dot reticles and new "zero tolerance" turret ring-locks. Available in 3-9x42mm, 6-24x44mm, and 4-16x44mm. One-inch aircraft aluminum tubes with matte black finish. The 6-24x44mm and 4-16x44mm also include adjustable objectives and a bubble level. Superb glass and ultra-rugged construction are the hallmark of FM Optics scopes. No glitzy brand name, just products packed with innovative, practical, everyday value at affordable prices. Contact: FM Optics Scopes, DKG Trading, Dept. FFG, 8791 Stringtown Road, Evansville, IL 62242; www.fmoptics.com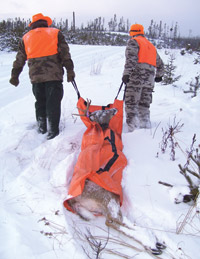 Hunting's-A-Drag Game Sled™ lets hunters easily drag out whitetails and other big game. The design assures the meat in the sled will not slide around or fall out. Also protects antlers and hide. Accessory strap makes it easy to load on an ATV or truck. Can also be used as an emergency weather shelter, stretcher, or signaling aid. The heavy-duty vinyl-coated material is highly visible orange. Yet when not in use, it folds into a convenient camo carry sack that is small enough to be strapped to a hunter's waist. Comes with instructional DVD and brochure. Contact: Hunting's-A-Drag, Inc., Dept. FFG, 42 Maple Street, Rifton, NY 12471; (845) 658-8557; www.gamesled.com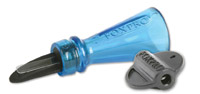 FOXPRO Skyote Open-Reed Call let's a hunter easily create a variety of realistic predator calling sounds, everything from coyote vocalizations to rabbit and other distress cries. The wide range of the Skyote lets you bring new strategies to a host of predator hunting scenarios. The newly designed raised ridge helps prevent the reed from freezing to the tone board in cold weather. One FoxPro Keychain call included at no charge with the purchase of every Skyote. This little call produces excellent distress sounds with amazing volume, and it's always there in a pinch. Contact: FoxPro, Inc., Dept. FFG, 14 Fox Hollow Drive, Lewistown, PA 17044; (717) 248-2507; www.gofoxpro.com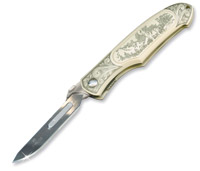 Havalon Piranta-Predator Knife features a rugged, stain-resistant ABS handle with laser-engraved "Timber Wolf" art by acclaimed scrimshaw artist Linda Karst Stone. Ms. Stone typically works on one-of-a-kind, collectible knives. The surgically sharp replaceable blades in all Piranta series knives eliminate the need to sharpen in the field. Practical uses include skinning (especially good for caping), and meat preparation. The Piranta-Predator has ambidextrous thumb studs, a liner lock and a pocket clip. Open design for easy cleaning. Overall length 7-1/4 inches. Each knife comes with twelve additional 60XT blades, and more are available in boxes of 12 or 100. Contact: Havalon Knives, Dept. FFG, 3726 Lonsdale Street, Cincinnati, OH 45227; (800) 638-4770; www.havalon.com
FUR-FISH-GAME New Products Archive