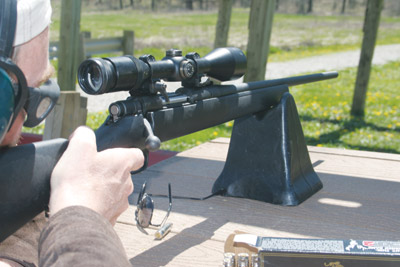 Mossberg is now putting Lightning Bolt Action Triggers in all of its centerfire rifles. The trigger can be set anywhere from 2 pounds to 7 pounds pull weight by simply turning a screw, and safety is assured because even when the trigger is at its lightest setting, a jolt will not cause the rifle to accidentally fire. A special safety blade located inside the regular trigger blade positively blocks the sear from releasing the striker until both this safety blade and the trigger are simultaneously pulled by the shooter's finger.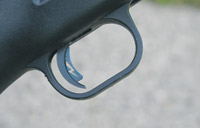 To test the new trigger system, we ordered a 100ATR (Mossberg's least expensive centerfire rifle) chambered in .243. The rifle was first offered four years ago with a trigger that could not be adjusted by the shooter, and at a real-world price of a little over $300, the no-frills rifle's MOA accuracy still earned a thumbs-up from value-minded hunters.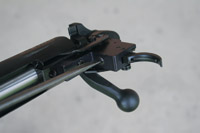 Since the LBA trigger comes from the factory set at the lightest 2-pound pull weight, we saw no need to adjust before test shooting. Factory-installed Weaver scope bases (also standard equipment) made it easy to install a rifle scope.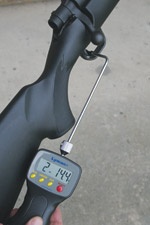 The first shot at 25 yards confirmed the bore sighting, and the next three punched a cloverleaf hole in the target. After scope adjustment the target was moved out to 50 yards and then 100, where the rifle maintained MOA accuracy shooting Winchester Ballistic Silvertip 95-grain loads.
The LBA trigger felt crisp with no discernible creep. A digital gauge verified the pull weight at 2 pounds 4 ounces, with the safety release blade adding the 4 ounces. The 6-3/4-pound rifle handled well, and the bolt cycled rounds from the four-shot internal magazine without a hitch.

We removed the barreled action from the stock to reset the trigger pull weight, and a full turn of the adjustment screw increased it to 2 pounds, 14 ounces. The next turn took it up to 3 pounds, 5 ounces. A third turn took it up to 5 pounds, and a final 3/4-turn topped it out at 7 pounds, 4 ounces. Then we turned it all the way back down, checking along the way to make sure the various screw settings still produced the same pull weights, which they did.
Suggested retail for a .243 100ATR with black synthetic stock and matte blue barrel is $424. Even with the new LBA trigger, we found the rifle on discount websites for as little as $315, plus shipping. Contact: O.F. Mossberg & Sons, Inc., 7 Grasso Ave., North Haven, CT 06473; (203) 230-5300; www.mossberg.com
Case TrapperLock (154L) combines a traditional pattern with a modern liner-locking Clip blade. Measures 4-1/8 inches closed and weighs 3.4 ounces. The saber, concave-ground blade is fitted with a specially-engraved torque screw for smooth one-hand opening. A special bushing built into the knife joint improves blade action. A steel spacer replaces the blade spring normally found in a Trapper pattern. Other features include nickel-silver end bolsters and a Case oval shield on the handle. Tru-Sharp™ surgical steel blade in standard knives; premium variations, one in Chestnut Bone and another with Yellow Synthetic handle, offered with Chrome Vanadium blade. Contact: W.R. Case & Sons, Dept. FFG, P.O. Box 4000, Owens Way, Bradford, PA 16701; (800) 523-6350; www.wrcase.com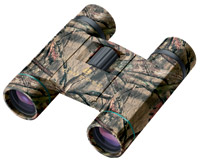 Leupold® Olympic Compact Dual Hinge binoculars are only slightly longer than 4 inches and weigh less than a pound yet provide full-size performance with fully multi-coated lenses and Super High Reflection coated auxiliary prisms, treatments typically reserved for larger binoculars. The lens coatings give a bright, clear image in nearly any daylight. Completely waterproof and filled with nitrogen to eliminate internal fogging. Available in 8x25mm or 10x25mm. Choose between armor coatings in black or Mossy Oak® Treestand®. Case, neck strap, eyepiece and objective lens covers included. Covered by Leupold Green Ring™ Limited Lifetime Warranty. Contact: Leupold & Stevens, Inc., Dept. FFG, P.O. Box 688, Beaverton, OR 97075-0688; (800) 538-7653; www.leupold.com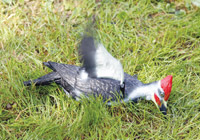 Edge By Expedite Wounded Woodpecker motion decoy will bring in all predators for a closer look. Can be used with one wing or two wings flapping, either attached to a branch with the built-in metal clip or placed on the ground for a more realistic "dying" effect. Requires 3 AAA batteries, not included. Contact: Edge By Expedite, Dept. FFG, 906 Dominion Dr., Hudson, WI 54016; (715) 381-2935; www.edgebyexpedite.com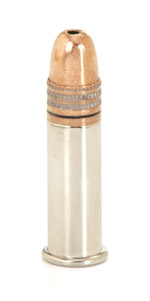 Winchester Xpediter™ .22 is the company's deadliest ever .22 LR cartridge for varmints and small game. The copper-plated 32-grain lead hollow-point bullet achieves an ultra-high muzzle velocity of 1,640 feet per second. The Xpediter is flat shooting, and the deep hollow point allows for maximum terminal effect with explosive upset. Nickel-plated case. Contact: Winchester Ammunition, Attn: Sales, Dept. FFG, 427 N. Shamrock, East Alton, IL 62024; (800) 356-2666; www.winchester.com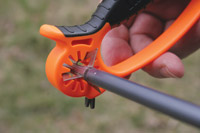 Lansky Broadhead Sharpener and wrench safely removes, sharpens and tightens broadheads on shafts. Over-molded, nonslip handle for safe, efficient use. Universal wrench positioned near the top for maximum control. Tungsten carbide sharpener's low-V design permits fast and easy sharpening of more blade surface. Can also be used for spearfishing gear or to touch up knives. Fits in a pants pocket. Contact: Lansky Sharpeners, Dept. PR-FFG, P.O. Box 50830, Henderson, NV 89016; (716) 877-7511; www.lansky.com
FUR-FISH-GAME New Products Archive