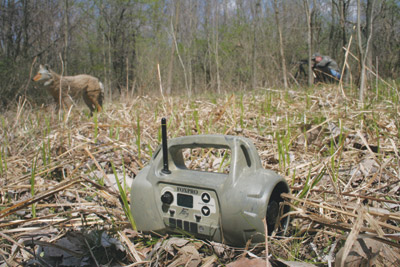 FoxPro Fury & TX-500 Remote
Take predator calling to the next level
FoxPro Fury and its TX-500 remote deliver the most complete package of features ever seen in a game caller. Store 500 sounds in the unit itself and then use the remote to create and control virtually endless combinations of calling sounds and sequences.

Three playback modes let you play a sound once, continuously, or you may play different sounds sequentially, one after the other. Select the Auto Volume feature and sounds start out soft, slowly ramp up, and then modulate up and down, leaving your hands and mind free to concentrate on the hunt and not the electronics.

If you are playing a stereo sound that has a rabbit on the left channel and a coyote on the right channel, for instance, you may use the FoxFade feature to increase, decrease or silence the rabbit while maintaining or independently altering the volume of the coyote. With mono sounds, FoxFade acts as a mixer to "move" sound between the speakers.

Once you find the volume, sequence, and playback modes you prefer, you may save up to 10 complete calling stands. Then just select the sequence you want for a particular stand and let it play out while you concentrate on the hunt—all the while knowing you can step in at any time to stop, restart or otherwise alter the sound with the remote. You may even set up 16 different Fury callers for simultaneous control by the same TX-500 remote.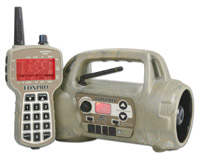 Of course, none of this would matter if the Fury didn't produce crisp, clean sound across a wide range of frequency, sound reproduced equally well at low or high volume. The Fury accomplishes that, too, with 24-bit audio and a pair of individually amplified speakers. The horn speaker produces deep low-end tones while the cone speaker produces the high-end squeals. Play just the speaker that best fits the sound to extend battery life, or play them in concert for full-spectrum sound.

All of the sound features can be controlled at a distance with the TX-500 remote, and the intuitive, user-friendly menus and controls let you decide just how involved you want to get with the technology. At the most basic level, the Fury and TX-500 are no more difficult to operate than a home TV with remote.
Once you gain confidence with the basic operation, you may then explore the cutting-edge technology, and FoxPro will guide you with an interactive website that provides customer support and also access to an extensive library of calling sounds, all of which can be downloaded onto your home computer with FoxPro-provided utilities. After you get the sounds the way you want them on the home computer, they easily transfer to the FoxPro via a USB port and provided cable.

In addition to FoxPro sound files, the Fury plays .mp3 and uncompressed .wav files, so you can put together your own custom library of sounds. As the new sounds are being loaded onto the Fury, new play lists automatically, wirelessly transfer to the TX-500 remote.

If you want more volume, plug in an external loudspeaker, or two. The built-in speakers may then be turned off or played in concert with the loudspeakers, which may be controlled independently, same as the built-in speakers.

The remote may also be used to control other devices that plug into an auxiliary jack, including FoxPro's own Jack-in-the-Box motion decoy, some other manufacturer's motion decoys, and even the right video camera.

The TX-500's red backlit LCD display may be set to four different light intensities for easier reading day or night. Requires three AA batteries; the Fury itself is powered by eight. If you purchase the optional FoxPro NiMH 8-battery pack, you can recharge batteries in the unit by simply plugging the charger into an external jack.

Made in USA and backed by 5-year limited warranty. For more information, contact: FoxPro, Inc., 14 Fox Hollow Dr., Lewistown, PA 17044; (717) 248-2507; www.gofoxpro.com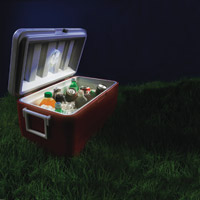 Coghlan's Cooler Light is great for camping or anytime darkness makes it difficult to see the contents of a cooler. The water-resistant light is secured to the underside of the cooler lid with double-sided adhesive tape. When the cooler is opened, the interior is illuminated by LED light refracted through an acrylic lens. Shuts off after 20 seconds whether the cooler is closed or left open. Suggested retail $8.99. Contact: www.coghlans.com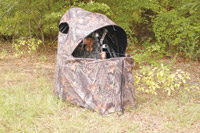 SCENTite® Magnum Tent Chair™ portable blind meets the needs of bowhunters, providing more than enough space to sit and shoot comfortably. When that trophy buck steps into range, you'll have all the room you need to take steady aim and hit the mark with full-draw power. Water-resistant camo outer shell blends into the surroundings while the black interior hides inside movement. A large front shooting window and side windows let you watch approaching game. Two large side pockets provide storage. Sets up in seconds around an over-sized folding chair capable of holding up to 350 pounds, with armrests and a beverage holder. Lightweight spring steel frame; all components fold down into backpack-style carrying case with shoulder strap. Contact: Fargason Outdoor Technologies, Inc., Dept. P-FFG, P.O. Box 36635, Birmingham, AL 35236; (800) 828-1554; www.scentite.com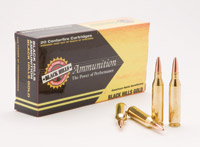 Black Hills Ammunition has added a .243 Barnes 85-grain TSX to its Gold line of premium hunting cartridges. The TSX bullets are well known among serious shooters for fine accuracy combined with near 100-percent weight retention, reliable expansion and deep penetration. In addition to superb accuracy and superior terminal performance on game animals, Barnes TSX bullets are 100-percent lead-free and have been certified as such by the state of California for use in that state's lead-free zones. Black Hills Gold with Barnes TSX bullets also available in .25-06, .270. .308, .30-06, 7mm Rem Mag, and .300 Win Mag. Contact: Black Hills, Dept. FFG, P.O. Box 3090, Rapid City, SD 57709-3090; (605) 348.5150; www.black-hills.com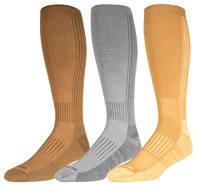 Drymax HD Hiking Socks keep feet dry and warm because the Drymax fibers stay as much as 25 times drier than wool and also draw 20 percent less warmth away from the skin. Dual Layer design for a self-contained moisture removal system. At the molecular level, moisture doesn't stick to the inner layer of Drymax terry loops. This allows the Drymax fibers to pull sweat from the skin (like a squeegee) and into the moisture-attracting outer layer. MicroZap® silver antimicrobial in the fibers then actively fights odor-causing bacteria. Dense padding as opposed to thick padding better protects feet without adversely affecting the fit of a shoe or boot. More durable and easier to care for than wool. Socks come out of a washing machine so free of moisture they quickly air dry. Contact: Drymax Sports, LLC, Dept. FFG, 429 27th Street NW, Hickory, NC 28601; www.drymaxsports.com
FUR-FISH-GAME New Products Archive