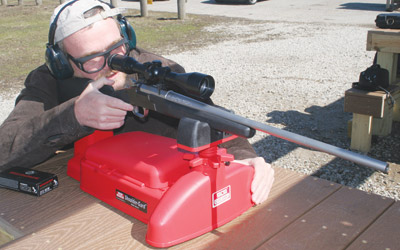 Build a hunting arsenal one barrel
at a time with the Knight KP1 System
Knight KP1 Muzzleloaders can be converted to cartridge rifles or shotguns by simply swapping barrels and forends. Takes about a minute, a little longer if you must realign the firing pin for rimfire.
With 13 cartridge/barrel options ranging from .17 HMR to 12 gauge, a hunter may use the KP1 platform to build a complete arsenal one barrel at a time. We test shot the .50 muzzleloader, .223 Remington and 20-gauge slug barrels.
Williams metallic-fiber optic sights come standard on the 26-inch muzzleloader barrel, and we used them to shoot consecutive three-shot groups that held under 1 inch at 50 yards. The load was 250-grain saboted soft-point lead bullets ahead of two 50-grain Hodgdon Triple Seven pellets. Knight guarantees 2.5-inch groups at 100 yards with the KP1 muzzleoader. Green Mountain makes the muzzleloader barrel and all of the rifle barrels, too.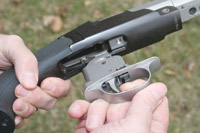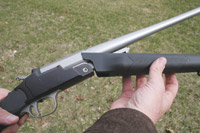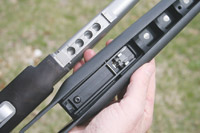 We next shot the 24-inch 20-gauge rifled slug barrel, again using the Williams sights that came on the barrel. The combination put five Remington Accutip slugs in a 1-inch group at 50 yards.
The 24-inch stainless steel .223 barrel did not have sights, but all of the barrels came drilled and tapped for 1/2-inch scope bases. We used a 3-9x hunting scope to shoot MOA groups with 40-grain Winchester Ballistic Silvertip boattails.
The trigger had a "two-stage" feel with noticeable take up but then broke at a consistent 4-1/2 pounds pressure.
Kick-Eez butt pad and the straight lines of the textured synthetic stock worked to keep felt recoil at a minimum. The comb was fine for scope sighting, and we had no problem getting down on the stock to use the open sights. All in all, the KP1 is an impressively engineered shooting platform. Contact: Knight Rifles, Dept. FFG, 715B Summit Dr., Decatur, AL 35601; (256) 260-8950; www.knightrifles.com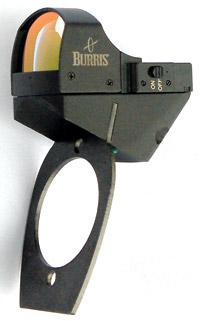 Burris SpeedBead red dot reflex sight provides shotgunners advanced optics without the height, weight, or loss of balance normally associated with adding optics to a shotgun. This small, lightweight sight is installed by sandwiching a thin mounting plate between the buttstock and the receiver, placing the optic directly in line with the vented rib and the shooter's eye so no alteration in shooting style is required. Both the red dot and the target are always in focus, and the shooter's eye need not be perfectly aligned to achieve consistent shot placement. A light sensor automatically adjusts dot brightness to the available light. Windage and elevation adjustments allow precise alignment of the red dot with the center of the shot pattern. Mounting plates currently available for most Beretta, Benelli, Franchi, Stoeger and Remington semiauto and pump shotguns, and more are in the works. Install by simply removing the buttstock and then putting it back on with the mounting plate between the buttstock and receiver. The battery lasts up to 5 years, and if it fails in the field, you can still see the shotgun bead. Contact: Burris Company, Dept. FFG, 331 E 8th St., Greeley, CO 80631; (970) 356-1670; www.burrisoptics.com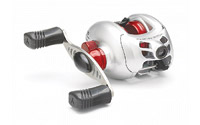 Ardent F500 Flippin' and Pitchin' Reel respools perfectly after every flip or pitch, due to precise engineering. Cast farther with decreased friction, and then use the strongest, tightest drag system on any bass reel to land that lunker. Aluminum frame and stainless steel handle. Other features include five stainless steel ball bearings, a stainless steel anti-reverse clutch bearing, and a 6.3:1 helical gear ratio. Contact: Ardent, Dept. FFG, 420 Lake St., Macon, MO 63552; (660) 395-9200; www.ardentoutdoors.com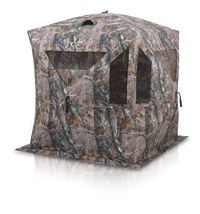 Ameristep® Bone Collector™ Ground Blind features carbon-enhanced scent-blocking laminated interior. The NS3 Micro-Tech outer fabric shell eliminates shine and noise with a dull fleece finish. UV protected for durability and also to prevent fading. Meets the fire-retardant code required in many states. Heavy-duty hub-style frame for fast and easy set up. Features include shoot-through mesh gun port; noise-free vertical window system; roof venting. Packs down to 12 inches by 46 inches. Weighs 20 pounds. Contact: Ameristep, Dept. FFG, 901 Tacoma Ct., Clio, Ml 48420; (810) 686-4035; www.ameristep.com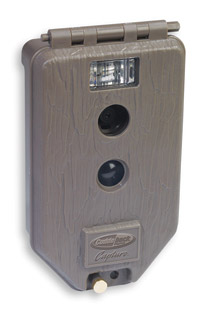 Cuddeback® Capture (color images 24/7) and Capture IR (color images by day, infrared by night) 3 MegaPixel trail cameras are so simple you can learn to operate them in a minute or so. Rotary switch programming makes setup as simple as setting an alarm clock. Trigger speed more than twice as fast as previous Cuddeback models, and faster recovery time allows for a 30-second delay. Test mode lets you see the detection zone while setting up. Flash range 40 feet (25 feet for infrared illumination). Weatherproof, camouflaged housing. Exceptional battery life; capture 2,000 images or more with a set of four D-cell batteries. Contact: Non Typical Inc., Dept. FFG, 860 Park Lane, Park Falls, WI 54552; (715) 762-2260; www.cuddebackdigital.com