By Vic Attardo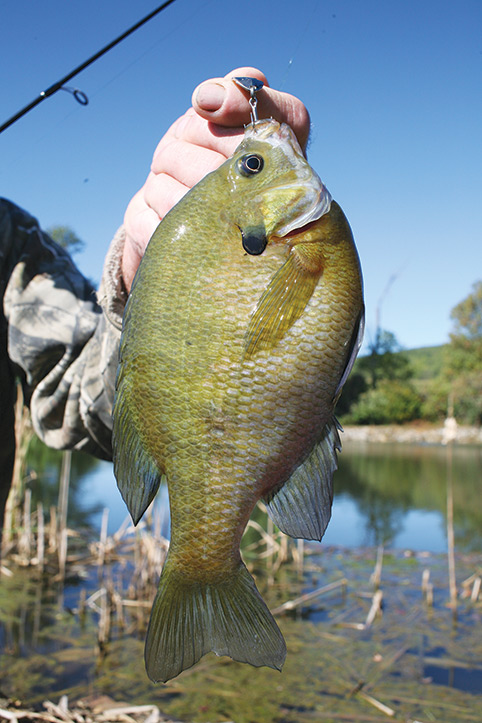 While drifting across western Pennsylvania's Conneaut Lake, I couldn't help marveling at how a glacier had carved out the 925-acre bowl that now held a cool, clear lake.
But I didn't have a lot of time to ponder it, because I was mighty busy jigging a 1/12-ounce spoon along the edge of a weed line in 15 to 18 feet of water. The narrow little spoon, with a rattle imbedded in its slightly concave side, was triggering strike after strike from bluegill, yellow perch and crappie. The hits were all solid pulls, followed by a turbo run to the side when it was a yellow perch speeding to take the tidbit away from the rest of the school.
Based on the venerable Acme Kastmaster, the new Rattle Master has been touted mostly for ice-fishing. More and more, however, I've been using little ice-fishing lures for summer panfish, including an array of small spoons.
The morning before, I trolled Conneaut's shallows with a curved-body Clarkspoon. The skies were densely cloudy, and I reasoned correctly that crappie would be holding shallow and ready to pounce. I sat in the stern of the boat, simply holding the rod in my hand and literally watching the North Carolina rocking spoon entice crappie to chase a shallow bait. It was quite a sight in 7 feet of clear water: first a rumple on the surface, and then a flashing strike.
And those were just two of many memorable outings fishing small spoons for panfish last summer. On the Mississippi River near Prairie du Chien, I found bluegills scarce in the side-bay lily pads where I had hoped to catch them with my fly rod. The heat of August had driven them deeper into the channels where tourist riverboats were moored and also above some locks. The scuttlebutt was that big 'gills could still be caught but only down deep, and the savvy anglers were jigging.
Instead of copying them exactly, I clipped a 1/8-ounce keel sinker to the main line and then a 4-foot leader with a curved trolling spoon on the end. I gently rode up and down select sections of the mighty river, catching fat bluegills the likes of which I had not seen earlier that summer. The bonus was a bunch of bigger white bass. I wasn't complaining.
Spoons have always attracted me with their simplicity and effectiveness. When I was a kid, I read about Julio T. Buel putting a hook on a spoon after he inadvertently dropped his dinnerware in the water and saw a fish strike the spoon as it fluttered toward bottom. That 175-year-old Vermont legend is often repeated, and I hope it's true. Regardless, I caught a lot of fish with classic red-and-white Daredevils, and after that I did well trolling big, flat spoons for Great Lake trout and salmon. Then it seemed the floodgates opened, and I caught all manner of fish with spoons big and small.
I rely on proven designs such as the deeply curved Phoebe and the shallower curve of the wide-bodied Little Cleo. I also like newbies like that Rattle Master, the straight-edged Side-Winder, and the Clarkspoon with its bent-around edges.
So many spoons now come in panfish-friendly sizes. I find them as small as 1/32-ounce all the way up to 1/8-ounce, about the largest I use for vertical jigging. While some spoons are meant to be jigged this way, others are cast and hopped along bottom and still others trolled on a free line.
By summer, baitfish abound in all sizes. Fresh fingerlings may be thimble-length while earlier hatchers already stretch a couple of inches. With the varied size of the baitfish, a range of spoons can come in handy for "matching the hatch."
Panfish also have different size mouths. The largest belongs to the crappie followed by the rock bass, redbreast, then a variety of hybrid sunfish, perch, the iconic bluegill, green sunfish and coppernose bluegill. If I'm out for a specific fish, I may pick a spoon sized to match the mouth. But more often, I tie on a spoon in the middle of the weight class, hoping to catch more than just one species of fish.
In the old days spoons came painted with wide swaths of contrasting color or in silver or gold, perhaps "hammered" to make little light-reflecting facets. The myriad of finishes on today's spoons has expanded their usefulness. I fish spoons that clearly resemble perch, rainbow trout, and spiced up shiners. There are special glow colors for tannin-stained lakes.
I may tip about any spoon with live or cut bait, especially when vertical jigging. Fathead minnows, shiners, mealy worms, red worms, bits of night crawler and even crickets have found their way onto my treble hooks, all with great success.
When I know I'm going after a particular panfish, I can be very specific as to choice of bait. When its bluegill or pumpkinseed, I want red worms, pieces of night crawler or crickets. When I'm after crappie, the bait du jour is fathead minnows or shiners. For perch I may also follow the minnow and shiner route, but worms also do very well.
Where truly beefy rock bass are found—typically in a lake with a rock bottom 10 feet or deeper—a vertical spoon tipped with a tidbit of cocktail-size shrimp can be just the thing for their surprisingly large mouths.
I've seen some ugly attempts to impale a minnow on two of the three points of a treble hook, and also plenty of unnaturally dangling minnows hooked through the lips on just one point. Rarely in fishing is there one right way to do anything, but when it comes to tipping a jigging spoon's treble hook with a minnow, I go one way exclusively. I always run one of the points through just below the dorsal area of the minnow, being careful not to break the minnow's tiny backbone, and then I push the impaled minnow down into the bend of the hook. This does not unbalance a vertical-hanging spoon, and any fish that tries to take the minnow is sure to also take a hook point.
When it comes to larger shiners, especially when I'm after crappie better than 13 inches, I use a beefier 1/8-ounce spoon but still hook the shiner the same way. There may be slight imbalance in that hanging spoon, but the crappie don't seem to notice, or maybe they just don't care.
I may also add a bit of bait to a trolled spoon. Perch and crappie both respond well to a small chunk of cut minnow on the back hook of a swimming spoon.
Rattle-embedded spoons with minnows attached can be particularly good for calling up deep perch and crappie. The sensitive rattles produce sound vibration at the slightest movement. Add the wiggling of a fathead minnow and a slight twitch by the angler upstairs in the boat, and fish simply can't ignore it.
One of the best ways I've found to fish spoons from a small boat is to simply drift with the wind. I discovered this one afternoon on another natural northern lake, Lake Carmi, in Vermont.
The breeze was skidding down from Canada, as it often does, and we sailed along at a 2 mph stroll, perfect for moving the spoon yet still keeping it down near bottom. To prevent line twist I attached a barrel swivel a foot above the bait. After seeing some curl I changed the short leader, but I only had to do it once.
During the drift I gently jigged the spoon and minnow with no more than a 6-inch lift of the rod tip. The crappie and perch were spread out along bottom, which is often the case on a summer afternoon, and I didn't want to pull the offering up and away. If I had dropped anchor, I suspect I also would have caught some. But that slow drift put metal and minnow in front of a lot more fish.
Other bottom structure concentrated the Lake Carmi perch, and in one tight area I caught four 14-inchers back-to-back-to-back-to-back on the same minnow. After the third fish I threw out an orange buoy, a wise thing to do when locating fish in unfamiliar water. After drifting without a bite for 50 yards, I revved up the electric motor and circled well above the marker, careful not to pass through the neighborhood where I had hooked perch. The fish were still on the structure, still taking the spoon aggressively. They weren't exactly stacked but still as eager as kittens for milk.
I found some isolated slab crappie in another part of the lake. Drifting the spoon and minnow was the ticket there, too.
Tackle manufacturers are always looking for gimmicks to get us to buy more product. But the proliferation of small spoons in new designs and lifelike patterns is the real deal. Try it this summer on one of your favorite panfish lakes.