By Tom Parr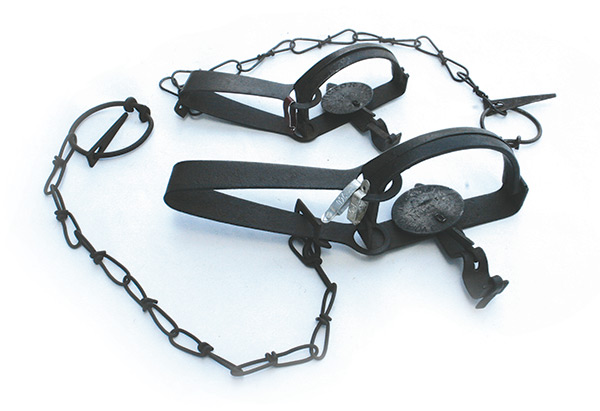 Oneida Community acquired several other trap makers around the turn of the 20th century, and the inventory that came with those companies included parts they would later use in their own traps. Pans stamped with other company names were flipped over and stamped Victor on the topside. This occurred before the "V" was cut in the pans, starting around 1910. Visible markings on the underside of a pan used this way can add greatly to the collector value of an early Victor. The outline of a horseshoe is stamped on some. Inside the horseshoe you may find the trap size, and below that it reads: Good Luck Animal Trap Co. Lititz. PA. A trap spring that reads Very Best Animal Trap Co. Abingdon, ILL is an equally rare find, and either of these early Victors may bring $500 or more from a serious collector.
Oneida's trap works were purchased by Animal Trap Company of America in 1926, and when older trappers and trap collectors alike hear Animal Trap Company, they may automatically think of that company. Located in Lititz, Pennsylvania, it was the world's largest maker of traps through much of the 20th century.
But a trio in Abingdon, Illinois, used the Animal Trap Company name long before that, when they incorporated their business in 1896. They made Stop Thief traps, the Tree trap, Out O' Sight mouse and rat traps. William Hooker, one of the company founders, held at least 27 patents and is credited with inventing the wood-based snap trap in 1894.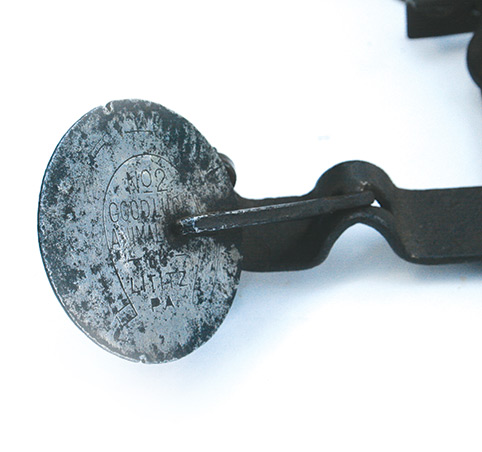 The outline of a horseshoe is stamped
on the underside of the pan.
F.W. Schultz, an agent for the company, opened a branch in St. Louis supplying traps to the lucrative Southern and Western markets. He gained control of the company in 1902 and moved the works to Lititz. By 1905, Schultz also had gained control of J.M Mast Manufacturing, Co., also located in Lititz. Mast made mousetraps, fishing floats and vegetable graters.
Soon after acquiring the Mast company, Schultz ran an advertisement in a local newspaper claiming that his combined and renamed United Animal Trap Co. was the largest manufacturer of animal traps in the world, a full line that included fox, wolf and bear traps. Yet before placing a single trap on the market, the group sold controlling interest in the business to Oneida Community, Limited, in late 1906.
William Hooker stayed in Abingdon and acquired the Hall Trap Company. Garnett Hall had also patented a mousetrap in 1899. They renamed the business the Abingdon Trap Company and made several mousetraps that are collector finds today, including the OK, ELI, Nox, Decoy, IT, Owl, and Family. They also made rat, gopher, and game traps; and flat-metal fur stretchers, most of which are stamped Abingdon Trap Co. Pat'd June 12, 06. The company went out of business in 1914.
* * *
For information on this and other
collectible antique traps, contact:
Tom Parr, the North American Trap
Collectors Association, P.O. Box 94,
Galloway, OH 43119; (614) 878-6011.