By Larry Kangas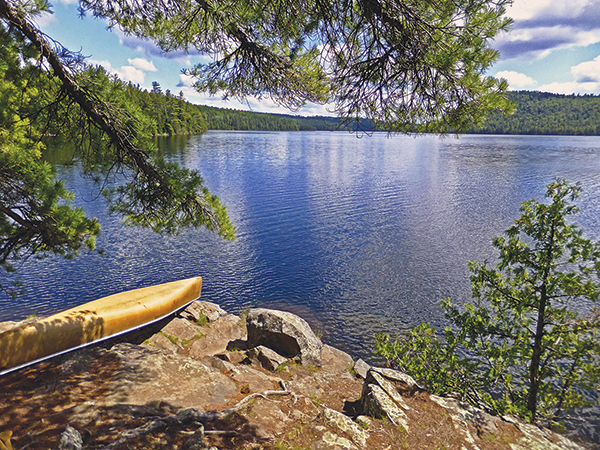 Every outdoorsman should add the Boundary Waters Canoe Area to his bucket list. Trouble is, one dip won't fill the bucket. One stroke may start you on a journey to Hudson Bay, more than 1,200 miles away, traveling the same waterways and portages as the voyageurs in the 1700s carrying beaver pelts east and trade goods west.
A quarter-million people visit the BWCA each year, the highest visitation of any wilderness area in the United States. Sounds like the place would be crawling with people, but it's not, as daily permits regulate the number allowed into each entry point. With 70 entry points, 2,200 campsites, more than 1,000 lakes and 1,500 miles of canoe route, there is plenty of room to stretch out. Put a portage or two behind you, especially a long portage, and the amount of human traffic thins out dramatically.
Because it is managed as a wilderness area, today's paddler can experience the same northern canoe country as the early explorers, trappers, and guides. Here we are isolated from news, politics and the daily hustle and bustle of the road system. Nature prevails, and canoers get to test their mettle. Woodcraft and self-sufficiency can be critical. Be aware of your surroundings, watch the weather, understand and respect natural forces. Stay warm and dry in cool or wet weather; avoid dehydration and heat exhaustion during the summer. Avoid unnecessary risk. Help may be a long way off.
Pack the essentials, as you have to carry everything across the portages. But that doesn't mean you have to be Spartan. Camping out of a canoe you can bring a few more items than when backpacking. To make the trip more comfortable, we bring a little bigger four-person tent and lightweight hammocks. The larger tent allows us to keep everything in one tent, except our bear-proofed food. This is especially nice when it rains.
Pack a lightweight axe and a folding saw for firewood. They are also handy for clearing trails in spring or clearing a recent blowdown. After researching camp axes, I settled on a Wetterlings Bushman with a length of 22 inches, enough to use both hands but light enough to carry in a daypack. I use these tools to improve the trail for the second load at a double portage. Ankle trippers, face slappers, and canoe grabbers have to go. It's a habit with me after being a backcountry ranger, just something I do.
Another advantage of double portaging is it lets us really enjoy the surroundings on the empty-handed return trip. Portages often run along drainages where wildlife also travels. I find moose tracks, wolf scat, spot mink, etc. The walking is also a welcome break from sitting on my rump paddling.
At portages you are most likely to meet other paddlers, offering a chance to catch up on trail news. At one portage, as we were heading out with our second load, two fit young men single-portaging all of their gear passed us going the other way. They paused for a quick greeting, an exchange of fishing locations, lures, and an availability update on campsites. It's the news of the day in the BWCA and helps one find the best campsites. Fishing tips put fresh walleye on the dinner table.
The best tip I can offer is to start each day early.
Nothing wrong with enjoying a late evening around the campfire, but after a full day of travel, we are content to settle in early and awake before daylight, eager to get on with the next day's travel. We break camp and eat breakfast by headlamp. Then, with just enough light to safely load the canoe, we're off.
We love paddling early mornings, witnessing a new day dawn with mist rising off the water and fish breaking the surface. Loons call, and the wildlife watching is at its best with beaver, otter and moose getting in a morning feed. We pass camps that are just awaking and others that are still asleep, unaware of our passing.
Starting early this way, we may travel for days and not pass another canoe on the water. The solitude is enjoyed. We are not rushed, nor waiting at the portages for other parties.
The biggest advantage of starting early, however, is the chance to claim the best campsites. After paddling and portaging for five to six hours, we are ready to find our next camp right about the time others campers have moved on, opening up those sites. Then we watch the late-day paddlers pass by, anxiously looking for a site when the best are taken. They may have to push on to another lake for a decent opening.
The perfect campsite is easy to spot: it's the place you would pick to build a cabin. It has a protected landing for the canoe with a gentle slope for loading and unloading. It is usually on a point affording a view of the lake. Ideal is a tent pad and kitchen elevated 10 to 20 feet above the lake, enhancing the view and also allowing the breeze to keep bugs at bay. The shade from towering red and white pines anchored in exposed bedrock keep the heat of the day manageable.
These are the places where the early voyageurs, guides, trappers, fishermen and canoeists also stopped. We are sharing historic camps, and we're not alone in recognizing such sites. They show the most use, but not in a littered, disrespected way, more like a yard where kids like to play. We sometimes find and like to leave a little pile of cut firewood. It's a nice welcome.
Always leave a campsite clean. No trash; no smelly fish remains. Everyone sleeps easier knowing bears have no reason to be stopping by. Attacks are historically rare, but bears are one of the top safety concerns. So far, the only bear we've seen was eating blueberries as we paddled by 40 yards out in the lake.
Hanging food is recommended, and most do, but some bears figure out that routine. We use a food barrel. It holds 60 liters and is strapped to a carrying harness for portaging. It's critter-proof but would not stop a determined bear, so before retiring for the night, we lash the barrel to a tree and put our cook pot and a pan on top. If a bear disturbs it, we'll hear the clatter (at least my wife will) and then we'll get up and chase off the bear. If we leave camp to fish or explore, we take the food barrel along with us.
At night, a can of bear spray is laid out alongside my headlamp and a bright flashlight. I also keep the paddles near the tent, where I can quickly grab and clang them together.
The BWCA offers excellent fishing for walleye, northern pike, smallmouth bass and lake trout. Minnesota's record lake trout and walleye both came out of BWCA waters.
Those who go primarily for the fishing should plan accordingly. Some of the best fishing comes when the bugs also are at their worst. It's a tradeoff.
But many of the deeper lakes harbor lake trout, and early spring, when the lakers are in the shallows, is known for great bites.
Seems a lot of paddlers have trouble catching them in summer, but they're quite catchable with a heavy jig. I've also had consistent success slow-trolling lures that get down to 12 or 15 feet where the water is cooler. In clear water, light-color Rapala shad raps work well. Storm Hot N Tots in blue and white have also done well. Lakers take these lures even in the heat of the day.
For walleye, we troll or cast a jig (white, chartreuse, or yellow) tipped with Berkley Powerbait. If you are there to fish, you may want to pack in minnows, leaches or night crawlers and set up a base camp in a good area.
Pay attention to wind direction when fishing for walleyes. Look for a windward shore, especially around reefs, points and islands. Start presenting baits near the bottom. Then experiment with depth until you find them. Where one is, there will be more.
If walleye and trout prove hard to come by, northern pike are usually more accommodating. They hit about anything, and coming from cold northern water, they make excellent table fare. Use stout leaders to avoid bite-offs.
On the third day after paddling since daybreak and humping over eight portages to get into Kekekabic Lake, we were looking for a place to camp. The map showed a campsite up ahead around a point back in the head of a bay, so that is where we were headed. It was approaching the noon hour when I tossed a diving shad rap overboard and asked my wife to hold the rod while I slowly paddled us toward the campsite.
Shortly, a perfect-sized eating laker was with us in the canoe. To top it off, as we rounded the point into the bay we saw a beautiful campsite sitting empty. Shortly thereafter, fresh fillets were cooking over an open fire.
It doesn't always work out that way. Sometimes we set up camp and then go fishing. But usually, we are headed back 30 minutes later with fish for dinner.
For years I portaged aluminum canoes. I won't again, not after portaging a lightweight Kevlar.
They all work, but you pay a little more sweat equity with a heavier canoe. Nothing that will harm a fit young paddler, but at my age, I figure I've already paid those dues.
If you don't own a canoe, I have found the local outfitters extremely helpful and accommodating. You can rent just a canoe or get everything needed including tents, sleeping bags, packs, tools, utensils and even food.
Each time we've gone to the BWCA, we've explored a new area. Each trip has been from five to seven days, covering 10 to 25 lakes over 50 to 60 miles.
We especially like clear, island-dotted lakes with rugged shorelines, cliffs and towering pines. Just as much as we enjoy seeing new country, we enjoy navigating unknown water. A detailed map and a compass (or two) are a must. Voyageur, McKenzie, and Fisher all offer waterproof maps showing the location of portages and campsites. The Voyageur Maps I've used also showed lake bottom contours to aid in fishing.
The BWCA, as a wilderness area, doesn't mark portage trail heads or campsites with signs. You have to pay attention to where you are in reference to the map, and also look for indications of repeat use. The popular portages may be obvious, but lesser-used ones can take a little looking around to find. It adds to the adventure.
Navigating interconnected island-studded lakes can be disorienting. I keep my map in a case attached to the canoe thwart in front of me, where I can see it at all times. I also mount a ball compass (the type designed to pin on a hunting jacket) on a length of Velcro strapped to the thwart in front of me. My wife also has one mounted on the bow thwart. She keeps me on my toes.
I've been humbled more than once when I didn't pay enough attention to the map and compass. It happens at least once every trip.
There are not many places left where you can dip drinking water directly from a lake. But the BWCA is one of those places, and it's a treat to do so. Authorities recommend that all water be filtered, and we do pack a filter, using it as necessary. When we drink directly from the lake, we take it out of deep, open water. I wouldn't do it on smaller lakes, certainly not near beaver activity nor in a lake with algae.
Paddling and portaging through the BWCA does require one be fit and energetic. I turned 60 before our last visit, and after the first day's 11 miles and four portages, I was feeling a little sore and worn down. My pre-trip workout routine had been cut short for a variety of reasons—excuses, if you prefer—and now I was paying the price.
But I just called for a layover day to recuperate, and my wife didn't argue. We spent that day relaxing, fishing, and lounging around camp. By sundown, I felt refreshed and knew I would be ready to go the next day.
Reservations may be made well ahead of time; just know that the permit allows you to only enter the wilderness on that one date, not the day before or after. Reservations may not be needed for lesser-used entry points, especially during the week outside the busy season.
Once you're in, you can go where you want and stay as long as you want. We let the weather, the fishing, and the sea conditions determine our daily travel. This is what adventure is all about—that sense of freedom. It is wise, however, to leave a general plan with someone back home, so that if you don't come out on time, authorities will have a clue where to start looking.
This is wilderness, after all.