By Jack Spencer Jr.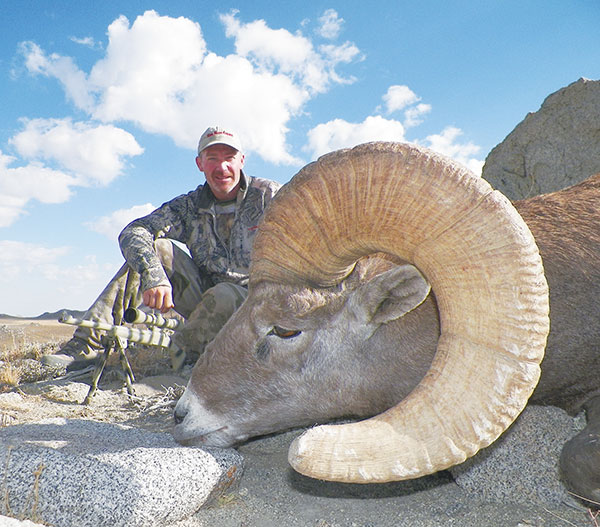 Jack Spencer with his Safari Club handgun world record California Bighorn sheep.

Bighorn sheep may be the ultimate North American dream hunt. The California bighorn, the desert and the rocky mountain bighorn are found in some of the most spectacular country in about a dozen Western states. Yet there are only a few huntable populations, and the few hunting tags offered are either painfully expensive at auction or available only by lottery, with horrifically poor drawing odds.

I have known hunters who put in for bighorn tags their whole lives, only to die old men having never been afforded a chance to hunt the mountain monarch. Last year, a single bighorn sheep tag sold at auction for $300,000.

If you, too, dream of hunting sheep in the mountains, but don't have that kind of money, patience may be your only option. I advise starting now, applying for bighorn tags in the states that offer them by drawing. In a lottery, a poor skunk trapper has the same odds as a billionaire.

Early on, I decided I was going to hunt bighorn sheep and started applying. Stories by Jack O'Conner, the legendary gun writer and dedicated sheep hunter, got me hooked.

At the time, I was a college student and part-time trapper, but I figured I had just as good a chance as anybody else. Even first-timers can get lucky in a lottery, and I calculated that within the next 30 years, I should draw a tag to hunt somehow, someway, somewhere.

I actually beat the odds and drew a bighorn tag after only 22 years of applying. As soon as it sunk in that I really would be hunting sheep that season, I started getting in shape for a mountain hunt that would be one of my hardest to date. I like to run, to compete in marathon events. But after I learned I had drawn a sheep tag, I started bushwhacking up 10,000-foot peaks.

If you draw a sheep tag, I suggest you do the same, even if you have to drive to another state to do it. Trust me on this one. A couple of Saturday mornings running up and down the bleachers at the local high school football field will not get you into sheep shape.

I also hiked into the area I was going to hunt, not to scout for sheep but rather to locate water and safe travel corridors. I was fortunate to live within a couple of hours' drive of where I would be hunting in Nevada.

If you are a good enough hunter to go it alone, but not in absolutely excellent physical shape, consider hiring an outfitter with horses to get you into or at least partway into the backcountry.

Though the cost is stiff, you may even want to hire a guide, especially if you are looking for a trophy ram. Friends who guide sheep hunters tell me they spend most of their time just getting their clients up into the mountains where the bighorn sheep roam.

Field judging the horns presents another challenge. One might think a single horn on each side would be easy to appraise, but judging an animal you have never before hunted is never easy.

Consider the odds you beat to draw that tag, and hiring a guide might be the best decision you make.
If you do go it alone, as I did, then I cannot stress enough the advantages of locating trailheads, water holes, places to camp during a storm, etc., before the hunt. Do not rely on aerial photography and paper maps. Both can be handy for planning purposes, but nothing takes the place of experiencing the real thing in real time.

Even if you have to fly halfway across the country to do it—just do it. After you find the things that your life may depend upon, if time permits, then you can scout for sign of sheep.

I also suggest hoarding enough vacation days to spend the whole season hunting. You may not need all of those days, but if you do, you will have them. Unusual weather patterns, forest fires, even sheep-killing mountain lions can sweep into an area and change the game plan overnight.

The country I drew for my California bighorn sheep hunt was nastier than a burlap bag full of angry bobcats.

While researching previous hunters' mandatory checkout data, I concluded that not a single bighorn had been harvested there in 13 years, and the broader area was not known for large rams.

However, the few who had filled tags in that Godforsaken desert had done it relatively close to the road, where sheep have lesser odds of reaching full trophy potential. Where I was going, even that light hunting pressure wouldn't be an issue.

I started backpacking into the desert the night before the season opened, to avoid hiking during daytime heat. Even at 9,000 feet, the sun radiating off of desert rock can get wicked hot.

Hiking in the cooler night air was actually pleasant. Mentally, however, the thought of stepping on a rattlesnake during that 6-mile night hike wasn't much easier for me.

I typically carry about 50 pounds of gear in a loaded backpack. This time, I downsized substantially. Any available space in the pack was used for water containers. I didn't even bring a change of socks or underwear. I came in with the clothes on my back.

I also downsized on the gun, packing a long-barreled handgun instead of a rifle. I knew I was going to be taking some falls in that rough country, and a rifle would be cumbersome and likely to be damaged. I felt confident in my ability to stalk close enough for the shot, even knowing that I might never again draw a sheep tag.

During the hunt, mornings were spent mostly glassing big rock piles. First thing in the morning, I would climb a high peak and then glass below. If I saw rams, I would head towards them as quickly as I could, at times running to get into position to better judge the horns.

A couple of hours after full sunrise, I would retreat into one of the many caves that dot the mountains. Because I could only carry so much water, and natural springs were few and far between, I could not afford to be out in the sun, sweating and reducing my body's already dwindling hydration. I figured the bighorns would be on a similar schedule, except that the desert-evolved animals could make it several days between water holes.

I had to be as water-efficient as possible, so I holed up in the caves, some of which were littered with arrowhead chips. I even saw petroglyphs drawn long ago by Native hunters who may have been chasing the same sheep.

I carried my backpack with me and camped where nightfall found me, never staying in the same place twice. I was literally a man on the run.

With so few sheep scattered across such a lunar-like landscape, days went by in which I did not see a single animal. When I did find a group of sheep, I would study them from every conceivable angle to determine the trophy potential.

Make no bones about it. I was after a trophy ram. If you're going on a dream hunt, you might as well dream big.

I discovered a couple of ram groups that stayed in somewhat predictable areas, and in one of these group there was a ram that would make the Nevada record book. But I decided to hold out for something bigger. Typically, the old boys run by themselves or maybe with another big ram, solitary except during breeding season.

I did spot a few rams that looked really big from a mile or more away. However, by the time I got close enough for a better look, they were long gone. I once tracked a single ram for three hours, finally losing the oversized tracks in a boulder field.

By day nine of the hunt, I desperately needed a high-calorie meal, to once again be fully hydrated. I caught myself daydreaming about a shower and a good night's sleep free of biting bugs and night sweats.

I hiked back down the mountain a few thousand feet, stashed my backpack in a cave, and then beat it back to the truck. I made the 2-hour drive home in less than 2 hours, replenished my body and showered off the wild man.

Then I fell fast asleep in the middle of the afternoon.

Around midnight, I woke to lightning and the sound of rain pounding on the dog kennel roof. This is a rare event in the desert, and I didn't want to waste it. I packed up and headed back out in the middle of the night.

Prior to daylight, I picked up the backpack, and with a headlamp lighting the way, started hiking in to where I had seen two big rams headed a couple of days before, an area I had not hunted because it harbored no water. The rain had subsided some hours before. The air was refreshingly cool, the damp ground perfect for tracking.

Sometime around daylight, I found huge ram tracks heading up into truly nasty cliffs. I methodically tracked for almost a mile before I spotted what looked to be a big ram another mile ahead. I took off at a decent clip, heading right for him.

Bighorn sheep have excellent eyesight, but they are actually quite docile in nature. So, I went straight at this one, counting on the lack of hunting pressure to keep him from spooking. As the clouds started breaking overhead, I knew the cool air would dissipate soon.

As I got closer, I realized this particular ram was by far the biggest I had seen during the hunt. Then I crested a small ridge and saw that another big ram had joined him, and both looked to be outstanding specimens. I was within 200 yards, still a bit beyond my self-imposed handgun range.

The rams were picking their way along jagged rock when I shed the backpack, gulped some water, and flat-out ran side hill to get ahead of them.

With gun in hand, I peaked over a ledge only to see one of the rams watching me—maybe 65 yards away. As big as he had looked before, I still paused to look again. Each horn was massive base to tip, at least 34 inches. I easily counted 8-plus years of growth rings.

I leaned against a rock to steady my hand, and then I anchored that ram with one well-placed shot. The hunt was over, and when I finally wrapped my hands over those massive horn bases, I knew my trophy quest had been realized.

California bighorn sheep can weigh 350 pounds on the hoof, with head and horns alone topping 35 pounds. As I finished discombobulating this one, I knew it was going to take several trips to pack it out. If I hustled, I could get two loads out in a day's time and a third load the following day.

It took seven hours to reach the truck with the first load of meat. On the way back for the second load, I packed water that I left at strategic points along the way.

Nonstop through the night and into the following day, I packed sheep, placing the meat on ice in the many coolers I had back at the truck. I did not lose an ounce to spoilage, but the cape didn't fare as well.

Portions had begun to slip by the time I made it home. I knew the cape would likely slip in the heat and ruin any chance of a taxidermy mount. But I packed out the meat, first, because that is the ethical thing to do.

My wife and children declared that sheep meat stinky, fatty and chewy. Yet I can't remember ever enjoying a steak more. Big old animals always seem to taste best to me, and that bighorn sheep was, indeed, a big old animal.

After the 60-day drying period, a master measurer scored it as the Safari Club International handgun world record for a California bighorn. It easily qualified for the Nevada book and was one of the largest harvested anywhere that year.

Bighorn sheep are actually easy to hunt. However, securing the tag and then humping up and down those mountains proved anything but easy.

I can tell if a hunt has been rough by the number of toenails I lose, and this one cost me four, the most to date.

If you dream of hunting bighorn sheep but cannot even imagine paying $100,000 for an auction tag, apply in as many draw lotteries as you can afford. Then just sit back and wait.

Every once in a while, the hunting gods do smile down upon guys like you and me.