By Judd Cooney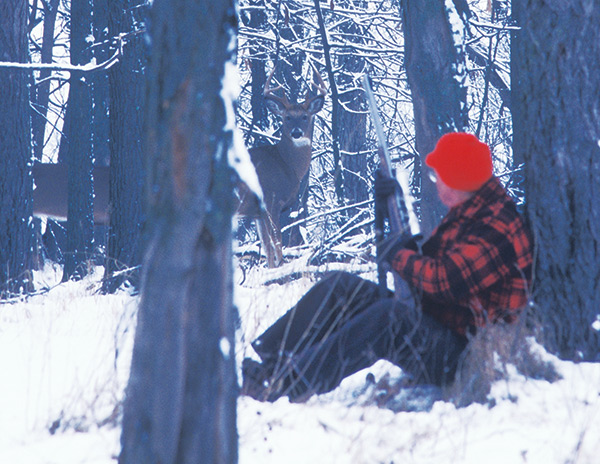 Over 35 years of outfitting and guiding hunts, I can't tell you how many times someone has told me how badly he wanted a trophy buck.
The first thing I usually ask is what, exactly, does he mean by a trophy buck? A rack that qualifies for the Boone and Crockett book is by far the toughest goal a deer hunter can set, one that may be impossible to achieve without a lot of time, determination, willingness to spend money and also a little luck. Yet the dream is what keeps so many hunters in the field yield after year, and that ain't all bad.

Your personal definition of a trophy buck might be a bit less grandiose. Most hunters in the East would consider any well-antlered whitetail, 3-1/2 years or older, a trophy deer. One of the most challenging aspects of outfitting and guiding is determining what the hunter really wants, and then deciding how to best help him achieve that goal. This can lead to some interesting situations, to be sure.

Several years back, I got a call from a fellow who had read one of my articles in this magazine. He wanted to hunt with me, but only if I would let him bowhunt a trophy 190-class buck I'd written about seeing several times behind the camp house. The guy said he had been bowhunting 21 years and realized he probably would be hunting from stands where he might not see a lot of other deer.

We booked the hunt, and shortly after he arrived, I knew I had problems.

The man was seriously overweight and told me he couldn't walk far. Then he told me he wouldn't climb into a tree stand, either. The kicker came when he declined taking any practice shots, because he'd shot his bow before leaving home.

After the first day in a ground blind overlooking a faint trail in dense woods, he complained that he couldn't see anything and wanted to hunt a more open area. I moved him, and after a couple of days seeing a few does, he decided he no longer wanted to concentrate on the big buck behind camp. There are definite trade-offs involved when targeting trophy bucks. I run into this every fall in our hunting camp.

If a client is dead set on taking only a buck approaching B&C score, I may put him in a stand off the beaten path where he may not see a lot of deer but has the best chance of scoring a true trophy rack. Over the past 18 years, we have acquired a pretty good feel for where the Iowa big boys travel and hang out. When we hunt them, we do so with a minimum of disturbance, only when conditions are right.

If the hunter is simply looking for a mature buck, I'll probably put him in a feeding area that is attracting more deer, including a good buck or two.

Feeling relieved, I put this guy in a ground blind overlooking a food plot and then watched from a distance as 30 deer passed within 30 yards of the blind, including some 130-class bucks.

When I drove out to pick him up, he was sound asleep. We finally dug a pit blind for him on a well-used choke point, where he missed a 145-class buck standing broadside at 15 yards.

Don't let your aspirations override your abilities. When you do, reality has a way of biting you in the butt. And defining realistic aspirations is only the first step. Next comes the knowledge to know what you are looking at in the field, the fortitude to pass on lesser deer until you get a shot at the buck of your dreams, and then the ability to make that shot.

The best hunter in the world cannot take a trophy buck if he is hunting where such deer do not roam, so choosing the locale is critical. If you have trophy bucks in your area, this may simply entail spending time before the season scouting until you locate a suitable buck and then gaining permission to hunt the best location to get a shot at that buck. Generally, you only get one shot, so be patient and give yourself the best shot possible.

If you are willing to travel for a trophy buck, you have more choices. But an out-of-state hunt doesn't guarantee anything. You aren't going to have much of a chance at a B&C buck if you go to a state or region that has only produced a couple in recent years. Do your homework; check the B&C book to see which states consistently produce the most book bucks for the least number of licensed hunters. If your trophy aspirations are short of B&C standards, even if you gun hunt, the P&Y archery record book may give you better information on states and areas that regularly produce bucks with racks over the 125-inch archery-book minimum.

The idea is to hunt an area with a high number of what you consider trophy bucks but not a lot of hunting pressure—a rare combination, indeed, on public land.

Next, you need to consider the season dates. Most western states open archery season early while the high country is accessible and the bucks still running together before the rut. This gives a chance to bowhunt trophy bucks before they wise up to hunting pressure and are still following relatively predictable patterns. Some states offer early firearms seasons, but these are the exception and not the rule.

Back when I was guiding mule deer hunters in Colorado, the division of wildlife, in an attempt to spread out hunting pressure, experimented with opening a mule deer gun season ahead of elk season, in early October. This was ideal for spot-and-stalk hunting trophy muleys while they were still above timberline and visible on the slopes, before the early snow pushed them into the lower reaches where this style of hunting would be much tougher.

That first season, I booked two hunters for one-on-one guided pack-in hunts with a real potential for taking a B&C buck. While both missed the B&C mark, their 180-plus bucks were trophy caliber in anyone's book.

The second year, one hunter booked both hunts so he could hunt alone. He said he wanted nothing smaller than a B&C buck. We saw 17 bucks that would score from 150 to 190 but none that would for certain score over 195, the B&C minimum. The hunter was not discouraged and told me he wanted to book every year until he succeeded in his quest. Unfortunately, the state changed the season dates the following year and put elk season first. The elk hunting pressure combined with the early snow that hits the high mountains moved the big bucks out of the high country and pretty much ended the highest-percentage trophy buck season I'd ever seen.

Some of the best seasons for gun hunting trophy whitetails are the late seasons in northern states, when the rut is pretty well over and the bucks once again are a bit easier to pattern. The snow and cold force deer, including trophy bucks, to spend more time out and about feeding.

However, this is no time for sloppy hunting, as these bucks already have experienced several months of hunting pressure. Again, you likely only get one shot at a trophy buck, but hunting smart, that shot can be all you need.

Determination is the final requirement. You probably aren't going to tag a trophy buck without first passing on every lesser buck that comes your way.

Most of my trophy clients are repeat customers, and some regularly pass on any buck with a rack under 150 inches; several are passing 160 bucks while looking for a 165 or better.

That's a pretty high standard, but I'll work my tail off to put these guys on trophy bucks. I really enjoy hunting with guys who display this fortitude.

My final bit of advice to these (and all other) clients is this: "Don't pass on a deer the first hour of the first day that you would be glad to shoot the last hour of the last day." One of the intangibles (and there are many) in tagging a trophy buck is a little thing called luck.

Several years ago, I booked a father and his two middle-aged sons. None of them had taken a trophy whitetail before. In fact, the father and the younger son had very little hunting experience. But they said trophy bucks were the goal, and the older son, who was a hard-core hunter and shooter, informed me in no uncertain terms that he wasn't going to settle for anything less than a trophy rack.

We had scouted some monster bucks that year, so I was all for them being that fussy, although I still admonished them not to pass on a big buck just because it was early in the hunt.

The first evening, I put the older son in a ground blind overlooking a cornfield food plot. An hour later, a group of does, fawns and bucks moved into the plot, including a high-tined buck that fed within 30 yards of the blind for 30 minutes. He knew the buck was big but still decided to pass, and he later admitted it was because it was just so early in his hunt.

When I picked him up and he told of the evening's events, I pulled the card on a trail camera across the field, and when we looked at the buck that evening, I estimated it would score a clean 170 or better, possibly even make B&C.

The buck of a lifetime.

He hunted the same plot the following evening and saw the buck again yet couldn't get a shot because of other deer. He vowed to hunt that plot the rest of his stay with us, but bad luck intervened. The wind switched, making the plot unhuntable. We did not see that deer again that fall.

As stated, you get one shot at a trophy buck, and if you don't take it, you're making a mistake.

Just before last shooting light the next evening, the dad, who had never before hunted whitetails nor hunted with a muzzleloader, shot a true boomer. His muzzleloader's frozen firing pin caused three misfires before it finally released. The buck scored a whopping 184-plus.

Two years later, they again all drew second Iowa firearms season licenses, and on the first evening, the youngest son took a 157-inch buck. The following morning, I glassed a monstrous buck I'd never seen before chasing a lone yearling doe in a food plot right in front of a ground blind. The dad and his tagged-out son were the only ones available to put in the blind that evening, and as luck would have it, the buck returned. Dad made another clean one-shot kill, this time without the misfires, and his son caught it all with a video recorder.

Score: 196 plus.

Over 35 years of outfitting and guiding, I cannot recall another hunter who was more blessed.