By Jonathan Durr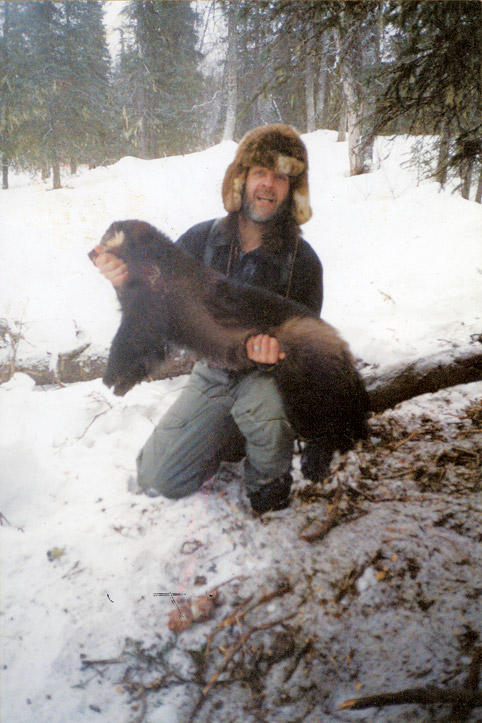 My snowmachine sputtered, then died. I got off and lifted the cowling. Up ahead, my trapping partner, Ron Nelson, stopped and called back, "What's wrong?"
"Fouled plug," I replied. "Go on ahead. I'll catch up."
"OK. But there's something I want to check out, first," he replied as he turned his machine off the trail. "If you get there first, wait for me at the next cubby."
I quickly got moving again and proceeded to the next wolverine cubby where I waited for Ron. He soon appeared, coming over a small ridge with a big grin on his face. "Follow me!" he yelled. "You're not gonna believe this!"
We headed up a draw we had discussed several times before, and I saw what had Ron so excited. There was a smaller draw off the one we were traveling-and it looked like it went up and then leveled out.
We had been looking for a way to get up to timberline for the last two seasons, ever since we extended the line to this present termination point. But we had been unable to find a way through the maze of steep ridges. In fact, just a few days earlier, we had stood on a ridge looking longingly at the high country so near, yet so far.
"It's only a couple of miles," Ron had muttered, his frustration evident.
"Might as well be a couple of hundred miles," I'd replied, "Unless one of us gets a helicopter, we're never getting up there."
But now, as I stood looking up the draw, I felt a shot of adrenaline coursing through my veins. "I'll be!" I exclaimed. "That's our way up!"
We had decided before the season to try to extend two of our primary lines as far as possible. We started doing this on what we call our upper line. It was hard work, but during the course of several days, we made good progress. Eventually, however, we found ourselves in a steep ravine cul-de-sac, which we had a tough time getting back out of. Still, our efforts on the upper line paid off, as we picked up a fine wolverine on our first run of the line extension.
One night, back at the cabin after a dinner of moose stew, we pulled out the topographical maps and did some studying. We concluded what we suspected-from our upper line's farthest point, the country became crisscrossed with steep ravines. "We're done," Ron stated flatly.
We decided to instead try extending the lower river line. Unfortunately, the need to go farther up was due mostly to increasing pressure and snowmachine traffic on the lower line.
I had started trapping the area some 35 years ago when I was still a boy. Some of my marten poles go back three decades. On certain creeks, I've set 330 otter traps in the same place for decades, as well. But then, several years ago, a weekender who built a recreational cabin in my neck of the woods started setting traps along the trail system I had maintained for so long, sometimes even using my marten poles. After trying to politely negotiate with him, it became apparent that he believed he had every right to set his traps where he pleased, and he would not even consider establishing trails of his own.
I spoke with several Alaska Trappers Association members who stated that, ethically, this individual was way wrong. But there was nothing I could do about it legally. It was simply live with him or go elsewhere. I decided to go elsewhere. It still breaks my heart to see another man's traps on my old poles.
But now, looking up this draw, I saw a way to maybe not only trap without interference, but to also trap what was most likely virgin fur country. It was too late in the day to go exploring. So we planned to make the time to snowshoe up the draw on out next trip through to see if, indeed, this was the secret path to the promised land.
However, Alaska has a way of changing plans.
All in all, it had been a real nice winter up until then: cold, but no extreme temperatures; not a lot of snow, but certainly enough to get around. So, of course, we got the annual February dump. Three days of heavy wet snow had all the trappers in our part of Alaska singing the blues. After the skies cleared, we spent a week breaking trail and resetting traps.
Ron got the first chance to take a look at the new area. He was all grins when he came through the cabin door. "It looks great," he said. "Good marten and wolverine!"
The next day, we set off to do a thorough reconnaissance. We reached the draw, parked the snowmachines and strapped on snowshoes. We followed Ron's float from the previous day. After some brushing and stomping the trail as best we could up the steep draw, we were ready to return to the snowmachines and give them another go, and we made it right up. From there, it was easy going. We explored for hours and fell in love with what we saw: untouched country with good fur sign. It was too late to trap it that year, as it was late February and most of the fur seasons would close within days. But next year ...
We planned to set the area as a combination marten/wolverine line. When we set a line like that, we use mostly marten poles and wolverine cubby sets. Often, they are made together with the cubby built around the base of the tree which supports the pole set. Occasionally, we put a wolverine trap directly under a marten pole to catch the trap robbers.
The key to this type of line is to have plenty of wolverine sets, so that when a wolverine starts running your traps, you get him before he does too much damage to the marten catch. It's a sickening feeling to find what had been a valuable marten reduced to nothing but some fur in a pile of wolverine scat.
When I was growing up, the No. 44 Blake and Lamb was a popular wolverine trap, as were the 4 Newhouse Oneida jumps, etc. I still own a number of these traps, and they have served me well for decades. I've also grown rather fond of the No. 3 Bridger with offset jaws. I add two more springs to this trap, and I suggest the reader do the same if using this fine trap for wolverine. In this wilderness, where the 330 Conibear is both safe and legal to set on land, it also makes a good trap for wolverines.
We spent a long summer dreaming of the promised land of Wolverine Pass. Summer is a slow time for most of us "bush dwellers" anyway, a time to make money for the oncoming winter. I tell people that I have to work in order to support my hunting, trapping and general woods-loafing lifestyle. Ron and I didn't see each other much during summer, as he was busy with his cabin-building jobs and I with my archeology chores.
November got us excited, as it was cold enough to freeze the river solid. However, November ended and we approached Christmas with hardly any snow on the ground. I began to get anxious as New Year's passed and there still wasn't enough snow cover for snowmachine travel.
Around the second week of January, we decided to try it anyway, and we suffered through a terrible trip. We had made only 6 miles when we had to concede that there simply wasn't enough snow. If we continued, we would likely break a ski or a leg. We turned back and re-crossed the river, negotiating numerous ice ridges. Trying to travel a route that had a little more snow, I ended up going through a wet slough. By the time we got back to the cabin, we were exhausted and I was soaked. We agreed that we had no choice but to wait for snow.
When snow finally came, it came all at once, which presented another delay, as we had to wait a week for three feet of new snow to settle.
Ron was the first one up the pass. Once again, he came through the cabin door grinning ear to ear. "It looks great!" he stated. "Lots of marten, wolf and wolverine and the traveling is easy once you get out on the ridge."
The next morning, we were off before daylight fully loaded. Because we were getting a late start in the season, we worked hard during the next six weeks. We set a lot of traps, and, more importantly, we explored and cut trail for the next season. On our second trap check we collected a wolverine, and we finished the season with a modest catch of marten.
As I write this, we are in the middle of the 2007-2008 season. Hopefully, I will be able to give you an update on a full season of trapping Wolverine Pass ...

* * *