with Mitch Cox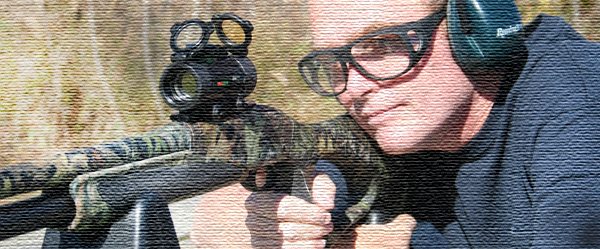 A Neo Hipster-Hillbilly Deer Hunt
My daughter called to tell me she'd spent the morning chasing a huge tom turkey through the woods, trying to get a photo with her smart phone. She'd spotted it while looking out the kitchen window. It was in the yard strutting around her new laying hens, making the ladies understandably nervous.

Leigh lives with her husband Michael on top of one of the tallest ridges in southeastern Ohio, in a 100-year-old farmhouse that was once surrounded by orchards but is now surrounded by woods and thickets. The place has the original gaslights, and they still work.

Not so long ago, Leigh and Michael were homesteading in a trendy Chicago neighborhood, on the edge of urban renewal and pop culture. While they loved the life, they had the self-awareness to laugh at the hipster silliness. Before Michael became a web designer, he was an Eagle Scout. That's why I always thought of them as neohipsters instead of hipsters.
Besides, Leigh would smack me if I ever slipped up and called her a hipster.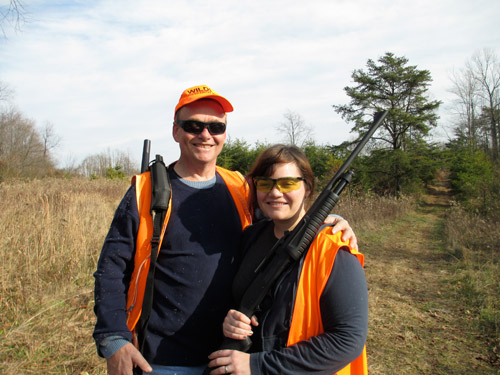 Now they live in the foothills of Appalachia, raising chickens and making a living via an antenna that brings broadband internet to their hilltop home. In addition to wild turkeys, they share the new neighborhood with coyotes and white-tailed deer, including some true wall-hangers. During gun season, a real boomer hunkered down in a thicket less than 100 yards below the kitchen window. That deer just seemed to know nobody was going to shoot it within hailing distance of the house.

When Leigh asked me to come down and show her how to hunt deer, I was a little surprised but not much. She had never hunted before but had always liked to fish, and from an early age, she wanted to eat what she caught. She likes venison and is a fair shot with a rifle. Same as the deer, I figured she was just looking to make the most of a good location. Michael's uncle Jamie, who has lived on and managed the land for 30-plus years, showed us some good places to take a stand.

I probably shouldn't admit it, being the editor of a hook & bullet magazine, but I hadn't even picked up a deer tag before Leigh called. For 20 years, I hunted mostly with Bud, my father-in-law. We had a good time, drank a lot of coffee, and even managed to tag a few deer. But he doesn't get around the woods like he used to, and when we lost access to an easy place to hunt, we stopped going. Hunting with Leigh put the fun back in it for me, and I believe she even learned a thing or two from my mistakes.

Staying hidden on stand is the best and often the only way to tag a mature buck. It's about impossible to sneak up on one, and Ohio only allows slug guns, which means you have to get fairly close. I know this, yet I still can't sit all day. I have to get out and see the woods.

The first evening, we moved an hour before dark and got busted by a buck that came so close we could hear its antlers ticking the twigs. It winded us or maybe saw us trying to crouch down in the weeds. After snorting once, it faded back down the ridge.

We never saw the deer, but Leigh's reaction left no doubt about her pulling the trigger if she had got a shot. The slug gun came up, and her eyes were still shining an hour later.

At first light the next morning, we were back on one of Jamie's suggested stands. By mid-morning, I was ready to take another walk.

Leigh reluctantly went with me, but something told her to circle back to the original stand, and when she crested a little rise, she saw a big buck browsing right where we should have been. Of course she didn't get a shot, walking in on a mature deer like that.

If Leigh lets me, I'd like to try it again next fall, and I've been thinking maybe Bud will be able to join us. I even have a stand in mind for him. It's right off the gravel drive, and there's an open shooting lane down to a well-worn deer trail. Bud will sit tight. He knows better than to listen to me.

The more I think about it, the more I like the idea of hunting with my daughter and her grandpa. I also like the idea of waking up under a quilt in a warm bed, enjoying a country breakfast (bacon and fresh eggs!) and then walking to a stand instead of driving halfway across the state.

That's how we did it when I was a boy learning to hunt on my grandmother's farm, 50 years ago and 100 miles down the Ohio River. What goes around comes around--as we neohillbillies like to say.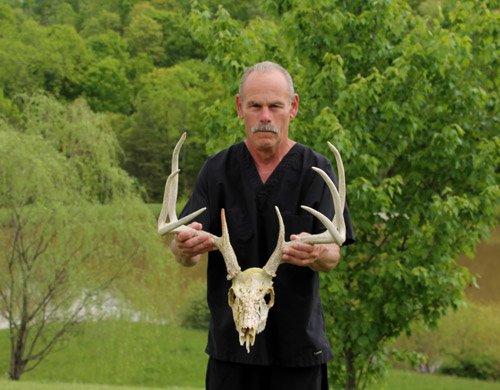 Michael's uncle Jamie Stacy with a recent find from a hike down in the thicket. Jamie and his wife Susie have lived on the land for 30-plus years, managing much of it for the benefit of the deer.