By Jack Spencer Jr.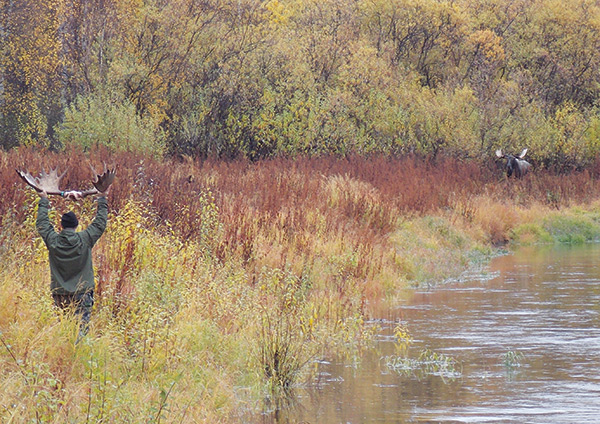 I always wanted to hunt moose and applied for a tag in more than one Western state, but the steep lottery odds always stacked against me. Finally, after years of rejection, I decided to put together a do-it-yourself hunt in Alaska, the only state where a nonresident may purchase what is essentially an over-the-counter moose tag.

There are several species of moose, and they all share one common trait—they are big, some as fat as elephants.

The Alaska or Yukon moose is the largest of all, with palmated antlers that have been documented to stretch a tape over 80 inches. Big bulls usually weigh 1,200 to 1,400 pounds, and, yes, even the small bulls are huge.

If you dream of hunting such a beast, but your bank account says it's more of a fantasy than a dream, keep reading. It won't be cheap, but if you pinch your pennies, you may be able to pull it off. The required hunting license and moose permit will set you back about $500. For a good time and a real shot at filling my tag, I spent another $3,000. Compared to the $12,000-plus cost of a fully guided hunt (not counting travel, lodging and tips), I believe I did OK. If you have a bundle of $1,000 Rocky Mountain bobcat pelts to sell, you might want to go ahead and book that guided hunt.

On average, DIY Alaska moose hunts run $3,500-$5,000, and that's after you get to Alaska. Some are river trips where hunters float 40-100 miles of river for 8-10 days. Others may be spike camps or lake hunts that come with a boat and motor. Make sure you plan for extra days in case of bad weather. My 10-day hunt took 19 days from the time I left home to my return. I went on one of the wettest years in the history of Alaska and was delayed repeatedly.

This is often the case when doing business in Alaska.

The first thing on my list was an air service that could take me deep into the bush and then bring me back out alive. A successful hunt was also on the list, but safety trumped all. No one wants to spend their last moment on earth making an unplanned dent in said earth, so I did my best to determine the actual flight information including who, exactly, would fly me in and out.

I did a lot of research, spoke with a few reliable hunters, and settled on Willow Air Service out of Willow, Alaska. When you find a bush pilot with more than 10,000 hours flying time and no serious dingers, you can feel a little more at ease. I also requested the most remote area, and the pilot assured me he had just such a location in mind. I discovered he was absolutely correct.
I almost always hunt alone. However, after talking it over with the other hunters and the folks at Willow Air, I determined I had to have a partner for this one. When venturing into the bush, a partner you can trust with your life should be right up there with picking the right flight service. I also recommend one with a strong back. I picked a great partner, on all counts.

A DIY wilderness hunt can test a lifelong friendship. I know I got lucky.

Planning and attention to detail are vital when putting together such an adventure. You should have everything settled by the prior spring. I started about a year in advance and paid for it as I went. The costs were the same, but it was easier on my pocketbook to spread it out that way.

After I booked the air taxi service I was given a generic list of things to bring and a reminder that I was only allowed 150 pounds of gear, including the rifle. Bush pilots are serious about this and may weigh everything before loading. My hunting partner and I are both backpackers used to packing light. When we hit the scales, we were nearly 70 pounds underweight.

The pilot declared us the lightest two-man crew he had ever taken in for a DIY moose float hunt.

The list I was given was about what I would bring for this type of hunt. However, a few things I later learned need mentioning and could possibly even save your life.

Hip boots are recommended, and make sure they are comfortable and sturdy as you will likely be wearing them all day, every day. Mine ripped and let water leak in.

This wasn't a big problem until the morning I tried to put them on frozen. I shoved my feet in and ran up and down the gravel bar until they became more pliable. In the process, I developed a couple of nasty blisters that didn't offer any comfort later in the hunt.

Make sure you take a sturdy meat saw. In some units hunters are required to take out all four quarters and must cut the ribs from the backbone. Deboning (except the neck portion) is not allowed.

Our "high tech" plastic-framed saw broke after cutting four ribs off of the first moose. Do not bring anything plastic, and make sure it comes with an additional blade for cutting firewood.

I recommend three 10-by-12-foot tarps and one 8-by-10. The big tarps are needed during the moose butchering. The small tarp is stretched above the tent to divert heavy rain.

Torrential downpours will make even a four-season tent wet inside and out. The pressure of constantly pounding rain can push moisture through so-called waterproof material.

If things get really tough, you can always roll up in the tarp and stay dry. If your bedding gets wet and then the weather turns cold, you could be in trouble. I have slept in soaking-wet sleeping bags many times; however, I was within a day's hike back to the comfort of a vehicle. That is not the case in bush Alaska. I further recommend a sleeping bag bivy cover to further protect against wetness. Some lucky hunters enjoy sunny days; however, most endure rain, snow, and often both.

Bring a rain suit that is waterproof, not water resistant. There is a difference. I selected Helly Hansen rain gear and tested it in the shower. My wife still laughs about the time she came home and found me dressed in a rain suit standing in the shower.

Rigorously test all gear at home, even if it is new. Do not wait until you are in the middle of nowhere and your life may depend on it.

I highly recommend a water purifier with a spare filter and some type of purifier tablets as backup. We brought water pumps that had worked well for us on many hunts, but we didn't plan for the river rising 7 feet and turning into churning mud that plugged the filters. Luckily for me, my hunting partner brought purifying tablets.

I highly recommend a satellite phone, and not all satellite phones are created equal, so make sure it has coverage in the area you will be hunting. The cost of our satellite phone was $75 a week and $2 a minute. It was worth every penny when we called the pilot and told him what the weather was doing in real time at our precise location. Fully charge the batteries right before you leave.

I recommend one really good windproof lighter and a few lesser spares. Fire is life in the wild. If you can have dry clothes, stay warm and cook food, you can survive. Those small backpack stoves are great—until they run out of gas or break. Bring plenty of food, stuff that can be eaten even if you can't get a fire going. Continuous rowing, bushwhacking in waders, and packing heavy loads in freezing cold all burn calories. Never go to Alaska planning on eating fresh-caught fish and moose meat.

We caught a fish with almost every cast—until the flooding. After that, we didn't catch another.

I also highly recommend trip insurance. A few hundred dollars up front may save you thousands down the road. We had to rebook flights, pay for extra lodging and meals because of the bad weather. The right trip insurance would have covered all of those costs.

DIY moose hunting will be physically hard, so prepare yourself. I conditioned myself by running 50-60 miles a week and lifting weights. Get in good enough shape to pack a 150-pound moose quarter.

A rutting moose is not the hardest creature to call. They have large home ranges and can be a little difficult to pin down. You may call a bull moose into your lap, but only if you are within earshot. I once called a bull moose that took six hours to make it to my location.

I have flown at low altitude across vast areas of Alaska without seeing any game animals. Even pristine habitat may only be used briefly during a migration.

On day five of our hunt, I finally found an area that looked promising with plenty of cow and bull tracks and a couple of places where a bull had thrashed the birch trees.

At daylight the next morning, I walked downriver from camp and cow called several times then made some bull grunts and raked the trees. A bull responded from about 1/4-mile away. I heard him thrashing the trees and knew he was fired up.

I was easing towards the bull when I foolishly pinned myself in a thick canopy of small trees. I continued to mimic grunt sounds as I bushwhacked towards the bull. It got so thick I had to start crawling, and, to my surprise, I soon learned the bull was coming in quietly, at a high rate of speed. At a mere 24 feet, I first saw the bull towering over me as I lay on the ground.

The unit I was hunting required a bull with a spread over 50 inches or four brow points on at least one side, and this bull was clearly more than legal. I already had decided that I would take the first decent bull, and one shot from the hip anchored this big beast.

Only then did I realize how ginormous these big swamp deer get. It took my hunting partner and me half an hour just to roll this one on its side and another 6 hours to get it cut up for packing back to the raft.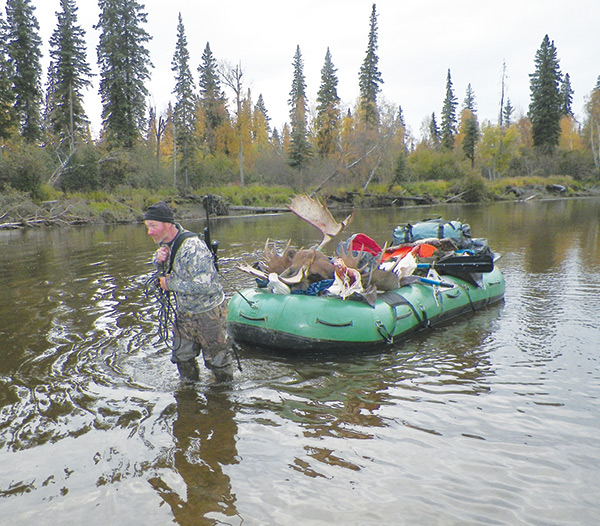 Navigating in a raft loaded with 2,000 pounds of moose and men was both interesting and challenging. You have to think ahead and start rowing well in advance or the current will slam you against a bank or into one of the many pointy beaver stumps.

Each evening, while nestled near the campfire, I practiced my moose calling. And not too surprisingly, I called in several more bulls.

On the last day before flying out, I called a bull right into camp. I raked a moose rack for realism, and the bull closed to within 30 yards.

Because of the logistics and the cost of flying meat home, we donated ours to seven needy bush families. I handed the meat over to each family myself. As much as I would have liked to have taken some of that meat home, those families needed it more than I did. Most bush pilots keep a list of families who dearly appreciate moose meat.

That DIY moose hunt was one of my ultimate outdoor experiences. I endured some hardships. However, it was well worth it, and many months later, I'm still trying to figure out how I can do it all over again. In addition to moose, I called wolves every day and even got to catch some fish. I came home from Alaska begging for more.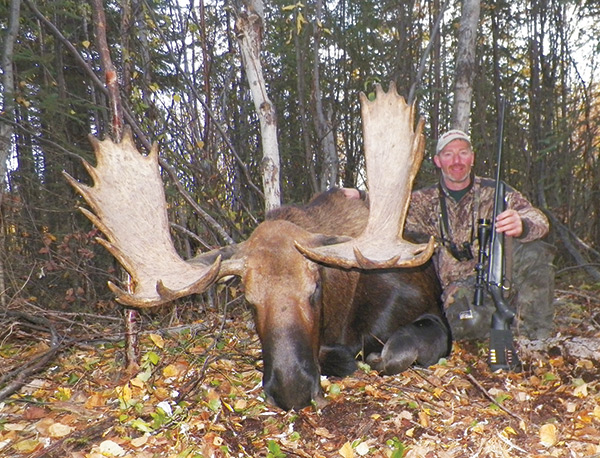 * * *
Willow Air Service may be found at: www.willowair.com